A pair of disappointing Premier League powers will hope to pick up three points on the road Sunday.
Liverpool travels to Selhurst Park to take on Crystal Palace, while it's off to the KC Stadium to face Hull City for Tottenham Hotspur.
[WATCH LIVE: Stream live via Live Extra]
Here's a quick primer on both matches, which you can watch live online or on the app via NBC Sports Live Extra.
Crystal Palace vs. Liverpool, 830 am ET on CNBC (Stream here)
Of course, this is a rematch of the 3-3 draw that left Luis Suarez in tears on the pitch, but both teams have much bigger things to worry about come Sunday.
The hosts find themselves in the drop zone after Leicester drew Sunderland and Burnley won at Stoke, so there will be desperation on both sides of the pitch. For Liverpool, however, a loss would find them an almost-absurd 18 points back of table-topping Chelsea and in the throes of — really?!? — a relegation battle.
The Reds have lost two straight in the Premier League, to Chelsea and Newcastle, while they have yet to win in three contests. Palace, meanwhile, has lost four of its last five. The other game was a 2-2 draw against struggling West Bromwich Albion.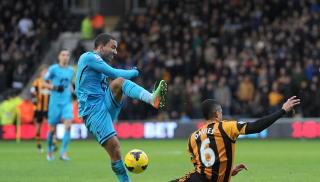 Hull City vs. Tottenham Hotspur, 11am ET on NBCSN (Stream here)
If the Tigers can pick up all three points, they'll actually move ahead of Spurs on the table.
And if you said that to Tottenham fans before the season, they'd assume Hull was on fire. Alas, hard-luck Hull is just a point ahead of the drop zone, while Spurs are a single goal below Liverpool for 11th place on the table.
Hull is coming off its first true disappointment in a while, a 1-0 loss to Burnley, while Spurs have lost three of four.