The injuries came for Bayern Munich over the international break. Philipp Lahm broke his ankle and Jerome Boateng picked up a calf injury, as the two stars joined a variety of Bayern stars at less than full health.
Would it cost them when the Bundesliga restarted Saturday morning?
[ MORE: Messi breaks record | Arsenal flops at home ]
Nope. The Bavarian side score twice in each half to keep its winning ways in tact. All that and more in the Saturday wrap.
Bayern Munich 4-0 Hoffenheim
Mario Gotze scored in the 23rd minute to start a fairly ease ride to three points for the hosts. Robert Lewandowski, Arjen Robben and Sebastian Rode also netted as Bayern out shot Hoffenheim 17-11. Better yet, Manuel Neuer, Thomas Mueller and Boateng were all able to start the game despite injury concerns.
Borussia Dortmund 2-2 Paderborn
Marco Reus was stretchered off the field, bringing a major injury scare to bottom-half BVB. He did manage a goal in first-half stoppage time that joined Pierre-Emerick Aubameyang's early goal to give the hosts the lead. But their season-long Bundesliga struggles continued in the final 45, as Lukas Rupp and Mahir Saglik scored in the second half to tie the game.
Paderborn's Marvin Bakalorz was shown a yellow card after his tackle on Reus produced another ankle injury for the attacking wizard. It's no surprise that manager Jurgen Klopp said he was more worried about the injury than the dissolution of their halftime lead.
Borussia Monchengladbach 1-3 Eintracht Frankfurt
Three players scored second half goals to more than make amends for conceding a goal to the hosts in the game's first five minutes, as Monchengladbach failed to take advantage of a loss from second-place Wolfsburg. USMNT defender Timmy Chandler went 90 minutes for Frankfurt, while his international teammate Fabian Johnson failed to make the bench for Monchengladbach. The hosts also saw a stoppage time double-yellow issued to Granit Xhaka.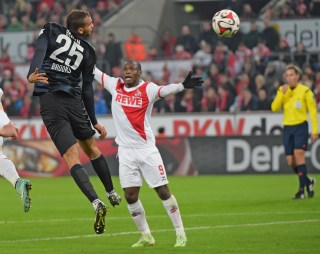 Elsewhere
Mainz 2-2 Freiberg — Stefan Bell saves a home point in 88th minute.
Koln 1-2 Hertha Berlin — USMNT's John Anthony Brooks goes 90 in victory.
Hannover 96 1-3 Bayer Leverkusen — Karim Bellarabi scores again in win.
Schalke 3-2 Wolfsburg — Eric Maxim Choupo-Moting gets brace to lead the way.
Hamburger vs. Werder Bremen — 930am ET Sunday

Stuttgart vs. Augsburg — 1130am ET Sunday