Upon first glance at Sunday's MLS scoreboard, you'll find two teams — the New England Revolution and LA Galaxy — who hold similar one-goal advantages over the New York Red Bulls and Seattle Sounders in their respective conference championship series. The margin of victory is, however, where the similarities stop with regard to these title deciders at the halfway point.
First things first, the Revolution took control of their series with a 2-1 win at Red Bull Arena, meaning they now possess two all important away goals as they head home for the second leg next Saturday (Watch live on NBCSN and online via Live Extra, 3 pm ET), while the Galaxy's 1-0 home win leaves them considerably less room for error in next Sunday's decisive second leg (9 pm ET).
Furthermore, the Revs and Galaxy went about building their very different one-goal leads in very different ways.
---
Jay Heaps' Revolution side used a heavy dose of early high-pressure to force Mike Petke's men into early error after early error. Much like was the case with the Columbus Crew in the conference semifinals, the Red Bulls' backline wasn't prepared — and more importantly, capable — of keeping their heads and retaining possession under duress.
While neither of the Revs' goals came as a direct result from this high press, the chaos inside the Red Bulls' half of the field did two things: 1) Eric Alexander and Dax McCarty became very disconnected in the center of midfield, forcing the standout pair into lots of sideways and backwards passes; 2) Thierry Henry found himself doing the same down the left wing, stranding Bradley Wright-Phillips all alone on an island for much of the afternoon.
[ RELATED: Despite artificial turf, Henry says he'll make Gillette Stadium debut next week ]
Also, Lee Nguyen is the man. His mere presence 25 yards from goal made Alexander reluctant to shade Teal Bunbury's side of the field on the game's opening goal (directly below video). That's a minor thing. His role in the second — and game-winning — goal, however, wasn't minor. Here we see the MLS MVP finalist carry the ball 30 yards straight up the center of the field and thread a perfect through-ball to Bunbury which ends up at the feet of Jermaine Jones on the goal's doorstep.
McCarty is stranded up field and substitute midfielder Tim Cahill — why, Petke? — is nowhere to be found in the center of the park. It's a complete breakdown in the Red Bulls midfield, and probably one that will end their season a week earlier than they hoped.
---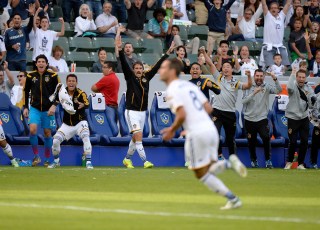 First of all, the Sounders did a fantastic job of funneling everything to Landon Donovan and Stefan Ishizaki very wide 30 yards from goal and in. Without Osvaldo Alonso available (hamstring strain), Sigi Schmid's gameplan — have all of the middle third you want, but we're going to push you wide and into hopeful crosses all game long — was a very good one.
Chad Marshall will win aerial duels against any forward in the world for 90, 180 or 9,000 minutes if you ask him to. It wasn't until the second half when the midfield, following wave after wave of attacking pressure and a sense of urgency from the Sounders, finally opened up a bit.
A one-goal deficit is hardly enough to worry the Sounders, scorer of 65 goals during the 34-game regular season. In 2014, they were best only by — you guessed it — the Galaxy, which makes their shorthanded stifling of the Galaxy's potent attack all the more impressive and valuable.
[ FOLLOW: All of PST's 2014 MLS Cup Playoffs coverage | PST on Twitter ]
Gyasi Zardes' struggles in front of goal continued, going a seventh straight game without scoring, but the 23-year-old remained dangerous throughout and provided some very good hold-up play to bring Keane into the attack in rare instance of Sounders attacks.
The Galaxy won't drop 10 men behind the ball and defend for dear life in the second leg, but they'll allow the Sounders to control the game and hope for one or two chances on the break when they open themselves up a bit too much. No team in MLS is better at finding that happy balance.