CALLS FOR RODGERS' HEAD PREMATURE
"I'm not arrogant enough to think that I will be in a job through anything," Brendan Rodgers said after Liverpool's 3-1 defeat to Crystal Palace on Sunday. "Any manager will tell you that you have to win games and you have to get results, especially after how we've been developing as a football club. But I have a great communication line with the owners. We've been honest enough with each other but ultimately you have to get results. You have to perform. In my first year when we weren't maybe getting the results we were performing well."
Rodgers said all this, plus brutally pointed out the many deficiencies in his current squad, after Liverpool had returned to the scene where they painfully lost the Premier League title last season. On a Monday night in south London on May 5, Liverpool squandered a 3-0 lead late on to draw 3-3 with Crystal Palace and all but hand the 2013-14 PL title to Manchester City. On their first trip back to Selhurst Park since that fateful night when Luis Suarez had to be carried off the pitch in tears, Liverpool were awful as their terrible start to the 2014-15 season continues.
Premier League Schedule – Week 12

Truth be told, Liverpool have never recovered from that devastating draw at Selhurst last season. This year they let in three more goals against Palace but only scored one themselves as the Reds suffered a sixth defeat of the season and are languishing in 12th place, 18 points off leaders Chelsea. Last season Liverpool only lost six games throughout the campaign but they've matched that already as the absence of Luis Suarez, Daniel Sturridge through injury and that buzzword 'transition' can no longer be blamed.
[RELATED: Watch full match replays]
Rodgers has a lot to answer for, most notably his summer recruitment process, but he should not lose his job. His key players are massively under-performing with Raheem Sterling and Steven Gerrard (who both underwhelmed vs. Palace) among the most notable strugglers who have failed to recapture their stunning form which saw them get so close to winning the title last season. That surge has seen expectation levels at Liverpool rise to alarming heights at Anfield but after their latest defeat, fans of the Reds have to realize that in a good year their team will finish in the top four and during a bad one (which this one certainly is, so far) they will finish in the top eight.
[VIDEO: Premier League highlights]
As NBC Sports' Geoff Cameron (making his commentating debut on Sunday at Selhurst) pointed out at the start of the second half, "Liverpool's defense look terrified every time Crystal Palace's attackers get on the ball" and they were correct to be concerned. Yannick Bolasie set up the first two goals and made Dejan Lovren look like a fool on the second. The Croatian center back signed for Liverpool $32 million in the summer from Southampton and is fast becoming the scapegoat for their defensive woes as he and Martin Skrtel looked off the pace and continued to drop back against a Palace side who used their pace to expose Liverpool's weaknesses. Their backline has now conceded 1.5 goals per game in the PL this season, that's their worst-ever rate. Plus the Eagles were in the bottom three going into this clash on Sunday and were heavy underdogs but on the evidence of what we saw, you would say Liverpool were the side scrapping for relegation.
Liverpool's drop off in form from last season will be incredibly worrying for Rodgers. His job may soon be on the line, and he knows that, but for now it is time for the fans to rally around the club and help pick their players up after a disastrous start to the season. Rodgers hasn't helped himself out with stubborn team selections, a huge influx of new players and failing to replace the quality he has lost. He changed too much too soon, and Liverpool now face a tough trip to Bulgaria to face minnows Ludogorets in a crucial UEFA Champions League match on Wednesday. If they lose that, calls for Rodgers' head will intensify. Putting all that aside, the Northern Irishman deserves to at least see out this season and try to put the bad start right.
Despite all their struggles Liverpool are only five points off the top four, but Rodgers needs to turn things around quickly before the pressure costs him his job.
UNITED BEND, BUT DON'T BREAK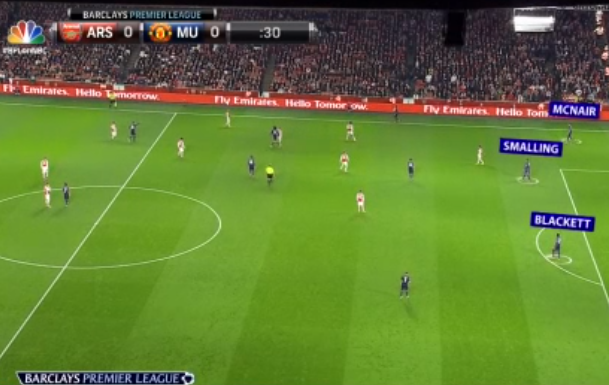 In a battle billed as a "top four decider" under the floodlights at the Emirates Stadium on Saturday night, Arsenal and Manchester United both showed reasons why they may miss out on Champions League qualification come the end of the season.
[RELATED: Three things we learned from United's win vs. Arsenal]
The Gunners ripped apart United's young three-man defense early on but failed to take their chances, while United improved as the game went on and got a slice of luck their defensive defiance perhaps deserved. Jack Wilshere was particularity wasteful in front of goal and that spilled over into anger as he squared up to Marouane Fellaini and was lucky to have not been sent off (more on that shortly). Arsenal's pint-sized midfielder also got injured as he tried to overdo things and late in the game the Red Devils picked the Gunners apart on the counter after Kieran Gibbs' comedy own goal gave them the advantage.
[RELATED: Marquee win proves LVG's men stepping it up]
Wayne Rooney added a delicate chip after a breakaway to make it 2-0 as he became the top scorer vs. Arsenal in PL history with 11 goals all-time. The Gunners imploded late on despite Olivier Giroud smashing one back on his surprise return from a broken leg. It was a perfect away display, from an attacking standpoint, from United but van Gaal wasn't too impressed afterwards. However he was laughing in the post match presser as his 3-5-2 experiment worked… just about.
"If Arsenal had scored in the first 20 minutes then it is a different game," van Gaal said. "And then maybe I have to respond to all the questions asking why I chose the three centre-backs. But now I can laugh. I said this before the match that I made the right decision. To make this decision before the match. Okay… that is a quality decision. I can say that now. But at the same time I say that, that's the life of a manager or a coach. The result is always giving you the reason."
Playing three central defenders in Paddy McNair on the right, Chris Smalling in the center and Tyler Blackett on the left (see the image above for how they set up) was a huge gamble and just about paid off. Early on United stood off the Gunners and looked stunned as Arsenal created four great chances but spurned them all. Then Smalling started to lead from the center and take first knock, while McNair and Blackett swept up superbly. These three players may not be the first-choice center backs moving forward but the formation does work, as United were able to soak up pressure and spring counter attacks with Angel Di Maria, Rooney and Fellaini creating havoc. Offensively the 3-5-2 suited United attackers superbly.
[RELATED: Latest Premier League standings]
As I sat in the press box at the Emirates Stadium on Saturday evening following the game, I was interrupted by plenty of disappointed Arsenal fans as they walked out of the stadium while I filed my thoughts on yet another disappointing defeat for their side. "Make sure you write Wenger is rubbish!" "Wenger out, enough is enough." "Wenger is bloody useless, get rid of him." Arsenal have now endured their worst-ever start to a PL season and have just 17 points from their opening 12 games. Here's what our analysts had to say about United's win over the Gunners which sent the Red Devils into top four.
DISGRACEFUL DIVERS, HEADBUTTS
Jan Vertonghen, Ross Barkley, Victor Moses, James Tomkins and Jack Wilshere. What do they all have in common? They all failed to cover themselves in glory this weekend.
Premier League Star Performers – Week 12
| Player | Reason |
| --- | --- |
| 1. Yannick Bolasie (Palace) | 2 assists, trickery & pace |
| 2. David De Gea (Man Utd) | Solid display, leader |
| 3. Danny Ings (Burnley) | 2 goals, clinical finisher |
| 4. Wayne Rooney (Man Utd) | 1 goal, drove United on |
| 5. Christian Eriksen (Spurs) | 1 goal, assist, gamechanger |
With simulation becoming a real issue in the Premier League over the past few years, during Week 12 we saw at least five separate issues which highlighted the problem. Referees are now becoming more and more aware of the diving and cheating going on, but it is still difficult for them to make the right decision with one look at full speed during a game.
[RELATED: Premier League schedule]
Vetronghen was flicked in the backside by Gaston Ramirez and threw himself to the floor in agony which resulted in the latter getting a straight red card. That turned the game in Tottenham's favor as they used the one-man advantage to overturn a 1-0 deficit and win. In Everton's home win against West Ham there were two incidents of diving as Barkley first went down under no contact from Kevin Nolan to win a free kick, then a real contentious moment arrived in the second half. Kevin Mirallas pushed James Tomkins in the chest as a huge scramble ensued but Tomkins then chucked himself to the floor and held his face even though he was pushed in the chest. Remember Rivaldo's dreadful play-acting at the 2002 World Cup? Yeah, Tomkins was on par with that. What a farce.
While against Burnley on Saturday, Stoke's Victor Moses was once again tumbling down in the penalty box after being slammed by Swansea boss Garry Monk for 'cheating' earlier in the campaign.
[RELATED: Premier League stats]
Then came that incident between Wilshere and Fellaini at the Emirates. In a fiery clash clash Wilshere squared up to Fellaini after a free kick was given against Arsenal. Wilshere put his head into Fellaini's and it would have been deemed a headbutt, but Wilshere is a nearly a foot smaller than Fellaini so he only reached the United players' collarbone. Mike Dean had a great view of the incident but decided against a red card for Wilshere, even though he had clearly lost the plot. Cool it, Jack. Anyway, I was amused…
This play acting has to stop now in the PL and examples have to be made of these players. Otherwise, when will it stop? Never. We need some explanations… So luckily former Premier League referee Howard Webb went on Sky Sports television in the UK on Monday to explain some of the incidents which have taken place, as he is now the technical director of the Professional Game Match Officials Board since retiring from refereeing over the summer. Seven yellow cards have been issued for simulation this season as Webb believes the officials have the epidemic under control. It is hard to agree with that.
Maybe the next bout of video technology ushered into the Premier League will allow video replays and challenges towards simulation. The issues are now getting so widespread that any contentious decisions a manager thinks is wrong should have a way to be overturned.
Premier League Playback comes out every Monday as PST's Editor and Lead Writer takes an alternative look at all the action from the weekend. Read the full archive, here.