SOUTHAMPTON — With 25 minutes to go of Manchester City's win at Southampton on Sunday, I sent out the following Tweet as Frank Lampard performed one of his graceful waddles on the pitch.
[ RELATED: Three things we learned ]
".@NYCFC midfielder Frank Lampard comes on for #MCFC for the final 25 minutes. Fancy Lampard to kill this game off. City lead 1-0."
He did just that, as Lampard scored the second in the 80th minute with a clinical finish following a poor giveaway from Southampton.
The 36-year-old midfielder currently on loan from New York City FC in Major League Soccer proved exactly why City boss Manuel Pellegrini is so keen to keep him on board for as long as possible.
[ RELATED: City rejoin the title race ]
Lampard's loan move from City' sister club New York City is due to expire at the start of January, but it is widely expected to be extended as his new team will likely spend a chunk of their preseason in England's north west as Jason Kreis prepares his squad for their inaugural season, with Lampard an integral part. As for the player, he isn't keen to get too involved on talk about his future. When asked about City's hierarchy wanting him to remain at the Etihad Stadium past January, here's his response.
"I haven't spoken to them, I'm just concentrating week to week and I had an injury to get over," Lampard said. "I don't know, its nice if they are saying that but we'll see what happens."
In his post game press conference Pellegrini lauded Lampard for his impact since arriving on loan at the start of the season, and confirmed talks will be held imminently about what is best for everyone concerned. On this showing, surely that is for Lampard to remain with the Citizens for as long as possible, such is his influence whenever he pulls on the Sky Blue jersey.
[ RELATED: Gerrard to call it quits at Liverpool? ]
Pellegrini was asked about Lampard's play, and when a decision will be made on his future as NYC FC began their preseason preparations for the 2015 MLS season in earnest in January.
"Frank is always a very important player, when he plays from the start or plays the last 25 minutes because he scores goals," Pellegrini said. "I will continue to give the same question the same answer. We are going to decide in December when we have to make the decision on what happens with Frank."
Lampard has surprised many with his goalscoring exploits for City, as he now has five in 11 appearances for the Citizens, but his manager is not shocked by the Englishman's stellar performance after sealing a loan move that raised plenty of eyebrows back in August.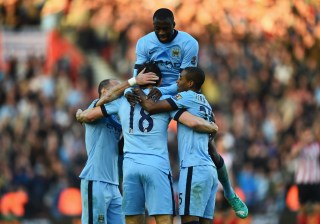 "I don't think that anybody can be surprised in the way that Frank Lampard plays football," Pellegrini said. "He knows everything you must do in this sport. Maybe he is not able to play at 36 years old to play three games in a row every week. He cannot play 90 minutes every game. He played on Wednesday on 90 minutes and I thought he did well, but it was not good for him to start again today. But he played 25 minutes and he always makes a difference because he is a top player."
To be still doing it at the age of 36, Lampard has shown his exceptional professionalism and has fans of New York City and those of MLS licking their lips in anticipation. There's no doubt that when the 2015 MLS season begins in March, Lampard will be lining up for New York City FC.
But just how long will he remain in England helping City chase down Chelsea (the club where he is the all-time top scorer and an absolute legend) for the PL title?
"He is not only a top player, he is a top professional and a very good person," Pellegrini said. "He is very happy in our team and he enjoys that way we play. He is very happy here and we are very happy with him. We are going to make the best decision for him, the club, for New York City FC. For everyone."
That decision will be made in the coming days and weeks, as Lampard's impact on the Premier League title race has been hugely influential so far, and it will be hard for him to walk away now. What will likely happens is Lampard remaining at City until the end of January when the Citizens play Chelsea on January 31 at Stamford Bridge, which will give Lampard a chance to make an emotional farewell. But the way he is playing right now, who knows?