Major League Soccer released its "Best XI" on Tuesday, which felt equal parts deserved and popularity contest.
The group was "lined up" in a 3-4-3 with DC United goalkeeper Bill Hamid in the back.
Among the defenders are Hamid's teammate Bobby Boswell, along with Los Angeles Galaxy star Omar Gonzalez and Seattle Sounders back Chad Marshall.
The midfield has New England's Lee Nguyen, Portland's Diego Valeri, the Galaxy's Landon Donovan and New York's Thierry Henry.
Up top are Obafemi Martins (Seattle), Robbie Keane (Los Angeles) and Bradley Wright-Phillips (New York).
Now MLS got a little crafty with their positions here, and pardon us for thinking it had something to do with wanting to give Titi some love after his final go 'round with the Red Bulls. Think we're being cynical? We present this from the MLS site:
Then again, we had Clint Dempsey in our Best XI as a midfielder, and MLSSoccer.com has him as a forward, so we suppose all is forgiven.
The biggest snub is probably Jose Goncalves, at least in our eyes. Both JPW and myself had him in our Best XIs, and the Portuguese veteran had another strong year after winning the 2013 Defender of the Year award.
According to advanced stats site Squawka, the four most aggrieved players are from the West Coast: Dempsey (listed as a *cough* midfielder), Juninho, Darlington Nagbe and Osvaldo Alonso: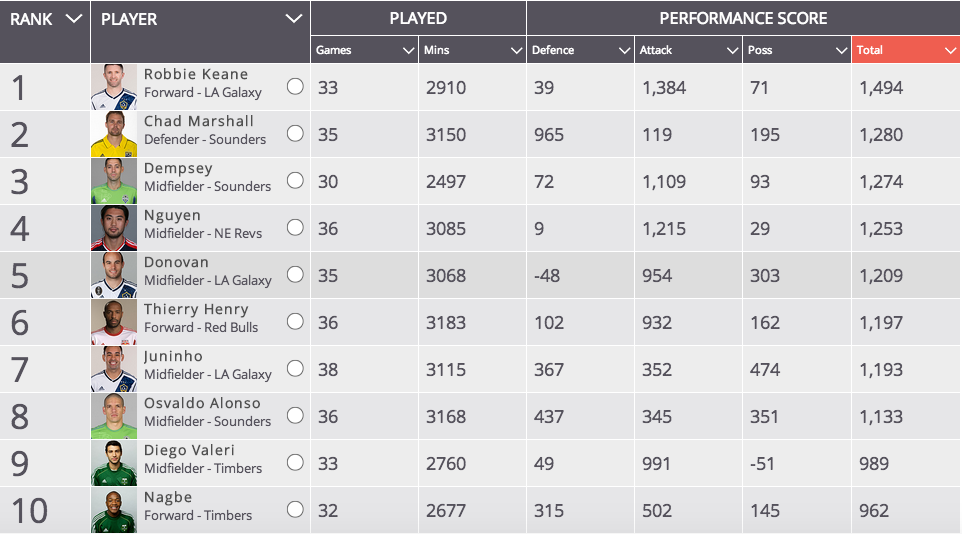 Steve Clark and David Ousted probably deserve to make a claim for Hamid's spot, but DC United's season was far superior to those of Columbus and Vancouver. And Hamid was a huge part of that. In terms of defenders, we're still surprised that Matt Hedges of FC Dallas isn't getting more run, but all three winners had strong seasons.
What about you folks? Biggest snubs?