Schalke decided to kick a league opponent when down today, before later deciding that may have been unwise.
With Borussia Dortmund mired in last place in the Bundesliga table just 18 months removed from an appearance in the Champions League final, those in charge around Westfalenstadion appear lost.
So, a Schalke fan tweeted a simplified version of the table highlighting the leaders (Bayern Munich), Schalke's 6th place position, and Dortmund's current home along with the caption "Keep scrolling. You'll see them soon. #MindTheGap"
The tweet was quickly deleted after it received an abundance of abuse from those none too pleased.
[MORE: Dortmund back in the Bundesliga basement after another loss]
It's not terribly surprising coming from Borussia Dortmund's fiercest rivals, their opponents for the heated Ruhr derby. Schalke won their home side of the fixture back in September by a 2-1 scoreline, and the two don't play again on the last day of February.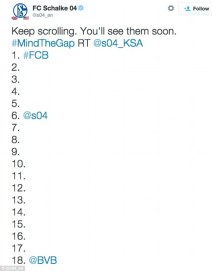 Ouch. That's cruel.
Dortmund's start to the season is their worst in the club's top-flight history, and despite a solid start to their Champions League campaign (which had everyone baffled), things there have gone sour as well, and supporters who received worldwide attention for their steadfast support of the club have been heard booing after the team's most recent 2-0 loss to Eintracht Frankfurt on Saturday.