Each week at ProSoccerTalk we will hear from from U.S. national team and Stoke City defender Geoff Cameron, who is now a special correspondent for NBCSports.com. 
[ RELATED: Cameron's latest on PST ]
The proud Bostonian will give us the inside scoop on what life is like behind-the-scenes in England's top-flight with Q&A's, first-person pieces and more. He will also touch on plenty of the hot topics across the soccer world. Simply put, you will get all of his expert insight, analysis and opinions on the beautiful game, right here. 
This week we caught up with Geoff on the phone for a quick Q&A, following Stoke's grueling away games against Liverpool and Manchester United in the space of four days, as he now prepare to face Arsenal on Saturday.
[ VIDEO: PL highlights | Latest PL standings | PL schedule ]
Let's recap the last week. Two great performances away from home against Liverpool and Manchester United but two narrow defeats. How frustrating was that?
Away at Liverpool, we were disappointed to not get at least a point there where we deserved more and then going to Manchester United with our spirits high and we are disappointed again. I think we are playing well and working hard, but we are just not putting the ball in the back of the net and getting that bit of luck.
[ RELATED: Watch full match replays ]
Sometimes you need some luck, you need to create your own but hopefully this weekend we can turn it around and get our home form to where it should be. We face another big team, a real tough opponent, but I think we can beat Arsenal. They are a very good team but we have been playing very well and coming up just shy of winning. We need that killer instinct and consistency to beat Arsenal this weekend, get three points and climb the table.
How hard is it playing on the road, often with hostile fans looming?

It is one of the toughest things to do and the thing is every game, every point, matters. Every game is crucial and you try to get as many points as you can. We want to improve on last year's finish and we all believe that we can do more. That is the goal. But at the same time we've been very unfortunate recently because we've been playing really well but just not getting the bounces go our way.
Difficult is it to ignore the crowd? Often they are very close to the pitch.

It is what you have to do as a professional. For me, it gets you up for the games even more. When you are in the zone you don't notice it because you are so focused. But the crowds over here and the passion is incredible. To be able to play in England and experience this every weekend, with the intense support and passion, it is a place you would always want to play.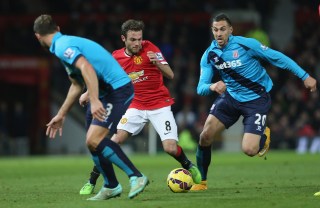 How big a part are injuries playing for Stoke right now?
Yeah, having injuries is tough. But at the same time, every team has injuries and you have to deal with it. I think we've done alright. We do have a lot of injuries but saying that, we have enough quality throughout the team and we have been unfortunate with the results we have had.
Looking ahead to facing Arsenal this weekend, it is going to be a full house at the Britannia Stadium. Do you think you can get at these guys?
We know what Arsenal has and what they have to offer and how good they are. But we have been playing very well and although we are disappointed with the last couple of results, we are pretty confident that things will change around and this weekend will give us a chance to do some damage.
[ WATCH: Stoke vs. Arsenal, Saturday, 10 a.m. ET online via Live Extra ]
The last few games you've played right back, center back and in central midfield. Is having your position change so much difficult?
It is definitely tough. But at the same time I am playing, so I'm not going to complain about it. I just want to play. For me it was a good opportunity the other night to play at Old Trafford against Manchester United under the lights and it was great to get a run at midfield and just to be playing. I just want to be on the pitch and playing and playing when I am confident.
You've been in the Premier League for a few years now but as a guy from Boston, do you look around before or after games and think 'this is amazing to be playing at these famous stadiums!'
For sure. That is one of the things. You look up after the game and you are like 'man… this is crazy!' Not everybody gets the opportunity to play at these stadiums and play at such a high level so for me it is an amazing opportunity and like a dream come true. I just want to keep it going and play over here as long as I can.
You have a busy week with three games in seven days, and then in a few weeks time you have the busy festive season coming up. Is that time of year one of the best to be involved in the Premier League?
It is definitely one of the most exciting times of the year, that's for sure. But it is also one of the hardest times of the year. While other leagues in the world have a break, but for us it is the busiest time of the year. For us, I don't mind it at all. It is just a matter of keeping your body healthy and making sure you are ready to go for the next match because you want to be as fresh as possible.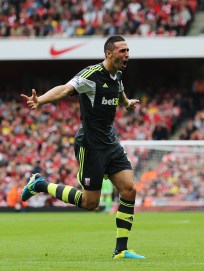 How do you do that?
Everybody is different. For me it is getting treatment, getting my body body realigned back to where it was before. The one thing for me is, sleep is the best recovery you can get. So sleeping and resting (see the Instagram post above for some serious chilling…). Preparing your mind mentally, and physically, for such a hard run of games. If you can do that, get your mind right and prepare yourself, it is a powerful thing.
Facing Arsenal, you scored against them a few years back. Would it be nice to get on the scoresheet on Saturday
I wouldn't mind getting on the board against Arsenal again! That was a pretty cool moment in my career, especially as it was my first Premier League goal. Hopefully I will have a few more before my time is done.
Arsenal have the likes of Alexis Sanchez tearing it up and many others like Giroud, Welbeck etc. How big of an attacking threat do they possess and how big of a test will it be for Stoke?
They have a lot of good players… but so do we. It is a matter of us showing up to play and all we can do is worry about ourselves and how we have been playing. If we go out there with the same hard work we've been putting in during the last couple of games, then I think we will be alright. You can't focus on too many of those guys. It is the same situation when you play Man United or Liverpool. They have so many good players, so you can't focus on one, you have to focus on them all as a team and everyone working together.
Give Geoff a follow on Twitter for the latest insight into his life in England playing in the Premier League.