When the LA Galaxy host the New England Revolution in Sunday's MLS Cup final at StubHub Center in Carson, California, (3 pm ET), all 22 starting players will be fully capable of winning — or, losing — the championship for their respective side.
There will be, however, a few man-versus-man matchups in particular that will go further than others toward deciding the this year's league champion.
The three biggest matchups to keep an eye on Sunday:
Andrew Farrell vs. Landon Donovan (10 goals, 19 assists) — Farrell, a second-year pro, drew the unenviable task of frequently defending against Thierry Henry one-on-one in both legs the Eastern Conference Championship. And you know what? He didn't do half-bad.
Of course Henry found multiple other ways to create chances, rather than running at the younger, nimbler Farrell. But in terms of closing down lanes and communicating his movement to teammates, Farrell did his job and Henry rarely found himself unaccounted for, thus the Revs outlasted the Red Bulls and are in MLS Cup.
[ RELATED: PST writers predict everything about MLS Cup 2014 — including Donovan's tears ]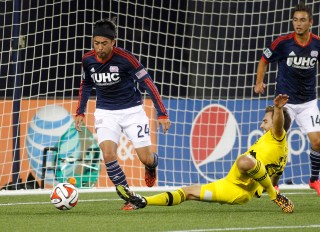 Juninho vs. Lee Nguyen (18 goals, 5 assists) — Nguyen does one thing better than anyone else in MLS: finds space inside the space between opposing midfield and defenses — especially against teams who play with two banks of four, as the Galaxy do. Because of this, we can assume Bruce Arena will assign Juninho, his side's "mucker-upper," the responsibility of tracking — as well as kicking and hacking — Nguyen from minute one until 90.
Nguyen's dream scenario — and Arena's nightmare — is Nguyen losing Juninho and running at the immobile center back pairing of Omar Gonzalez and Leonardo (if AJ DeLaGarza is to not return from injury, or play at right back). Juninho must protect Gonzalez and his partner from such occurrences, because Nguyen makes you pay.
[ RELATED: The rebuild: Jay Heaps reflects on journey from Morgan Stanley to MLS Cup ]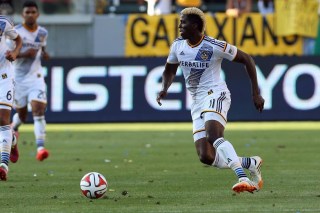 Jose Goncalves/A.J. Soares vs. Robbie Keane/Gyasi Zardes (35 goals, 16 assists, combined) — Keane was named the league MVP on Wednesday and Zardes would almost certainly be named 2014's Most Improved Player if the league handed out such an award. It's the latter who, to go along with Donovan and Keane, transformed this year's Galaxy into one of the league's all-time best attacking teams.
During the regular season, Zardes became a confident, free-flowing peer of his elder statesman sidekicks to the point that his name began to regularly come up in conversations about the US national team's January camp.
In the playoffs, though, it's been a whole other story for Zardes. The player described directly above is gone. Instead, the 21-year-old, timid rookie has resurfaced and largely been a non-factor in the postseason.
Without Zardes's positive contributions, the Galaxy's title hopes rest squarely on the shoulders of Donovan and Keane creating a goal or two all on their own — not a terrible bet on most nights — except it's a talented Revs side they're facing, more than capable of hitting the Galaxy for two or three of their own.
Follow @AndyEdMLS