Seeing as top-flight soccer can be a bit of a copycat game, and that Newcastle United is the first team to beat Chelsea in 23 matches, we thought it might be fitting to provide managers with the recipe for defeating Jose Mourinho's powerful Blues.
After ensuring that the match is played at St. James Park, where Chelsea almost inexplicably haven't won in 4 years, please follow this step-by-step list to beating the Blues.
[ RELATED: Watch full match replays ]
1) Start a second-choice goalkeeper because your star keeper is hurt.
2) Make sure he gets injured at halftime, ensuring the need to put in a 21-year-old third-string keeper with zero Premier League experience.
3) Keep your best striker on the bench to start the game.
4) Put him on in the 53rd minute, not at halftime. We repeat: not at halftime. Wait the 8 minutes. Trust us.
5) Let Chelsea have the ball almost exactly 2/3 of the game (66-34).
6) Be sure to let them out-attempt you by a healthy margin (26-9)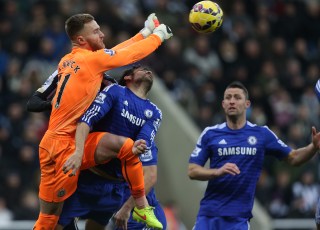 7) Have your aforementioned best striker score a pair of goals to build that "always dangerous" 2-0 lead.
8) Remind the ball boys that they are complicit in a plot to bleed the match dry.
9) Keep your tempestuous center back on with a yellow card.
10) Prepare to sub him off right before he gets a red card.
11) Play with 10-men. Cross your fingers.
12) Allow a goal.
13) Have Eden Hazard hit the post.
14) Smirk knowingly.
15) Pretend it all went according to plan.
[ RELATED: Latest Premier League standings ]
Yeah, this was a blip in the radar for Chelsea, but it's a blip that can serve to make the title race a lot more fun.