ARSENAL'S FANS WRONG TO TURN ON WENGER
The video below is disturbing, vile and downright wrong. Arsene Wenger — the man who has delivered three Premier League titles, five FA Cups and has helped the Gunners battle with Europe's elite year-in, year-out for almost two decades — deserves better than this.
Okay, fans of sports teams have the right to voice their opinion and they are openly able to do that in the kind of society we live in. But have some class and show some decorum, Arsenal fans. Waving banners calling for Wenger to leave at West Brom was pushing it and the scenes as the team boarded a train at Stoke to head back to London on Saturday was totally unacceptable.
[ RELATED: Watch full match replays ]
Arsenal have only won once in nine trips to the Britannia Stadium and their style just doesn't match up well with the Potters. Never has, and probably never will. Especially away from home. Yes, if Wenger is serious about his team at least finishing in the top four, they must beat teams like Stoke. They defended poorly and were caught cold at a fired-up Brit as their young stand-in defenders were found out early as Stoke's giants bombarded them and led 3-0 at the break. But defeats happen and Arsenal's fans must learn to take them better.
Wenger signed a new contract at the end of last season after winning the FA Cup and when he calls time on his career at Arsenal, they will build a statue of him outside the Emirates Stadium, such has been his positive influence on the fortunes of the north London club and the PL in general.
It is so easy to say "the past is the past, we want to win now" but take a step back and think where Arsenal could be if Wenger didn't turn up as boss back in 1996. All is not lost this season. Arsenal is five points outside the top four and are in the last 16 of the UEFA Champions League. Our analysts break it down in the video above, as Arsenal had plenty of problems against Stoke.
But is berating your manager in public really going to change results on the field or yield any positive outcome whatsoever? Nope.
Premier League Schedule – Week 15

THE TITLE RACE BLOWN WIDE-OPEN
And then there were two.
Chelsea is still leading the way in the Premier League but Manchester City have closed the gap to just three points after Week 15.
 [ VIDEO: PL highlights ]
Jose Mourinho blamed ball boys (seriously) and bad luck as his side tasted defeat for the first time this seaosn by losing to Newcastle United on Saturday in the early game. Man City knew a win at home to Everton in the late game on Saturday would put them just three points behind Chelsea with the busy festive season fast approaching.
They edged past the Toffees thanks to Yaya Toure's PK but a worrying knee injury to the PL's leading scoring and City's talisman Sergio Aguero keeps the title race tilting slightly in Chelsea's favor. For now.
[ RELATED: Latest PL standings ]
With Chelsea beaten for the first time in 15 games this season, we will now see the true character of Mourinho's men to bounce back in the face of adversity. Manuel Pellegrini and City have been in the position before (see last season) and will not be overawed by the challenge of a three point deficit to go top. The title race is well and truly on.
USMNT UPDATE: CAMERON SHINES IN STOKE'S BIG WIN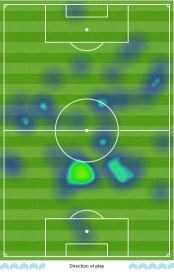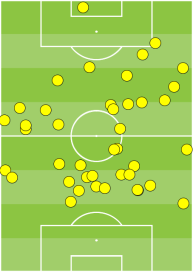 Overall it was a good week for the Americans Abroad as Brad Guzan bagged a second-straight win with Aston Villa and Jozy Altidore got a start at Anfied as he helped Sunderland grind out a 0-0 draw against Liverpool. Tim Howard's Everton lost 1-0 to Man City but his side dominated large spells of the second half, as the Toffees remain in the bottom half of the standings in the only blip for the U.S. national teams' PL contingent.
There was no doubting where the star performance from an American player came.
After a long spell out due to surgery at the start of the season, Stoke City's Geoff Cameron is coming into his own in his third season in the PL. The USMNT star has played at right back, center back and now in holding midfield twice in his last four games.
[ RELATED: Cameron on Arsenal, versatility and more ]
His versatility makes him invaluable to the Potters and his play in central midfield during Stoke's shock win against Arsenal followed on from his impressive display in the engine room against Manchester United at Old Trafford. Composed on the ball, strong in the air and providing valuable protection to Stoke's back four, Cameron is in great form.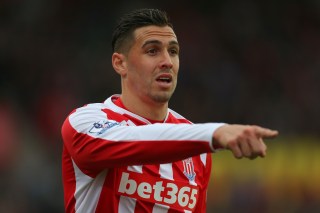 If you take a look at the heat map on the left you can see he sat square in front of Stoke's backline and was able to help them see of a late onslaught to seal a valuable win. On the right is his touch map, which shows that Cameron got involved all over the pitch and was crucial in breaking up Arsenal's quick counter-attacks. He has stated all along that he's a holding midfielder or center back and despite excelling at right back over the last two seasons for Stoke, Cameron is staking his claim to be tried out in the engine room for the USA. Against Belgium in the last 16 of the World Cup he locked down Marouane Fellaini and Jurgen Klinsmann should give Cameron a return to midfield in 2015.
With plenty of speculation around the Bostonian during the last transfer window, expect the same to happen in January after his latest string of fine displays as an unsung hero for Stoke.
CAN WEST HAM BREAK INTO THE TOP FOUR?
As bubbles drifted out of the various machines by the side of the pitch at Upton Park on Sunday, West Ham's fan not only belted out their famous "Forever Blowing Bubbles" theme song after yet another win. If you listened carefully enough chants of "We're gonna win the league" could be heard.
[ RELATED: Three things we learned ]
Andy Carroll's double and a goal on his return to fitness for Diafra Sakho meant the Hammers coasted past Swansea City 3-1 after going behind early on. They deserved their win and have now won three-straight and are in the top four of the PL standings. Can they stay there?
[ RELATED: Can West Ham finish in the top four? ]
With the goalscoring exploits of Carroll, Sakho and the ingenuity of Stewart Downing getting plenty of the praise, the Hammers will need a slightly less flashy but extremely important player to keep putting in monumental performances like he did on Sunday, as he broke up Swansea's usually fluid midfield. After the game I asked West Ham manager Sam Allardyce about Alex Song and his vital role for West Ham since joining on loan from Barcelona.
"He gives us a little bit more in terms of how we can be composed about the way we play. We have earned quite a bit of respect know and we are coming up against teams who sit back behind the ball. Alex Song is a quality player who is able to break that kind of system down with his passing. He is very cool and calm on the ball and waits for the right the opportunity and plays the right pass forward. That gives us a dimension in terms of breaking teams down who sit behind the ball, like Swansea did today. That will happen more and more now because of the position we are in and the respect we've gained."
Sporting his classic Puma King kicks (the ones with the massive tongues, remember those?!), the former Arsenal man has been an absolute bargain. After the game he revealed he's not sure if his loan move from Barca will be permanent after this season but on this showing the likes of Arsenal, Liverpool and plenty of other top teams in the PL will want to snap up Song. The Cameroon international was certainly happy with the win and his performance. Check out his Instagram post below. Not sure about the shoes, Alex…
http://instagram.com/p/wT8acGl3Kd/
Premier League Playback comes out every Monday as PST's Editor and Lead Writer takes an alternative look at all the action from the weekend. Read the full archive, here.