Every season finds a bevy of players surging toward the realization of their potential, and MLS had a number who made the impacts felt in 2014.
It was hard to knock the field down, and some big names fell along the way (though we provided an "honorable mention" list for their and our egos).
In no particular order, we present 11 names — seven who broke free and four who just missed — as our top advancers of MLS 2014.
[ MLS: Busy day in transactions, rounded up ]
– Matt Hedges, D, FC Dallas — The Rochester native was a physical presence in his own end and an effective force at the other end. Solid in possession and a leader, the 24-year-old UNC product is due for a look from Jurgen Klinsmann. We'd be shocked if that doesn't happen in January.
– Perry Kitchen, M, DC United — Finally found more finish with a career-high five goals, and allowed a lot of us to forget he's merely 22 years of age. Kitchen was the only player in MLS history to lead his team in minutes as a rookie in 2011. He was 19, by the way. I quit.
– Bradley Wright-Phillips, F, Red Bulls — It's easy to forget that BWP scored just once in 7 MLS appearances last season after a pair of disappointing English seasons for Brentford and Charlton Athletic. But he's moved past a seedy reputation overseas to start bagging goals again, tying the single-season record for Major League Soccer.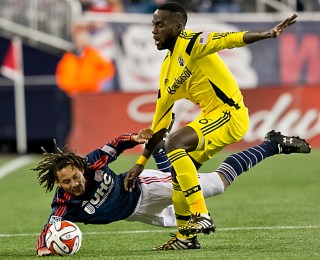 – Tony Tchani, M, Columbus — Steady as you'd like with bruising capabilities and elite athleticism, Tchani probably didn't get the love he deserved for a brilliant season with the Crew. We noticed, Tony. We noticed.
– Eric Alexander, M, Red Bulls — Raise your hand if you appeared in 40 games as a field player this season. If you're not Alexander, your hand better not be raised. Yes, the 26-year-old has had success in the past and 2013 was a strong debut year, but his sophomore campaign in New York was a notch higher.
– David Ousted, GK, Vancouver — Seized the starting role under Carl Robinson, and the rookie boss couldn't have taken it back if he wanted. The 29-year-old Dane was outstanding in the 'Caps successful late-season run to hold off Portland for the West's final spot.
– Gyasi Zardes, F, Los Angeles —  When he was signed as a Homegrown player out of Cal State Bakersfield and posted four goals as a rookie, few saw this level of production: 19 goals in 35 appearances. Now can he do it sans Landon Donovan in 2015? We wouldn't bet against him.
Honorably mentioned: Lee Nguyen (we knew he was crafty), Erick "Cubo" Torres (really broke out last year), Andrew Farrell (Steady enough as a rookie in 2013), Harrison Shipp (Broke out, then cooled off),