Perennial powers UCLA and Virginia face a pair of upstarts on Friday en route to what they hope will be a score-settling College Cup final.
In what's been a tournament of upsets, only No. 2 UCLA remains from the top ten teams in the country. The Bruins duel with No. 11 Providence on Friday at 730pm ET, right after UMBC hopes to stun No. 16 Virginia.
Virginia is the only team to have appeared in the 2013 College Cup. UCLA last made the Final Four in 2011, while neither Providence nor UMBC have been this far before.
[ VIDEO: College goals of the year — From distance | Fancy footwork ]
UCLA and Virginia boast the third- and fourth-most wins in tournament history and nearly mirror win percentages (Virginia has the edge, .647-.646). UCLA is hoping to move closer to Maryland's total of six titles — the Bruins have four — while the Terrapins' 11 title games are two less final appearances than UCLA.
And both boast top end of the MLS Draft prospects in electrifying Bruins attacker Leo Stolz and Virginia defender Kyler Sullivan.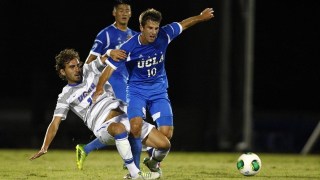 The Bruins and Cavaliers are undoubtedly the powers, not that that's mattered on the paths of the other two squads.
UMBC beat Creighton, Louisville, Maryland and Wake Forest in a bit of a "How do you like me now?" run through the first four matches. And Providence comes to Cary, N.C. with the pelt of No. 3 Michigan State.
The UMBC Retrievers are led by a staunch defense that includes goalkeeper Billy Heavner and his sparkling .50 goals against average and .857 save percentage. And Kay Banjo's 8 goals help to bring the attack.
And Providence has not one but two high-producing goal scorers in Markus Naglestad (10) and Mac Steeves (9).
View the bracket and viewing info here.