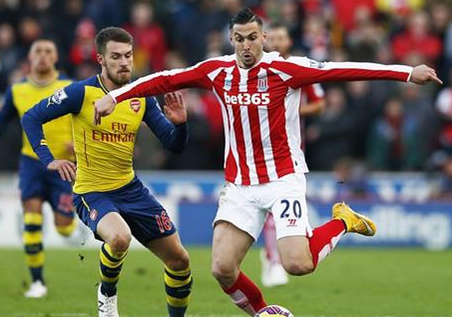 Each week at ProSoccerTalk we will hear from from U.S. national team and Stoke City defender Geoff Cameron, who is now a special correspondent for NBCSports.com. 
[ RELATED: Cameron's latest on PST ]
The proud Bostonian tells us what life is like behind-the-scenes in England's top-flight with Q&A's, first-person pieces and more. This week, he's hoping for big things after Stoke's impressive win last week vs. Arsenal.
[ VIDEO: PL highlights | Latest PL standings | PL schedule ]
Our main goal this weekend is to get another win and go on a bit of a run by beating Crystal Palace. To be fair, our away form has been pretty good this year. We've been playing really well but haven't been getting the points we deserve so hopefully this weekend, with our confidence growing from the big win last week, our frame of mind is to go to Palace and steal three points. Saying that, we know how difficult it is to play against a team like Palace.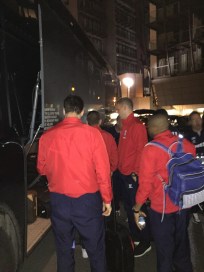 They proved that when they beat Liverpool recently. It will be difficult for us, but we don't want to alter the way we play. If we can keep the the tempo high and defend as a team and be together as one, I think we can win two games in a row and get things going.
Many will say that it is tough for us after that great win against Arsenal, but that's not the case here at Stoke. We are grounded because we know that we haven't been able to string results together this season. We have our home form back after dropping some points early on in the season, and we have to make that up on the road. This is an opportunity for us to take, but you can't be over-confident. We are playing well and deserved a point away against Liverpool and Manchester United and then to beat a Champions League team like Arsenal but also play well, we are really happy about that.
Going into this game against Palace we now how hard this league is and that you cannot take any game for granted. On any given day, anybody can beat anybody. If we show up buzzing, with the energy we have had in the past few games, I think we can create some problems for Palace.
[ WATCH LIVE: Crystal Palace vs. Stoke, 10 a.m. ET, Saturday ]
For me, it has been great to be back playing in midfield against Manchester United and Arsenal the past few games. I am just taking it one game at a time, trying to improve and I think I am getting better and better. The only way to keep improving is to put your head down and work hard each game and I just want to keep learning, get on the ball as much as I can and play to my strengths.
After playing Liverpool, Man United and Arsenal recently, facing Palace will be a totally different kind of game for me. Against those so-called bigger teams you get more time on the ball, but Palace will be in our faces from the start. You have to go in there, put a shift in and work hard to get the ball moving. We have to use our strengths and I will focus on getting the ball to Bojan, Crouchy and the wingers to let them be the creative ones. For me to do my job, I have to sit in and protect our back four as much as I can.
This week I was told about the plans from U.S. Soccer to revamp the youth national teams and potentially change the college soccer season. I don't know too much about it but having come through the collegiate system with West Virginia and Rhode Island, I think it is great to give these young kids opportunities to be involved in a professional environment and it will only help them to develop from a young age to see what it is all about.
BTW, I sent out this photo on Instagram this week from my early days as a youth soccer player… Anybody else rock the bowl cut too!? Ha. Good times.
Anyway, thanks for all your support from the USA. It was great to receive so many messages after the big win against Arsenal last week. Hopefully we can bag another W this weekend.
Until next week, peace!