MANCHESTER — Take a bow, David De Gea. In fact, take several.
Not for the first time this season the majority of the 75,000 plus fans inside Old Trafford sung his name in unison as the Spanish goalkeeper put on a clinic of fine saves to shutout bitter rivals Liverpool and help Manchester United win their sixth-straight match to solidify third place in the Premier League.
[ RELATED: Three things we learned ]
Speaking after the game Louis van Gaal spoke of his delight with De Gea's display, who won the Man of the Match award in perhaps the most lopsided vote in recent times, but was reluctant to heap too much praise on the 24-year-old's shoulders as he added this performance against Liverpool to fine displays against Everton, Stoke and Arsenal already this season.
"I'm proud we have a clean sheet but that is also because David De Gea has superb reactions," van Gaal said. "We scored fantastic goals – one-touch – and I'm very pleased with that. In spite of the goals we gave a lot of chances away. That was every time we gave unnecessary passes away and that is how we have to improve."
He's right, there's plenty of room for improvement as United put in their third lackluster display in a row but have come out with wins against Stoke City, Southampton and now Liverpool and are now on 31 points in third. Many would say that's the sign of a good team, winning when not at your best, but van Gaal is eager to improve his teams performances as soon as possible and praised his coaching staff for highlighting Liverpool's weaknesses and causing them "pain" with the similar goals they scored.
Plus, having lady luck on your side always helps.
"Okay you need luck but you can force the luck, van Gaal admitted. "We are forcing the luck now. That was not the case at the start of the season. Our players have the belief in our philosophy and they are fighting to the end. Nevertheless they could improve."
[ RELATED: Watch full match replays ]
Asked if United can challenge for the title this season, they sit five points behind Manchester City and eight behind leaders Chelsea, van Gaal was cautious.
"I think the most important is match by match. We are winning now, six matches in a row, which is fantastic. But we have to improve our playing style. I am saying that nearly every week," van Gaal said. "Only after the matches against QPR and Hull City have we dominated the game for 90 minutes. We could have dominated today, but we didn't do that. We kept unnecessarily giving ball away. We have a lot of time and space in the second half and we could have killed the game easy. We have to improve. But we are very pleased because we know what it is to win against Liverpool."
[ VIDEO: Premier League highlights ]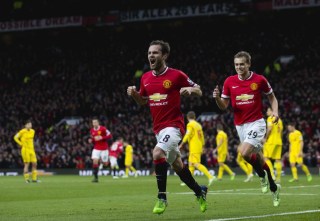 The Red Devils may have plenty to improve on but they are ruthless as they converted three of their six shots on target and made Liverpool pay for failing to get the better of De Gea. The Spanish goalkeeper got the majority of the plaudits, and rightly so, but van Gaal believes another player stood up to the occasion in an unfamiliar role. Michael Carrick.
"You can always say that some players are the most influential in a game and of course David De Gea has a big influence. He did it very well but I can mention others who were also very good and had a big influence," van Gaa said. "You can single out as many players as you want. Yes, Michael Carrick did well in defence."
In truth, it was De Gea and Carrick holding back Liverpool's offense, as both Ashley Young and Antonio Valencia offered plenty going forward but Raheem Sterling and Mario Balotelli exposed United's defensive weaknesses horribly. Carrick, 33, excelled in the unfamiliar role of center back as he marshaled the backline and sprayed the ball around effortlessly as he held the three-man defense together with the 3-5-2 formation in place. United must improve and they have their goalkeeper to thank after he thwarted Balotelli and Sterling three times each.
Even Liverpool boss Brendan Rodgers, who saw his side lose for the seventh time this season and they've scored just 19 goals in 16 matches, was in awe of De Gea's performance.
"De Gea is a top class goalkeeper," Rodgers admitted. "He made the saves, some big saves today, the first goal we conceded he makes the save and they go on to score. Some of them, they look like goals and he saved them. He is a top class goalkeeper. We had enough chances to get something from the game."
However sadly for Liverpool and luckily for United, De Gea was, not for the first time this season, in indomitable form.