DE GEA: SIMPLY THE BEST?
In the press box at Old Trafford on Sunday, we all kept looking at each other in disbelief and laughter began to emanate after a while as the same pattern kept playing out. Liverpool went clean through on goal. David De Gea saves. Again and again. Six times he thwarted the Reds in similar fashion as Raheem Sterling and Mario Balotelli could not get past the United 'keeper.
[ RELATED: United lucky, clinical as De Gea excels ]
At the age of 24 (which is still remarkably young for a 'keeper) De Gea is in the form of his life. He was awarded the Player of the Month trophy before the game at Old Trafford and spurred his team to victory as the Red Devils were lackluster but clinical in their 3-0 victory over bitter rivals Liverpool.
[ RELATED: Three things we learned from Man United 3-0 Liverpool ]
One of the big questions being asked after the match is: just how good is De Gea? Is he the best in the world? These four guys are right up there with him.
Here's a look at his contenders for the crown…
Manuel Neuer

– The man De Gea must get past, Germany and Bayern Munich 'keeper is superb with his feet and has no weaknesses. Ballon d'Or candidate and the undisputed best, right now.

Thibaut Courtois

– Still only 22, the Belgian and De Gea will likely be neck and neck for most of their careers. Very similar 'keepers with their lanky limbs and love of foot saves. Potential to be the best in the world.

Hugo Lloris

– French skipper is the ultimate 'sweeper 'keeper' and despite not having the size of the others, his agility is remarkable. Reliable and dependable. Old school.

Joe Hart

– Really coming into his own this season for City and England. Commanding his box and has cut out silly errors.
One of De Gea's great strengths is his ability to make stops down low. For a big guy he gets down remarkably well and he leads the Premier League in shots saved with his feet (10) and is getting plenty of practice each and every game as United continue to put in lackluster displays and give away the ball cheaply, as the stats below show.
Speaking after the game, United's manager Louis van Gaal did not want to single out De Gea for special praise but it was hard not to. His opposite number Brendan Rodgers hailed De Gea as a "world class goalkeeper" and without him, a sprinkle of luck and clinical finishing, there's no way United would be in the third place in the PL and on a six-game winning spree.
"You can always say that some players are the most influential in a game and of course David De Gea has a big influence. He did it very well but I can mention others who were also very good and had a big influence," van Gaal said.
As the young Spanish 'keeper continues to grow, his influence at United is growing. From the shaky, lanky youngsters who turned up three years ago from Atletico Madrid, De Gea has transformed himself into one of the best 'keepers in the world. If not the best. His contract situation at United is ongoing and with Real Madrid reportedly sniffing around for Iker Casillas long-term successor, the Red Devils need to lock down De Gea to a new deal.
Premier League Schedule – Week 16

DIVING EPIDEMIC WORSENING
Diving. Simulation. Cheating. Whatever you want to call it, the subculture of perverting the course of justice on a soccer pitch has become a subplot which often engulfs games not only in the Premier League, but worldwide. This epidemic has to disappear. But how will that happen? On Saturday, in the Premier League alone there were two hugely controversial moments involving simulation plus many others scattered along the way.
[ RELATED: Watch full match replays ]
Chelsea's Gary Cahill was lambasted by Hull City boss Steve Bruce for taking a tumble in the box (in truth Cahill's dive wouldn't have looked out of place in Swan Lake) and elsewhere Sunderland's Adam Johnson went down far too easily under minimal contact from James Tomkins to win a penalty. To say West Ham manager Sam Allardyce was apoplectic with rage is an understatement.
Managers will slaughter referees for "disgraceful" decisions in their post-game interviews, but the fact of the matter is, it is getting so difficult for refs to tell real fouls and simulation apart.
[ VIDEO: Premier League highlights ]
The speed in which the game is played means minimal contact will send a player off course or could cause them to hit the ground and the subculture which exists in the game encourages players to take a tumble if they feel contact in the box. The only way we can truly determine if there was an act of simulation is to have action replays available to a fourth-official who can then determine whether or not the referee got the decision correct. Has the problem gotten that bad that something like this is needed? It's a drastic step, but it would help to eradicate and, more importantly, shame the culprits.

[ RELATED: Cahill in diving scandal ]
Growing up, I remember an extract from Paolo Di Canio's book vividly. The former West Ham, Juventus, Lazio and AC Milan star was brought up through the youth system in Italy and remembered being told by coaches at a young age that if you felt any contact in the box, you must go down. When he moved to play in England along with the first wave of Italian players in the PL, Di Canio was often accused of diving as fans hadn't seen that kind of playacting which was commonplace in Italy. The once laughable issue has become an epidemic. It has taken many years for the playacting and debauchery to creep into the English game but for some time now, whether we want to believe it or not, it has become commonplace. It has to stop.
The fact that Cahill, a no-nonsense English center back who is the last person you'd brandish a diver, is now at it proves the problem has got way out of hand. If Chelsea's attackers Diego Costa, Willian, Oscar or Eden Hazard — who have all previously been accused of taking a tumble and in Costa and Willian's case were booked for simulation on Saturday, while Oscar was called out by Mourinho for diving in a match vs. Southampton last season – had gone down the way Cahill did, not as much would be made of this.
The fact that an Englishman who typifies the qualities many purists feel is dying out in the game (honesty, integrity, grit and power) went down flailing his arms under no contact in the box has hit home the point that simulation is a real problem and it must be rectified before the point of no return is reached. Maybe that moment has already arrived.
ALTIDORE'S PL PAIN CONTINUES
On Saturday at around 3:45pm UK time, USMNT striker Jozy Altidore had a golden opportunity to put Sunderland 2-1 up vs. West Ham. Starting his second-straight game in the PL this season, the New Jersey native found some space at the back post and Sebastian Larsson found him with an inch-perfect cross. But as the ball fell to Altidore, he panicked. He could not sort his feet out and instead of volleying home from four-yards out, heading goalwards or thrusting any part of his body towards the ball, he froze.
That was to be the last action of the first half and as the teams walked down the tunnel for the interval, Altidore looked to the sky in disbelief and was close to tears as his nightmare in the PL continues.
The stats are not pretty reading for the USA's main striker. He has now scored just twice in 69 Premier League appearances during his career and his confidence looks to be at an all-time low. Yes, he does give the Black Cats an outlet as he works hard to hold the ball up and bring others into the game. But last season, for the most part, he never got the service up top to score goals. This season, whenever he has been given brief chances to play, he has better attackers around him to create openings. The former New York Red Bulls forward doesn't look confident in his ability to convert them and his good form for the USMNT in friendly games to close out 2014 just isn't converting to his club team.
Recently I asked U.S. national team boss Jurgen Klinsmann about Alitdore's situation at Sunderland as the forward flourished against Colombia in a friendly. After hoping that Jozy would get more game time at Sunderland, here's what else he had to say.
"I mentioned it to some people after the World Cup: If Jozy would have been fit, his form prior to the World Cup in the friendlies, I think he was a player for four, five goals in the World Cup," said Klinsmann. "In the way we play, we look for him and feed him. Unfortunately he didn't have that opportunity. It would have made a big difference for us. There's no doubt about it."
Praise from Klinsmann aside, Altidore now has a big decision to make in the coming weeks. He previously said he will look for an escape route from Sunderland in January if his game time does not increase. Well, Jozy's game time is on the up but he is not making the most of it and according to reports on Monday he may be heading to the Bundesliga in January. More on that here.
Sat in England watching the national media observe Altidore's miss, it was painful viewing for any sympathizer of the USMNT who knows what the 25-year-old is truly capable of. He was hung out to dry and made a laughing stock of on national television. It will be extremely difficult for Jozy to shake off those negative connotations from the English press but he has the ability to do so and is getting the game time. Now, he just needs the belief that he can succeed. As any pro will tell you, in difficult times that's the hardest thing to rediscover.
QUESTIONS LOOM OVER LAMPARD'S LOAN
Frank Lampard scored his 175th Premier League on Saturday, joining Thierry Henry as the fourth-highest goalscorer in PL history. Lampard is the only midfielder in the top 10 and his latest milestone comes as the stunning Indian summer of his career continues.
[ RELATED: Lampard the hero for City ]
His goal secured a 1-0 win for Man City as the English midfielder has six goals in 13 games since securing his loan move from Major League Soccer's newest side New York City FC to their sister club which is also owned by the City Football Group. Lampard's arrival to MLS back in the summer was big news but now it is not so cut and dry as to when NYC FC's Designated Player will be linking up with his new team. As his manager at Man City points out, it's a complex situation but Lampard wants to stay.
"Frank is very important, one of the reasons he played today was it was important to refresh the team," Pellegrini said. "Frank was very useful for us in that moment. Frank is a top player, he must continue scoring goals, he is great inside the box. We know exactly what we must do. Frank wants to stay, we want to keep him. We must resolve the problem with New York City and with the MLS."
What are the options here? Okay, Lampard's loan move is due to run out at the end of December as he was meant to head to the U.S. in early January as New York City prepare for their first season which kicks off in March 2015.
[ RELATED: Lampard to remain at City? ]
However Pellegrini wants Lampard to remain at City for as long as possible and hopefully until the end of the season in late May. That would mean Lamps would not suit up for his new team until over two months into the MLS season. That doesn't do much for MLS's global image, does it? After unveiling Lampard under much fanfare in Brooklyn in the summer, to have him show up a few months into the season after a full season in the PL under his belt, that's not ideal.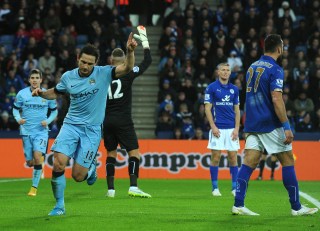 As discussions continue, the most likely outcome will be that Lampard extends his loan until the middle of February.
That way he can play for City when they head to Chelsea on Jan. 31 and he can say a final farewell to his adoring fans at Stamford Bridge where he became the clubs all-time leading scorer and won every trophy possible. New York City FC then head on a 10-day preseason tour in Manchester in early February so Lampard could link up with his new teammates and still play for City, before returning to the U.S. with them.
That is the most logical option. But right now Lampard is helping to spearhead the Citizens' charge towards a second-straight title and as injuries continue to ravage their squad and spending is capped under Financial Fair Play regulations, it wouldn't surprise me if they not only tried to keep Lampard for longer but brought in David Villa (NYC FC's other Designated Player) for a few months as they currently have no fit strikers. Who knows?
One thing's for sure, Lampard's legend continues to grow in the PL and across the globe. His teammates at Man City don't want him to leave, the fans don't want him to leave and neither does City's manager. Lampard is in a very tricky situation, as the issues of dealing with multi-club ownership rears its head for MLS, City and NYC FC.
Premier League Playback comes out every Monday as PST's Editor and Lead Writer takes an alternative look at all the action from the weekend. Read the full archive, here.