Manchester United has been surging up the table, but one who hasn't been involved is a highly-touted youngster.
Despite his clear skill and ability, 19-year-old Belgian winger Adnan Januzaj has seen just 655 minutes out of a possible 1,440, including just 64 lonely minutes during the club's current seven-match winning streak.
Manager Louis van Gaal has preferred to partner Angel Di Maria with experienced wingers Antonio Valencia and Ashley Young to the green Belgian, and as a result, the kid could be headed out on loan in January to earn him some valuable experience on the field. Even with Di Maria injured, the Dutch manager put both Valencia and Young on the field opposite each other.
One man reportedly interested is his former manager David Moyes, now tasked with an arduous job saving Real Sociedad's La Liga status.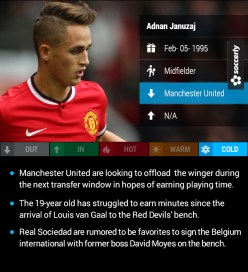 With their season suddenly gone south, Moyes is hoping to beef up his attack. Despite La Real's 14th position in the La Liga table, they have created 141 chances this season according to Squawka Statistics, good for 6th in the league. But they've only converted that into 16 goals in 15 matches, clearly not good enough for a top-half finish.
Januzaj was a favorite of Moyes last year during his failed run at the helm of United, playing 27 times in the Premier League and scoring four goals while assisting four more.
But Moyes isn't the only one in for the young winger. There are reportedly also options in Italy, with Inter and Napoli both reportedly interested. Inter's woeful season (by their standards) has seen Roberto Mancini come in to manage a month ago, and he is asking for a new winger.
I Nerazzurri haven't struggled in the goalscoring department, bagging 23 goals – good enough for sixth in Serie A, but they still sport just a +2 goal differential with a lagging defense.
One thing to remember is the injury struggles that Manchester United has been forced to weather, and while most of those have come in defense thus far, it would be a bit surprising to see them offload young talent even if that may be the smart decision for his long-term development.