DaMarcus Beasley is the only American in history to play at four different World Cups, as that remarkable feat will be tough to equal.
On Monday Beasley, 32, announced his retirement after a remarkable international career as the USMNT lost one of its leaders and most reliable players. There will be a new number seven on Jurgen Klinsmann's roster the next time they meet up.
At the age of 20, Beasley was called up by Bruce Arena for the 2002 World Cup and was part of the team which made a memorable run to the last eight of the competition. He also played in 2006 and 2010 and in 2014 he reinvented himself as a left back after playing his entire career as an attack-minded player.
Throughout his 121 caps, he sits fifth all-time in appearances for the USMNT, Beasley left everything out on the field and flew the flag for Americans players abroad as he's spent much of his club career overseas playing in the UEFA Champions League with the likes of PSV Eindhoven and Glasgow Rangers among others. Having spent so much time playing overseas, you get the feeling that many of Beasley's achievements at club level often went unnoticed by the soccer community in the U.S. and that he perhaps deserves more respect for his incredible longevity at the international level than he gets.
But there's not doubt that along with Landon Donovan, his influence on the USMNT was extremely strong for well over a decade.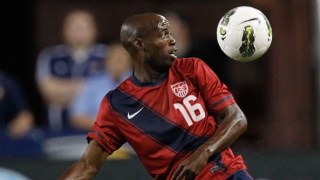 After staring off in MLS with the Chicago Fire, Beasley is now back in his homeland with the Houston Dynamo and is still carrying on with his club career. But with his USMNT career now over, the brilliant video above from the U.S. Soccer media team encapsulates some of 'Beez's' greatest moments for the USA.
Before what turned out to be his final game for the U.S. national team against Colombia in London last month, I spoke with Beasley about being a leader for the USA and the role he has been playing to help the next generation of players adapt to the playing for the national team.
We spoke about those who helped him out when he was a kid and his response is fitting of a man who did everything he could on and off the field to help the U.S. national team become what it is today.
"One of the guys played here," Beasley smiled, looking up to the old iron rafters at Craven Cottage. "Brian McBride. He's a guy that was always full of information and willing to help the young kids. Claudio Reyna. Eddie Pope, when I was younger they were always looking to bring a young guy under their wing and help them in any way. On and off the field. We definitely want to do the same thing as we pass the torch going into 2016, 2017… maybe some of the older guys such as myself won't be here. So we want to make sure the U.S. national team is in good hands."
Thanks in a large part to Beasley's consistent displays over the last 12 years, the U.S. national team is in safe hands for many years to come.
What a player. What a career for the USA. What a legacy he leaves behind for others to try and replicate.