Monumental news for soccer fans in the nation's capital: D.C. United will have a new home.
On Wednesday the deal for a brand new soccer specific stadium in the Buzzard Point neighborhood was rubber stamped, as an MLS original will finally have their own soccer-specific stadium to call home after spending the last 20 years at RFK Stadium.
[ RELATED: Garcia resigns from FIFA ]
The new stadium is scheduled to open in 2017 and will have a capacity of 20,000-25,000. The entire Buzzard Point neighborhood is in line to receive significant regeneration, with the $300 million stadium set to become integral to the future success of Southwest Washington.
In a release on the team's website, D.C. United  state that "the approval of the new stadium bill is the culmination of more than a decade of efforts, including most recently two-and-a-half years of work by D.C. United and District of Columbia leadership."
D.C. United's Managing General Partner Jason Levien was delighted the Black and Red finally have a place to call their own.
"We are grateful that D.C. United's future in our nation's capital is secure," Levien said. "This is a historic victory for the team and its fans, the city, the region and the sport of soccer in this country. I am deeply appreciative of the efforts of many city leaders, including Mayor Vincent C. Gray, Mayor-Elect Muriel Bowser, City Administrator Allen Y. Lew and the D.C. Council."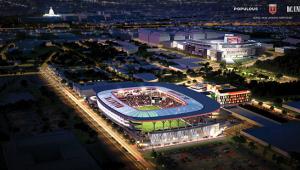 D.C. United are the reigning Eastern Conference champions and have won four MLS Cups and three U.S. Open Cups in its storied history. Now, finally, it has its own stadium after being tenants at RFK for two decades. With threats over the future of the franchise and cities such as Baltimore trying to tempt MLS to move it away from Washington D.C., the future of the club in Washington has now been secured for many decades to come.
The video above gives you an idea as to how big a moment this is for United, while MLS Commissioner Don Garber has commented on how important it was to get this stadium deal signed.
"We congratulate D.C. United ownership, Erick Thohir, Jason Levien and Will Chang, and the District government for creating an innovative partnership to bring a world-class soccer stadium to Washington, D.C," Garber said. "This is a historic moment for Major League Soccer, as D.C. United, one of our charter clubs, will soon have a terrific venue to celebrate the beautiful game in one of America's most passionate soccer markets."