Viva Las Vegas!
On Wednesday a Major League Soccer franchise in Vegas moved a step closer as the City Council approved subsidy funding for a brand spanking soccer-specific stadium in downtown Las Vegas.
[ RELATED: D.C. United get new stadium ]
The deal to build a $200 million venue is a huge step forward in the growing momentum to bring MLS to the Sin City, but the stadium will only be built if Vegas is handed an MLS expansion franchise by the league.
Last month the people behind the bid, which is headed by Findlay Sports & Entertainment and The Cordish Companies, met with league officials along with groups from Sacramento and Minneapolis who are also hoping to get a slice of the MLS pie in the next round of expansion.
MLS has stated that it would like to reach 24 teams by 2020, as the league currently has 20 teams participating in 2015 plus new teams in LA and Atlanta to start play in 2017. With David Beckham's Miami franchise still up in the air over a stadium deal, both Vegas and Sacramento now have plans approved to build downtown soccer stadiums in their respective cities.
[ VOTE: Should MLS head to Vegas? ]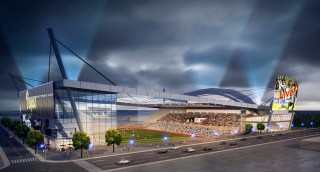 The Las Vegas City Council voted 4-3 in favor of helping to fund the venue as Findlay Sports & Entertainment and The Cordish Companies will cover over $143 million of the stadium project, with the city putting in $25 million in bonds toward the stadium and another $31 million in helping with infrastructure.
MLS Commissioner Don Garber released a statement on Wednesday, after the stadium deal in Las Vegas was granted.
"We applaud Mayor Goodman and the Las Vegas City Council for approving the measure to support a public-private partnership to build a new soccer-stadium in downtown Las Vegas," Garber said. "We look forward to continuing our discussions with the Cordish Company and Findlay Sports & Entertainment regarding a possible expansion team for Las Vegas."
This news came hot on the heel of D.C. United being granted a new stadium in the Buzzard Point area of Washington D.C., as the $300 million venue will become one of MLS's latest soccer-specific venues when it opens up in 2017. Could an MLS expansion franchise in Vegas come next?