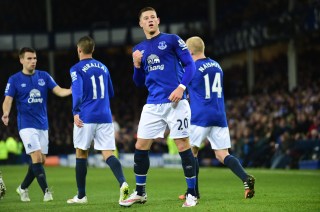 Week 17 of the Premier League is here, as the busy festive period kicks off up and down the land. We have huge rivalry matches, giants clashing and relegation scraps on top this weekend. What more could you possibly ask for?
[WATCH: PL TV schedule, Week 17  |  Every PL game live online]
I've consulted my crystal ball (he wishes you all a Merry Christmas, by the way) and here's how I see things panning out…
BASICALLY, FREE MONEY
Aston Villa vs. Manchester United – (Saturday, 10 a.m. ET, NBCSN)
United are not churning out top class displays, but they do possess top class strikers. That's the big difference right now. Ruthless and clinical, expect them to rack up a seventh-straight win away at Villa, which always seems to be a happy hunting ground for them. Having David De Gea in the form of his life always helps too.
Aston Villa 1-3 Manchester United
Southampton vs. Everton – (Saturday, 10 a.m. ET, Premier League Extratime)
Poor old Saints. Five defeats on the spin in all competitions and a bout of injuries and suspensions now has their talented squad depleted. Everton outclassed QPR last Monday. Expect them to add to Southampton's festive woe this weekend.
Southampton 0-2 Everton
Manchester City vs. Crystal Palace – (Saturday, 7:45 a.m. ET, NBCSN)
The Citizens have won five in a row and despite injuries to his striking stable, Manuel Pellegrini is finding contributors from all over the place. The Eagles badly need a striker and will struggle to score vs. City who are hot on the heels of Chelsea.
Manchester City 3-0 Crystal Palace
Hull City vs. Swansea City – (Saturday, 10 a.m. ET, Premier League Extratime)
Only one win since the opening day of the season for Hull, but I fancy them to clip the wings of the Swans who have lost two-straight. The Tigers are ready to pounce and ease some pressure on Steve Bruce. Home win.
Hull City 2-1 Swansea City
West Ham United vs. Leicester City – (Saturday, 10 a.m. ET, Premier League Extratime)
The Hammers are in the top four for a reason: they are a bloody good team. With creativity, pace and power, Sam Allardyce has added plenty of weapons to his offense and the defense remains sturdy. Sorry Leicester, yet another defeat.
West Ham 3-1 Leicester City
DON'T TOUCH THIS…
QPR vs. West Brom – (Saturday, 10 a.m. ET, Premier League Extratime)
Yes, QPR are awesome at home. But the Baggies just beat Aston Villa and this will be a tight, tense relegation six-pointer. I wouldn't touch this one.
QPR 2-2 West Brom
Tottenham Hotspur vs. Burnley – (Saturday, 10 a.m. ET, Premier League Extratime)
Spurs will probably win, but you just never know with them. Narrow away wins at Hull and Swansea in recent weeks has proved that they struggle when they are supposed to win. Plus Burnley have three wins in their last six matches. This one will be tight at the Lane.
Tottenham Hotspur 2-1 Burnley
"SO YOU'RE TELLING ME THERE'S A CHANCE…"
Liverpool vs. Arsenal – (Sunday, 11 a.m. ET, NBCSN)
Look, I have to go with my gut and it's telling me that Liverpool are not only due a big win but also a healthy dose of luck. The Reds played well against Manchester United and somehow lost 3-0 last week but Raheem Sterling and Adam Lallana look dangerous in attack. That combined with Arsenal's defensive injuries could be the key. Home win, just, as the Gunners always seem to unravel just when it seems like they have things figured out.
Liverpool 2-1 Arsenal
Stoke City vs. Chelsea  – (Monday, 3 p.m. ET, NBCSN)
Stoke away on a chill Monday night in December… Grinding out a win there is the stuff champions are made of. I think Chelsea will come up just short against a fired up Potters side, but Mourinho's men will not lose 3-2 like they did at the Britannia Stadium last season. Score draw.
Stoke City 2-2 Chelsea
Newcastle vs. Sunderland – (Sunday, 8:30 a.m. ET, NBCSN)
This derby is not one for the faint-hearted. Newcastle are struggling with injuries and with young goalkeeper Jak Alnwick in goal, expect Sunderland to make the most of that. Can Jozy Altidore be the hero in the Tyne-Wear derby? The Black Cats will nick this one.
Newcastle 1-2 Sunderland