A roundup of Saturday's action in Spain and Italy's top flights:
Barcelona 5-0 Cordoba
Luis Suarez finally got himself on the scoresheet with his much-anticipated first La Liga goal as Barcelona routed Cordoba at Camp Nou on Saturday. Suarez's first league tally — he has scored twice in the UEFA Champions League — came in the 53th minute when Pedro Rodriguez squared a pass to the Uruguayan just outside the six-yard box. Suarez nutmegged the goalkeeper and wheeled away in relieved celebration.
Pedro opened the scoring for Barcelona after just two minutes when the Spaniard got onto the end of an Ivan Rakitic through ball, rounded the 'keeper and fired into the back of the net. Gerard Pique added a third in the 80th minute before Lionel Messi got in on the action and grabbed himself a nine-minute brace in the game's final minutes.
Messi's first was a simple rebound through traffic from 14 yards that found its way into the upper corner, but it was his 91st-minute goal that wowed the Catalan crowd. All in one motion, the Argentinian settled the ball from chest-height using his left foot, spun himself around to face the goal and fired a right-footed shot just inside the near post.
Eibar 0-1 Valencia
Valencia continued their pursuit of Atletico Madrid for La Liga's third and final Champions League place with a 1-0 win away to league newcomers Eibar. Paco Alcacer scored the game's only goal, a tap-in from less than a yard out, in the 31st minute to move Los Che just within a single point of Atletico, who visit Athletic Bilbao on Sunday (3 pm ET).
Elsewhere in La Liga
Levante 1-1 Real Sociedad
Rayo Vallecano 1-3 Espanyol
---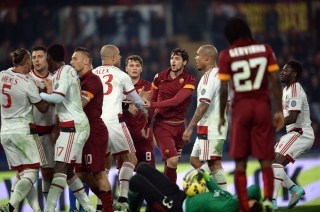 Roma 0-0 AC Milan
AS Roma failed to keep pace with Serie A leaders Juventus, who beat Cagliari, 3-1, on Thursday, as the Giallorossi struggled to a 0-0 draw with seventh-placed AC Milan (25 points). Pablo Armero was sent off after 70 minutes, but Roma failed to capitalize on the man-advantage in a game in which they held 62 percent of possession and outshot the Rossoneri, 16-9.
With a win, Roma would have remained just a point behind Juventus (39 points) in the chase for the league title, but instead find themselves three points off the leaders heading into the Serie A's two-week winter break.
Sunday's Serie A schedule is highlighted by Inter Milan vs. Lazio (2:45 pm ET) and Champions League-chasing Sampdoria vs. Udinese (9 am ET).
Elsewhere in Serie A
Sassuolo 1-1 Cesena
Follow @AndyEdMLS