There was a time when just playing in England was a badge for Americans, a time that's long since rightly evolved into a performance-based model.
For this week's look at how Yanks are performing in England from A-to-Z — or W — we'll go a little deeper. A week before the transfer window and with only England on the pitch, it's as good a chance as any to evaluate the whys of who is doing what where.
[ US: Ramos calls up U-20 players ]
Altidore, Jozy
Club: Sunderland
Since: Summer 2013
This week: Unused sub in 0-0 draw at Aston Villa
Status: With three goals in 50 total appearances, the question isn't whether Altidore will leave Sunderland, it's where he'll sign next. Lille and Werder Bremen have been documented as frontrunners, but Altidore needs to go somewhere else soon. His scoring record with the USMNT shows he can do it, so a change of scenery and league could do the trick as the US plans for a busy few summers worth of tournaments.
Cameron, Geoff
Club: Stoke City
Since: Summer 2012
This week: played 90 mins at right back in a 2-0 win over visiting Hull City
Status: Cameron prefers to play in the midfield, but has been worked all over the pitch for the Potters. Since returning to full fitness he's started every game for Mark Hughes, and has only been subbed off twice. As valuable to his club as any American field player in a top European league save perhaps Ale Bedoya at Nantes.

[ RELATED: Geoff Cameron's blogs for NBC Sports ]
Friedel, Brad
Club: Tottenham Hotspur
Since: Summer 2011
This week: DNP
Status: Signed through 2015 and a club ambassador to the United States, Friedel has only even hit the substitute's bench five times this season. The 43-year-old is doing fine.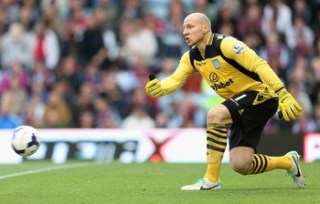 Guzan, Brad
Club: Aston Villa
Since: July 2008
This week: played 90 minutes in a 0-0 draw vs. Sunderland
Status: Guzan has received more than a single goal of support from Villa a whopping two times this season, and the 30-year-old remains the Villans first-choice stopper. He's an integral part of their team and has no reason to move unless a monster club came calling, which doesn't seem to be the case.
Holden, Stuart
Club: Bolton Wanderers
Since: January 2010
This week: DNP
Status: Bolton's been faithful to Holden through his horrific spate of injuries, and the world of soccer would love to see him come back strong at some point. Anything that needs to be done to help the 29-year-old's return last much, much longer than 23 minutes will get a high-five from us.
Howard, Tim
Club: Everton
Since: Summer 2006
This week: injured calf mid-week, status TBA
Status: Everton's clear No. 1 and becoming a club legend (if not already), the only question for Howard is whether he'll be the USMNT goalkeeper for the 2018 World Cup in Russia.
Hyndman, Emerson
Club: Fulham
Since: 2011
This week: Unused sub mid-week; Hosts Brighton later Monday
Status: He'll turn 19 in April, and is already a regular on the bench for the Cottagers and occasionally getting USMNT call-ups. This spot is fine for now.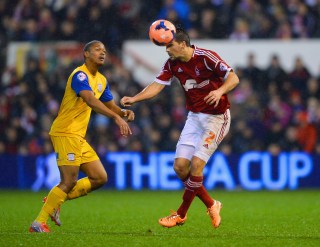 Lichaj, Eric
Club: Nottingham Forest
Since: Summer 2013
This week: Played 90 minutes in 3-1 home loss to Birmingham City
Status: While Forest has cooled off its promotion pace, Lichaj continues to be an important part of the team. The defender is playing 90 minutes most weeks, but has been off the USMNT roster since last November.
[ US: Onyewu extends contract at Charlton Athletic ]
Ream, Tim
Club: Bolton Wanderers
Since: January 2012
This week: Played 90 minutes in a 2-1 loss at Huddersfield Town
Status: Under contract through 2017, Ream is reliable for Bolton and has been a part of Jurgen Klinsmann's plans at center back (sometimes to the chagrin of his club coach). Provided Bolton isn't sent down — they are nine points above the drop — Ream's future seems set with the Wanderers.
Spector, Jonathan
Club: Birmingham City
Since: Summer 2011
This week: DNP
Status: Out since October with a torn thigh muscle, Spector is a reliable presence for Brum when healthy. He's back to full training and should return to the team in early 2015. Brum is 11 points clear of the Championship drop and nine points back of the final playoff spot.
Williams, Danny
Club: Reading
Since: Summer 2013
This week: Played 90 minutes in a 2-2 draw at Brighton.
Status: Plays often for his club, which is in a relegation scrap. A drop would see him in need of a new club to keep USMNT plans afloat.
Yedlin, DeAndre
Club: Tottenham Hotspur
Since: Formally joins in January
This week: DNP
Status: He's new and shiny for Spurs, and the London club's plans for him are relatively unknown. Mauricio Pochettino called him a young player with a lot of potential who will need time to adapt to a new club.
Also in England: Duane Holmes (Bury, on loan from Huddersfield Town); Oguchi Onyewu (Charlton Athletic); Will Packwood (Colchester United, on loan from Birmingham City); Zak Whitbread (Derby County).