Looking back on 2014, it has been a pretty incredible year for soccer in the USA. With the USMNT's run to the last 16 in Brazil during the World Cup madness, MLS's upsurge and Landon Donovan going out a winner with LA, we've been spoiled for top moments. Over the next few days at PST, we will be counting down our top 10 from the USMNT and MLS in the last 12 months. Here's numbers 10-6…
No. 10: Jermaine Jones comes to MLS
Following a World Cup which saw the defensive-minded midfielder play lynchpin for the United States and come away having logged one of the most solid all-around performances of any US player, the 33-year-old's club situation was still in question. Having been loaned to Besiktas in Turkey since January, his contract had run out. Without a club for around a month and rumors swirling, Jones agreed to come to the U.S. and the good ol' "blind draw" sent him to New England.
Jones changed the face of the Revolution. From his first match on August 30, New England lost just one of its next 14 matches, winning 12 and catapulting an already good team into a title contender. Unfortunately, the Galaxy edged Jones and the Revs in the MLS Cup final, but it was a valiant effort from all involved, and Jones was at the forefront of the run. Whenever top Americans choose to play in front of the home fans, it warrants attention.
No. 9: Seattle wins the Supporter's Shield
There were a few contenders, but with the goals flying in New York, Landon Donovan finishing strong, and Ben Olsen reviving DC United, the Seattle Sounders were unmoved. There were bumps in the road, including 10 losses on the year, but they also converted chances into maximum hauls, winning three more games than any other club in 2014 to claim the club's first ever Supporter's Shield. It proved even sweeter that they would secure the award on the final day against the eventual champions.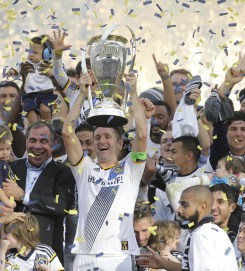 No. 8: Los Angeles Galaxy storm through MLS Cup Playoffs
The Supporter's Shield is nice, but the Galaxy wanted more. They took the pain from their 2-0 season-ending loss to Seattle and put it to good use, plowing their way though the playoffs, leaving carnage on the way through.
It culminated with a hard-fought 2-1 victory over New England, earning Los Angeles its fifth MLS cup and sent Landon Donovan out with a ride into the sunset. It capped off what proved to be not just a fun and exciting playoffs, but a whole season full of fireworks.
No. 7: MLS players show up big at World Cup
While not exactly a moment, this overarching theme from Brazil capped off a surprising turnaround from years past, and one that has a promising air to it. A large portion of the United States national team found itself hailing from Major League Soccer, including Jermaine Jones (to sign later), Matt Besler, Clint Dempsey, Michael Bradley, Graham Zusi, DaMarcus Beasley (also would come soon after), and Kyle Beckerman. Some of those players earned recognition in the spotlight, with both Dempsey and Jones scoring spectacular and memorable goals. Others, like Beckerman and Zusi, let others get the plaudits while they logged vital minutes and worked their tails off. DeAndre Yedlin also burst onto the international scene, adding some youth to the mix.
No. 6: Michael Bradley signs with Toronto FC
Another big star returning home, Bradley was actually the first this year to do so, and also the most controversial. While he wasn't a regular starter at Roma, Bradley was no doubt an important piece of their squad, one that had come roaring out of the gates last season. Even if his Serie A club considered him surplus, there was surely a host of European clubs in high places that would have taken a flyer on the 26-year-old.
Instead, with much scrutiny to follow, Bradley decided to take a hefty contract in Major League Soccer on January 9, sparking a debate which would swallow up USMNT coach Jurgen Klinsmann, among others. Ultimately the season was a tumultuous one for Bradley and Toronto, but nonetheless his move started the dominoes falling so as many other Americans would follow suit in the coming weeks.
#5-1 will be coming shortly in the next installment, so stay tuned. With the World Cup still fresh in the memory banks, expect plenty of Brazil talk. Oh, and that Landon guy…