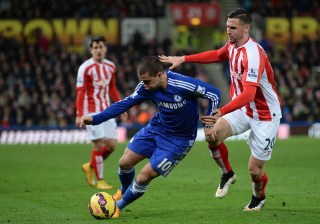 Each week at ProSoccerTalk we will hear from from U.S. national team and Stoke City defender Geoff Cameron, who is now a special correspondent for NBCSports.com. 
[ RELATED: Cameron's latest on PST ]
The proud Bostonian tells us what life is like behind-the-scenes in England's top-flight with Q&A's, first-person pieces and more. This week, he talks about Stoke's busy festive period, facing Manchester United on New Year's Day and his memories of an unforgettable 2014. 
Well, the last week or so has been pretty crazy in England. Three games in six days… it feels like I am back playing in college! But seriously, it has been a great period for Stoke with a couple of wins as we look to push on in the second half of the season and finish at least in the top 10. Recently I've really enjoyed playing in central midfield, but with a few injuries I've slotted back into right back for the last two games and we've won both against Everton and West Brom. I enjoy playing in midfield but wherever the team needs me to slot in I will do a job and do whatever they need me to do. Hopefully after Phil Bardsley comes back in at right back from injury then I can switch back into midfield, because I feel like I've been playing really well in the holding mid role.
[ VIDEO: Premier League highlights ]
On New Year's Day we have a real tough test. We know Manchester United is a very good team and they are on a bit of a run and are doing well but I think teams have found it hard when they've come down to Stoke to play against us. Chelsea showed us a lot of respect, even though we were upset to lose to them, as they played two holding midfielders because they knew how tough it would be. That says a lot. We were disappointed when we played them a few weeks ago at Old Trafford because we felt we should have got at least a point. We showed that we can compete with the big teams like Manchester United and we are not far off them. We proved that when we played Arsenal at home too, and we beat them. We need to get our home form back consistent and keep that going, so hopefully we can deliver another big win against United on Thursday.
[ RELATED: Watch full match replays ]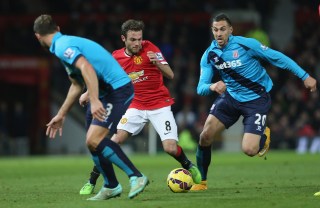 We know it is going to be a tough test for us, especially with the turnaround. To play a game on Boxing Day on Friday and then another game on Sunday and then now to play on Thursday, plus we had a game on the Monday before Christmas against Chelsea… it take a real toll on your body. I have picked up plenty of knocks over the past few games, and they have been some of the coldest games I have played in by the way. Especially in the snow at Everton on Boxing Day! Wow, that was cold. -3 and -4 Celsius, it has been really tough to stay fit and healthy over the last week or so. But at Stoke we are sticking together and pushing on.
I have to mention somebody in particular this week, because he's been a huge part of my life over here in England during the past few years. As you all know Brek Shea moved back to MLS with Orlando City recently, and Brek has been one of my best friends and he is a great teammate. Plus, an all around great guy. I wish nothing but the best for him. It was hard for him to adjust to life over here and he had so many unlucky things that happened to him with injuries and other misfortunes. Hopefully getting back home and feeling comfortable again will give him the confidence to play the way he knows how to play. Because he is an amazing talent and once he is given an opportunity, he is a guy that can compete with the best players. So I wish Brek all the best, and look forward to seeing him ripping it up next season in MLS!
[ RELATED: Premier League, festive TV schedule ]
For me, it has been long, hard year but easily the most memorable of my career with the World Cup, another year in the Premier League and another Boxing Day and festive madness under my belt, it has been another great experience. It has been a long year. Playing in the Premier League, then going right into the World Cup camp, playing in the World Cup and then having a two week break before coming back to the Premier League. That said, it has been the most exciting year in my career. With all the ups and downs, you have to take the bad with the good and learn from it all. I've had some great moments with family and friends and I'm so happy to be here in England.
For me the one moment I will always remember, above all, from 2014 is when I first walked out on the pitch against Ghana at the World Cup in Brazil. Hearing the World Cup song for the first time… that was a special moment. It was the moment you dream of as a kid, to play at a World Cup. Hopefully I will have that feeling again in a few years time.
I wish everyone a Happy New Year, live life to its fullest and thank you for all the love and support in 2014!
Until next time, peace!