It is expected that legendary Liverpool captain Steven Gerrard will leave Liverpool Football Club at the end of the 2014-15 season.
Gerrard, 34, only has six months left on his current contract and is now free to speak to other clubs. And according to several sources Gerrard has informed Liverpool that he will not be signing a new contract — which he was offered back in November — at his hometown club, with his next destination is yet to be decided.
[ RELATED: Reports link LA with Gerrard move ]
Early reports suggest that Gerrard is being chased by the LA Galaxy, among other teams in the U.S. such as the New York Red Bulls and elsewhere overseas, as the Liverpool legend is calling time on his 25-year career at Anfield. Gerrard joined Liverpool as eight-year-old and has made 695 appearances for the club, lifted 11 trophies and carried the team for most of his career.
In the video above Robbie Mustoe and Kyle Martino break down Gerrard's decision to step away from Liverpool.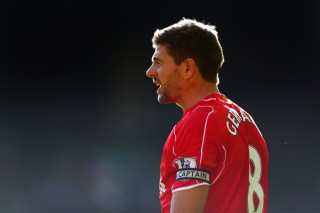 After spending over 16 years at Liverpool as a professional, Gerrard has won every major trophy in the game apart from the elusive Premier League title which he came so close to lifting last season.
[ RELATED: Lampard "outrages" NYCFC fans ]
Gerrard re-invented himself under Brendan Rodgers last season in a deep-lying midfield role but his costly slip against Chelsea during the run-in will forever haunt him as it came at a pivotal stage of the campaign as Liverpool were so close to winning their first PL title. Despite that, his heroics in the 2005 UEFA Champions League final and many times throughout the past 16 years has written him into folklore and fans of the Liverpool are still in shock that their talisman is moving on at the end of the season.
The hometown hero has been the heartbeat of Liverpool's side for almost two decades, but on Friday the club is expected to confirm that Gerrard will be moving on after this season as the former English national team captain looks to end his career overseas.
[ RELATED: Gerrard talks candidly about title race ]
Reports strongly suggest Major League Soccer could be Gerrard's next destination, despite publicly denouncing the league not too long ago when Frank Lampard was weighing up a move to New York. His next step will be eagerly anticipated between now and July when his contract runs out with the Reds, as clubs are clambering to get Gerrard on board.
So, Gerrard's incredible career for Liverpool is about to come to an end. Let's all treaure his last few months in a red jersey and think about all of those wonderful moments he gave us in his prime. Along with the likes of Kenny Dalglish, Gerrard is arguably the greatest player to every play for one of the world's most famous clubs.