Steven Gerrard is not just a legendary figure at Liverpool Football Club. He is a true legend of the English national team and the Premier League.
Since he arrived on the scene to make his Liverpool debut as a 18-year-old in 1998, Gerrard has gone on to captain his hometown club, England and has inspired millions with his swashbuckling style.
[ RELATED: Gerrard heading to the USA ]
His displays saw the terms "he's Gerrarded him…" and "hollywood ball" become part of the vernacular in English soccer circles, as the man who won 11 trophies with the Reds and has racked up almost 700 appearances for Liverpool has become one of the greatest players in English soccer history.
The word legend is used loosely in today's sporting world, but Gerrard is more than that to fans of Liverpool.
Gerrard is one of the finest midfielders England has ever produced and is arguably the greatest player in Liverpool's history (alongside Kenny Dalglish). Fans of the Reds will now always have fond memories of Gerrard, as he leaves his boyhood club after an incredible 26-year association still near the top of his game.
[ WATCH: Gerrard's top five Liverpool goals ]
The 34-year-old will leave Liverpool at the end of the 2014-15 season and has admitted to being "humbled" by the response to his announcement he made this week regarding his decision to not sign a new contract at the only club he has ever known. Gerrard leaving Liverpool before the end of his career is quite a shock. You think of plenty of other one-club men in recent history such as Ryan Giggs, John Terry and Jamie Carragher and group Gerrard in with them as true heroes for their respective clubs.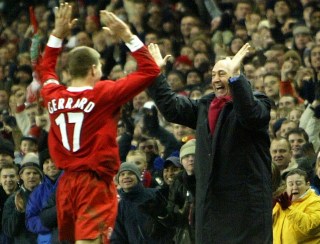 But, whether Liverpool fans or fans of soccer across the world want to believe it or not, he's off.
Gerrard is heading to the United States for the next chapter in his career this summer. The former English national team captain, who led his side at the 2010 and 2014 World Cups as well as playing in the 2006 edition, will most likely join the LA Galaxy. California awaits for 'Stevie G'.
[ RELATED: Soccer world reacts ]
Having grown up in England myself during the height of Gerrard's powers, every aspiring soccer player wanted to be like him. Hailing from Whiston in Liverpool, he was a player driven by the hunger to succeed for the club he supported as a boy, while his friends, family and fans of the club all watched on in amazement around him but with that came plenty of pressure to succeed. That passion and commitment often spilled over, especially as a youngster when he was told to curb his crunching tackles or risk his career as a pro. "Doing a Gerrard" entails diving in two-footed to challenges as he often did during his younger years. His grit typified his upbringing and not only the citizens of Liverpool but fans across England embraced his wholehearted displays as a mirror of the prototypical English midfielder of years gone by. Gerrard could do it all.
Tough tackles, raking cross-field passes and stunning goals are Gerrard's most memorable qualities as a player but so many other intangibles have kept him at the forefront of Liverpool and England teams for almost two decades. Committed. Determined. Classy. Inspirational. Gerrard is one of the most complete players to play in the Premier League.
In an era where Frank Lampard, David Beckham, Roy Keane and Patrick Vieria, plus many other top midfielders have graced the PL, Gerrard is the only player to be named in the PFA Team of the Season on eight separate occasions. A record for any player, in fact. For England, he never reached those some inspirational heights as he did for Liverpool but only two players have made more all-time appearances for the Three Lions than the towering midfielder who won 114 caps for England and scored 21 goals in his 14-year international career.
[ RELATED: Where would Gerrard's MLS move rank? ]
Other national teams feared Gerrard at the heart of England's midfield in his prime, but the Three Lions never saw the best of the Merseysider as injuries, management decisions and partnerships in midfield somehow impacted his influence on the international stage, regardless of his impressive stats. Still, that will not blot his copybook when his career is analyzed in the coming years.
When all is said and done and time is called on Gerrard's career, he will remembered for decades for his inspirational displays, stunning goals and for carrying one of English soccer's greatest clubs for many years. Liverpool haven't and probably won't win a Premier League title while Gerrard is around, but the fact that they won a UEFA Champions League title in 2005, got to another final and reached the semifinals on numerous occasions with Gerrard leading the way proved how his presence inspired his side time and time again.
Legendary French midfielder and former World Player of the Year Zinedine Zidane has spoken about Gerrard's career and sums it all up quite eloquently.
"Is he [Gerrard] the best in the world? He might not get the attention of Messi and Ronaldo but yes, I think he just might be," Zidane said. "He has great passing ability, can tackle and scores goals, but most importantly he gives the players around him confidence and belief. You can't learn that – players like him are just born with that presence."
He could have left for Chelsea and Real Madrid in his prime but stuck around with his hometown team to try and win the elusive PL title which is set to evade him. We all know about 'the slip' during Liverpool's costly PL defeat to Chelsea during the 2013-14 run-in which played a big part in the Reds losing the title, but the fact that the Reds were in the running to win a first league title since 1990 in the first place was largely down to Gerrard. He re-invented himself as a deep-lying midfielder whose pin-point passes from a 'quarterback' role tore opponents apart and he scored 13 goals and added 13 assists. Gerrard, when he does arrive in MLS, will still have plenty to offer.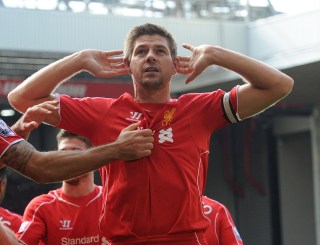 For myself and fans of Gerrard across the world, a lasting memory of him will go something like this…
Under the floodlights at Anfield, Gerrard screaming hoarsely in his thick 'Scouse' accent from midfield, many of the best teams have folded thanks to his dominance over the past 17-years. From stunning late goals against Olympiakos and West Ham United on the way to winning trophies to inspiring Liverpool's epic comeback in Istanbul against AC Milan, Gerrard has been Liverpool's heartbeat since he arrived on the scene.
Now, the Reds have had their heart ripped out and replacing Gerrard's impact on and off the pitch is impossible. Heading to the USA this summer for the final swansong of his career, Gerrard leaves England with his legendary status intact and will be awarded a hero's return everytime he steps foot in Liverpool for the rest of his life. For a lad from Whiston who grew up as a Liverpool fan, it doesn't get much better than that and proves his decision to call it quits at Liverpool when he has is the best decision to for everyone concerned.