Real Sociedad manager David Moyes has his first signature win as manager of the Spanish club, and it's come at the expense of a title challenger.
Atletico Madrid accepted a festive gift from Real Madrid, while Barcelona stamped "return to sender" on the end of Real's 22-match unbeaten streak.
[ MORE: La Liga Saturday wrap ]
It's all a part of the La Liga weekend wrap.
Valencia 2-1 Real Madrid  – RECAP
A first-half penalty conversion from Cristiano Ronaldo seemed to set the tone for another winning day at the office for Los Galacticos, but it was a false flame.
Valencia more or less controlled the goings-on, with Nicolas Otamendi and Antonio Barraga sending Real to its first loss since a Sept. 13 defeat against Atletico Madrid.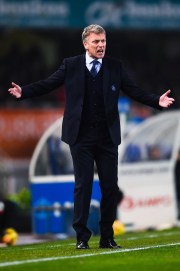 Real Sociedad 1-0 Barcelona
It wasn't comfortable by any stretch of the imagination, but Real Sociedad manager David Moyes has his biggest win as a La Liga boss.
The hosts went in front on a mistake from the visitors, as a Jordi Alba own goal in the second minute but Barca behind an early eight ball.
And as former Sociedad goalkeeper Claudio Bravo was left to rue the mistake, his replacement starred in denying Barca its equalizer. Twenty-two year-old Argentine keeper Geronimo Rulli had a strong game between the sticks for the Txuriurdin.
Dani Alves and Lionel Messi came off the bench for the Blaugrana, but couldn't find the finishing touch. Luis Suarez attempted to draw a late penalty, but Rulli got a hand on the ball before catching Suarez's trailing foot.
Now the Scot turns his attention to Wednesday's Copa del Ray Round of 16 match at Villarreal.
Atletico Madrid 3-1 Levante
A pair of goals from Antoine Griezmann and an insurance tally from Diego Godin lifted the hosts to all three points, as Atleti is back within shouting distance of their cross-city rivals.
Elsewhere
Deportivo La Coruna 1-0 Athletic Bilbao — Ivan Cavaleiro's 24th minute goal holds up.
Malaga 1-2 Almeria — Israeli forward Tomer Hemed's brace leads visitors to three points.
Getafe 1-2 Rayo Vallecano — Raul Baena's 64th minute goal completes comeback.
Espanyol 1-2 Eibar — A late tally from the hosts' Felipe Caicedo did not inspire an equalizer.
Elche 2-2 Villarreal — Four first-half goals, nothing in second.
Sevilla 1-0 Celta Vigo — Nicolas Pareja scored the only goal of the match.
Cordoba vs. Granada — 245pm ET Monday
| | | | | | | | | | | |
| --- | --- | --- | --- | --- | --- | --- | --- | --- | --- | --- |
| Team | GP | W | D | L | GF | GA | GD | Home | Away | PTS |
| Real Madrid | 16 | 13 | 0 | 3 | 56 | 15 | 41 | 6-0-1 | 7-0-2 | 39 |
| Barcelona | 17 | 12 | 2 | 3 | 41 | 8 | 33 | 7-0-1 | 5-2-2 | 38 |
| Atlético Madrid | 17 | 12 | 2 | 3 | 34 | 15 | 19 | 7-1-1 | 5-1-2 | 38 |
| Valencia | 17 | 10 | 4 | 3 | 31 | 14 | 17 | 7-1-1 | 3-3-2 | 34 |
| Sevilla | 16 | 10 | 3 | 3 | 26 | 17 | 9 | 6-3-0 | 4-0-3 | 33 |
| Villarreal | 17 | 9 | 4 | 4 | 29 | 16 | 13 | 5-0-3 | 4-4-1 | 31 |
| Málaga | 17 | 9 | 3 | 5 | 21 | 17 | 4 | 5-2-2 | 4-1-3 | 30 |
| Eibar | 17 | 6 | 5 | 6 | 21 | 23 | -2 | 2-3-3 | 4-2-3 | 23 |
| Celta Vigo | 17 | 5 | 5 | 7 | 17 | 19 | -2 | 3-2-3 | 2-3-4 | 20 |
| Espanyol | 17 | 5 | 5 | 7 | 21 | 26 | -5 | 4-3-2 | 1-2-5 | 20 |
| Rayo Vallecano | 17 | 6 | 2 | 9 | 19 | 32 | -13 | 2-1-5 | 4-1-4 | 20 |
| Athletic | 17 | 5 | 4 | 8 | 14 | 21 | -7 | 3-2-3 | 2-2-5 | 19 |
| Real Sociedad | 17 | 4 | 6 | 7 | 18 | 22 | -4 | 4-2-3 | 0-4-4 | 18 |
| Getafe | 17 | 4 | 5 | 8 | 13 | 22 | -9 | 2-3-4 | 2-2-4 | 17 |
| Almería | 17 | 4 | 4 | 9 | 15 | 25 | -10 | 0-3-5 | 4-1-4 | 16 |
| Deportivo | 17 | 4 | 4 | 9 | 14 | 27 | -13 | 3-2-4 | 1-2-5 | 16 |
| Levante | 17 | 3 | 6 | 8 | 13 | 33 | -20 | 2-2-4 | 1-4-4 | 15 |
| Granada | 16 | 2 | 7 | 7 | 10 | 26 | -16 | 1-4-3 | 1-3-4 | 13 |
| Córdoba | 16 | 1 | 8 | 7 | 11 | 27 | -16 | 0-5-3 | 1-3-4 | 11 |
| Elche | 17 | 2 | 5 | 10 | 15 | 34 | -19 | 1-3-5 | 1-2-5 | 11 |