Things are getting tight at the top of Serie A.
AS Roma picked up a big road win while Juventus struggled to contain the counter of Inter Milan during a Tuesday of Serie A action that saw 24 goals and a fair number of blowouts.
[ MORE: FA Cup roundup ]
To the matches:
Juventus 1-1 Inter Milan
A bonafide home stumble from The Old Lady could've been much worse if Inter goal scorer Mauro Icardi didn't show his immaturity late, bungling two big chances to give struggling Inter a critical road win.
Lukas Podolski made his loan debut for Inter, who looked more dangerous than their 11th place standing.
Carlos Tevez scored his 11th goal of the Serie A campaign for Juve in the fifth minute, but Icardi canceled it out — so to speak — in the 64th.
Udinese 0-1 AS Roma
I Lupi had already made its charge to within a point of Juve by the time the leaders kicked off, thanks to defender Davide Astori's controversial goal, his first since 2011. Roma out shot Udinese 13-5 and held more than 60 percent of possession.
Up next for Roma: Derby della Capitale.
AC Milan 1-2 Sassuolo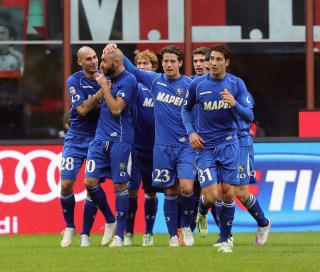 Wasn't a banner weekend for either big name Milan squad, as the hosts had an early lead through midfielder Andrea Poli but conceded twice afterward.
German-born forward Nicola Sansone made it 1-1 in the 28th minute, and Simone Zaza continued his impressive campaign by picking up his sixth goal in 12 matches for Sassuolo.
Zaza, 23, now has a brace against Roma and goals against Juventus and Milan for I Neroverdi. His breakout started last season and rolled into his first international goal earlier in September against Norway.
Elsewhere
Parma 1-0 Fiorentina — Andrea Costa scores first goal since 2012 
Chievo 0-0 Torino — Each team gets drop zone breathing room
Genoa 2-2 Atalanta — Diminutive Argentine Maximiliano Moralez scores for hosts in draw
Cesena 1-4 Napoli — Hosts goal differential drops to minus-20
Lazio 3-0 Sampdoria — Visitors fail validity test in Rome.
Empoli 0-0 Verona — Both six points clear of drop
Palermo 5-0 Cagliari — Paulo Dybala's brace gives him 9 goals, 6 assists on season
| | | | | | | | | | | |
| --- | --- | --- | --- | --- | --- | --- | --- | --- | --- | --- |
| Team | GP | W | D | L | GF | GA | GD | Home | Away | PTS |
| Juventus | 17 | 12 | 4 | 1 | 35 | 8 | 27 | 6-2-0 | 6-2-1 | 40 |
| Roma | 17 | 12 | 3 | 2 | 29 | 11 | 18 | 7-2-0 | 5-1-2 | 39 |
| Lazio | 17 | 9 | 3 | 5 | 31 | 19 | 12 | 6-0-2 | 3-3-3 | 30 |
| Napoli | 17 | 8 | 6 | 3 | 32 | 21 | 11 | 4-3-1 | 4-3-2 | 30 |
| Genoa | 17 | 7 | 6 | 4 | 23 | 17 | 6 | 3-3-3 | 4-3-1 | 27 |
| Sampdoria | 17 | 6 | 9 | 2 | 22 | 17 | 5 | 4-4-0 | 2-5-2 | 27 |
| AC Milan | 17 | 6 | 7 | 4 | 26 | 20 | 6 | 4-2-3 | 2-5-1 | 25 |
| Palermo | 17 | 6 | 7 | 4 | 27 | 26 | 1 | 5-3-1 | 1-4-3 | 25 |
| Fiorentina | 17 | 6 | 6 | 5 | 21 | 14 | 7 | 2-4-2 | 4-2-3 | 24 |
| Sassuolo | 17 | 5 | 8 | 4 | 19 | 22 | -3 | 2-5-1 | 3-3-3 | 23 |
| Inter Milan | 17 | 5 | 7 | 5 | 26 | 24 | 2 | 3-3-2 | 2-4-3 | 22 |
| Udinese | 17 | 6 | 4 | 7 | 20 | 23 | -3 | 4-2-3 | 2-2-4 | 22 |
| Empoli | 17 | 3 | 9 | 5 | 17 | 22 | -5 | 2-4-3 | 1-5-2 | 18 |
| Torino | 17 | 4 | 6 | 7 | 12 | 18 | -6 | 3-4-2 | 1-2-5 | 18 |
| Verona | 17 | 4 | 6 | 7 | 18 | 27 | -9 | 2-2-4 | 2-4-3 | 18 |
| Chievo | 17 | 4 | 5 | 8 | 12 | 19 | -7 | 1-4-4 | 3-1-4 | 17 |
| Atalanta | 17 | 3 | 7 | 7 | 13 | 23 | -10 | 2-3-3 | 1-4-4 | 16 |
| Cagliari | 17 | 2 | 6 | 9 | 21 | 34 | -13 | 0-3-5 | 2-3-4 | 12 |
| Parma | 17 | 3 | 1 | 13 | 17 | 36 | -19 | 2-1-6 | 1-0-7 | 9 |
| Cesena | 17 | 1 | 6 | 10 | 14 | 34 | -20 | 1-4-4 | 0-2-6 | 9 |