The 2015 Asian Cup, the 16th edition of the Asian Football Confederation's (AFC) quadrennial international tournament, kicks off in Australia this Friday, January 9. Winners of this month's Asian Cup will represent the AFC at the 2017 Confederations Cup, the tune-up tournament a year ahead of the 2018 World Cup, in Russia.
Japan, the most prolific winners of the Asian Cup (four times, all within the last six tournaments), are once again favorites to be crowned champions. Other past Asian Cup winners include South Korea (twice), Isreal, Iran (three times), Kuwait, Saudi Arabia (three times) and Iraq.
The final will be played on Saturday, January 31 at 3:30 am ET.
Asian soccer is unquestionably on the rise, just as it is here in the United States, so this year's tournament is as good of a time as any to take the plunge and begin really familiarizing yourself with players who have long since been playing for a number of Europe's biggest clubs.
HOST CITIES, VENUES, SCHEDULE
Stadium Australia — Sydney — 84,000 capacity
Hunter Stadium — Newcastle — 33,000 capacity
Suncorp Stadium — Brisbane — 52,500 capacity
GIO Canberra Stadium — Canberra — 25,000 capacity
AAMI Park — Melbourne — 30,000 capacity
Full schedule of group stage fixtures
GROUP A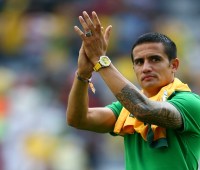 Australia
Players to watch: F – Tim Cahill (right), New York Red Bulls; M – Mile Jedinak, Crystal Palace; M – Mark Bresciano, Al-Gharafa
Prediction: Group A runners-up after losing South Korea, and defeating Oman and Kuwait. Decent upside to reach the semis as hosts.
Oman
Players to watch: GK – Ali Al-Habsi, Wigan Athletic; F – Abdulaziz Al-Muqbali, Fanja; F – Amad Al-Hosni, Saham
Prediction: Third place, Group A. They'll not be blown out in any of their group games and they're get their day in the sun in the group stage finale against Kuwait.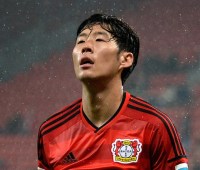 South Korea
Coach: Uli Stielike
Players to watch: M – Son Heung-min (left), Bayer Leverkusen; M – Ki Sung-yueng, Sunderland; M – Lee Chung-yong, Botlon Wanderers
Prediction: Group A winners after defeating Australia and Oman, and drawing Kuwait. Likely semifinalists with a date against a weak Group B's runner-up in the quarters.
Kuwait
Players to watch: F – Bader Al-Mutawa, Qadsia; D – Musaed Neda, Al-Oruba; GK – Nawaf Al Khaldi, Qadsia
Prediction: Fourth place, Group A. A fairly young Kuwaiti team struggles this time around, but gains valuable experience in the process.
---
GROUP B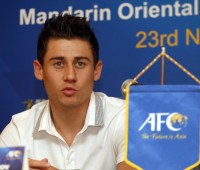 Uzbekistan
Players to watch: M – Server Djeparov (right), Seongnam; D- Vitaliy Denisov, Lokomotiv Moscow; M – Timur Kapadze, Lokomotiv Tashkent
Prediction: Group B winners. Not the toughest group in the world, and finishing top means avoiding South Korea in the quarterfinals. That should be all the motivation the Uzbeks need.
Saudi Arabia
Players to watch: F – Nasser Al-Shamrani, Al-Hilal; D – Osama Hawsawi, Al-Ahli; M – Saud Kariri, Al-Hilali
Prediction: Third place, Group B. A relatively inexperienced Saudi squad, compared to triumphant years gone by. Their opener vs. China could decide all.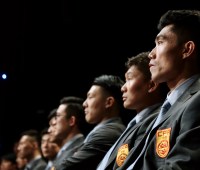 China
Players to watch: M – Zheng Zhi (right, at front), Guangzhou Evergrande; D- Zhang Linpeng, Guangzhou Evergrande; F – Yang Xu, Changchun Yatai
Prediction: Group B runners-up. Three points in the opener vs. Saudi Arabia goes a long way to easing Chinese worries. A loss and they're in trouble.
North Korea
Players to watch: F – Pak Kwang-ryong, Vaduz; M – Jong Il-gwan, Rimyongsu; D- Cha Jong-hyok, Wil 1900
Prediction: Fourth place, Group B.
---
GROUP C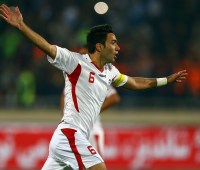 Iran
Coach: Carlos Queiroz
Players to watch: M – Javad Nekounam (right), Osasuna; M – Ashkan Dejagah, Al-Arabi; F – Sardar Azmoun, Rubin Kazan
Prediction: Winners, Group C. Less than a semifinals appearance and they'll be disappointed, and rightly so.
Qatar
Players to watch: M – Khalfan Ibrahim, Al Sadd; D – Bilal Mohammed, Al-Gharafa; M – Magid Mohamed, El Jaish
Prediction: Fourth place, Group C.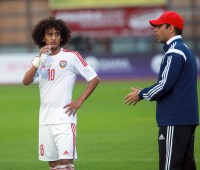 United Arab Emirates
Players to watch: F – Ali Mabkhout, Al-Jazira; M – Omar Abdulrahman, Al-Ain; F – Ahmed Khalil, Al-Ahli
Prediction: Runners-up, Group C. UAE could handle their business and be through after games one and two before they have to bother with Iran. Then top spot in the group is on the line to see who avoids Japan.
Bahrain
Players to watch: M – Mohamed Salmeen, Al-Muharraq; M – Faouzi Aaish, Al-Sailiya; F – Ismail Abdul-Latif, Al-Muharraq
Prediction: Third place, Group C. The first two games present extremely tough challenges, but a winnable game in third place offers a chance to leave Australia with a good taste in their mouth.
---
GROUP D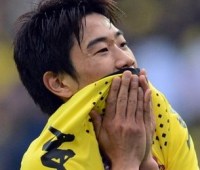 Japan
Coach: Javier Aguirre
Players to watch: M – Shinji Kagawa (right), Borussia Dortmund; F – Keisuke Honda, AC Milan; F – Shinji Okazaki, Mainz
Prediction: Group D winners. Anything other than a finals appearance will be deemed a disappointment, if not being crowned champions once again. The attacking talent is there for a another trophy, but as we saw at the World Cup last summer, the defense is more than a bit shaky.
Jordan
Coach: Ray Wilkins
Players to watch: F – Abdallah Deeb, Al-Riffa; GK – Amer Shafi, Al-Wehdat; M – Saeed Murjan, Al-Ramtha
Prediction: Third place, Group D.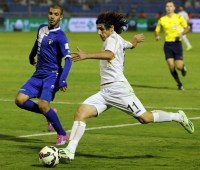 Iraq
Players to watch: F – Younis Mahmoud, unattached; D – Ali Adnan, Rizespor; Humam Tariq (left), Al Dahfra; F – Justin Meram, Columbus Crew
Prediction: Group D runners-up. The Iraqis have moved on from the golden group that won the 2007 tournament and replaced big names with rising youngsters sprinkled throughout Europe. Tariq, 18, is a future star.
Palestine
Players to watch: F – Ashraf Nu'man, Al-Faisaly; M – Khader Yousef, Taraji Wadi Al-Nes; Hussam Abu Saleh, Hilal Al-Quds
Prediction: Fourth place, Group D.