As FC Barcelona continues to unravel, could Lionel Messi really leave the Catalan club for Chelsea?
That question is on the minds of many over the past 48 hours, as the Argentine ace had previously seemed untouchable to another other team in the world who had the money to sign him. But now, not so much.
[ RELATED: Bony to City; good fit? ]
Despite Barcelona's president Josep Bartomeu saying on Wednesday that Messi is 'not for sale' the player himself has sparked plenty of hysteria in recent days after following Chelsea on Instagram and plenty of conspiracy theorists claiming that Adidas would help Chelsea with the funds to sign Messi, who has an endorsement with them. From that and rumors of a bust up with current under pressure Barcelona boss Luis Enrique, the Messi-to-Chelsea bandwagon has gathered momentum with the Argentine star reportedly missing training on Monday following their embarrassing defeat to Real Sociedad.
Messi, 27, apparently has a $300 million release clause in his Barcelona contract, as the man who has been at the Nou Camp since the age of 12 seems closer than ever to jumping ship. Barca are in turmoil off the pitch, as Bartomeu has called an early presidential election following the transfer ban placed on the Spanish club as they cannot buy any new players until January 2016. With Luis Suarez and Neymar to flank Messi, they should be okay. But Barca aren't getting the best out of those aforementioned South American stars, as Messi is the focal point.
Add into that the decision by Barca to fire sports director Andoni Zubizarreta, plus the increasing concern over Messi's future, and you have a situation spiraling out of control. But would Messi really leave?
"Messi has a contract until 2018, he is happy with the club and wants to win more titles," Bartomeu said. "There is nothing to panic about in that regard. Messi is the central figure. The team is built around him. The whole footballing world knows that Barca don't want to sell Messi. For me he is the best player in the world."
Bartomeu's words are at least slightly encouraging for Barcelona's fans, but is Messi ready for a new challenge?
After becoming La Liga's all-time top goalscorer, winning every trophy known to man with Barca and having plenty of issues with the taxman thrown his way after alleged mismanagement from his father, plenty of things are building up to suggest that Argentina's captain could fancy a move elsewhere. Just like at Steven Gerrard and him leaving for Liverpool for the LA Galaxy. Did anybody think that would actually happen? Yes, Gerrard hasn't left in his prime but he fancies a new challenge and wants to win trophies elsewhere. Maybe Messi wants to test himself in England?
[ RELATED: Man United gossip suggest title charge ]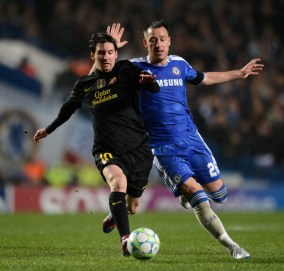 If that was the case, only a few teams could afford the four-time World Player of the Year. Chelsea, Manchester City and Paris Saint-Germain are those teams, but all of them are under strict sanctions from UEFA about Financial Fair Play so splashing out $300 million on one player would surely mean huge restructuring at all three clubs. With the French league not considered among Europe's elite, the Premier League is Messi's most likely destination if he were ever to leave Barcelona.
Chelsea are the club most likely to sign him, but fans, pundits and journalists in England just aren't willing to believe that Messi could be heading to Stamford Bridge. Yes, Russian billionaire Roman Abramovich could find the cash to bring in one of the greatest players the world has ever seen, but will the player want to work for Jose Mourinho? Despite the Portuguese manager's close links with Barca, his time at Real Madrid saw plenty of unsavory clashes break out between Real and Barca. But that's just football, right? Messi will bear no grudge on Mourinho for that.
[ RELATED: Gerrard to LA confirmed ]
Also, with Eden Hazard the main man for the Blues, could he and Messi play on the same team and both have a free-role to create? It is likely that Hazard could leave for Real Madrid in a monster transfer to raise funds, if this move for Messi ever came to fruition.
One of the big question marks around Messi, and this may seem slightly crazy as he rips up La Liga on a weekly basis, is if he can handle the physicality of the Premier League and the mythical 'wet, windy Wednesday night in Stoke.' Stats suggest he could struggle in England. Throughout UEFA Champions League games against English opposition, Messi has scored just two goals and provided two assists in 10 matches during games he's played in England across the UCL.
Regardless of those stats, if Messi does link up with Chelsea to partner Diego Costa in attack with Cesc Fabregas and maybe Hazard feeding balls into him, there's no doubting that Chelsea would get an instant return on the huge amount of cash they would have to shell out to get him. Is Messi worth $300 million? No player is. But, if he's available then the Blues should do all they can to buy him in his prime so they can build a dynasty to not only challenge for the Champions League and PL on a yearly basis, but be the outright favorites for the next five to six years.