Portland Timbers owner Merritt Paulson held a Q&A a couple days back, and mentioned that he'd love for Didier Drogba to be a Timber (but that it was highly unlikely).
And with transfer rumor season in full bloom — Emmanuel Adebayor and Jozy Altidore to MLS, anyone? —  it got us thinking: Who is one player from each Premier League club that would reasonably fit into Major League Soccer at this stage in their careers? And how about the other way around?
[ RELATED: Just for fun — a Premier League recruit from each MLS club ]
We'll start with the Premier League to MLS bunch, excluding USMNT players like Altidore, Brad Guzan and Geoff Cameron. In fact, let's outlaw all players who've already been in MLS, and also play with a bit of logic. If the name is too big or the logic so wrong that it would legitimately shock you, it won't work. And if the name is too small or resume too poor to sell a ticket or two, well, it won't work either (although for every Steven Gerrard, there are two Liam Ridgewells. Guys come over).
The list, with ages:
Arsenal: Mathieu Flamini, 30.
Tough-tackling player with creativity to spare. Just don't ask him to cut his sleeves to match his teammates.
Aston Villa: Kieran Richardson, 30.
Burnley: Lukas Jutkiewicz, 25.
Chelsea: Didier Drogba, 36.
Because it's going to happen sooner or later. He's already been to China for the dough. Why not USA?
Crystal Palace: Fraizer Campbell, 27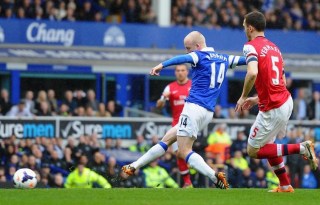 Everton: Steven Naismith, 28
Almost makes too much sense. The Scot works hard and seems just a touch behind the Premier League. Could thrive in the US or Canada.
Hull City: Maynor Figueroa, 31.
Leicester City: Esteban Cambiasso, 34
It's been rumored before, and now that he's left Inter a move back into the Western hemisphere feels en route.
Liverpool: Martin Skrtel, 30.
Probably the hardest team to pluck a player from, but here's why: He'd be beloved and dominant. Imagine him in New England or Atlanta, just thumping people.
Manchester City: Martin Demichelis, 34.
Manchester United: Antonio Valencia, 29.
Newcastle United: Mike Williamson, 31.
Queens Park Rangers: Joey Barton, 32
Tricky one, and you'd have to think only the New Yorks, Torontos or L.A.s of the league could draw the Smiths-loving, Twitter-addicted midfielder. Although half of QPR's roster fits the bill.
Southampton: Shane Long, 27.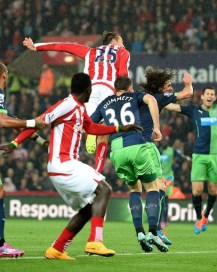 Stoke City: Peter Crouch, 33.
Rising above defenses to pound home headers with his wife enjoying the American life. Sort of player whose size and positioning along with a decent playmaker could put BWP's new record to the test.
Sunderland: Wes Brown, 35
Swansea City: Wayne Routledge, 30.
Tottenham Hotspur: Adebayor, 30.
West Bromwich Albion: Joleon Lescott, 32.
West Ham United: Kevin Nolan, 32
If you can imagine Nolan actually leaving England, you can imagine him just battling his way toward a 10-goal, 10-assist season for DC United.