LONDON — Arsenal breezed past Stoke City 3-0 at the Emirates Stadium on Sunday, as the Gunners avenged their defeat to the Potters last month and drew level on points with the top four.
[ RELATED: Analyzing the relegation zone ]
An early Laurent Koscielny header was added to by two goals from Alexis Sanchez as Arsenal eased to victory.
We learned plenty from the rambunctious affair in north London. Here's three.
ARSENAL'S RAMPAGING MIDFIELD
Arsenal came flying out of the traps on Sunday, as Stoke couldn't cope with the incisive running of Tomas Rosicky, Alex Oxlade-Chamberlain and Santi Cazorla beyond their backline. With Frenchman Francis Coquelin patrolling the holding midfield role and showing plenty of promise in keeping the ball and breaking up attacks, the former Charlon Athletic loanee provided the Gunners with a great platform to launch attacks. They did that time and time again early on, as Asmir Begovic saved superbly from Sanchez, Oxlade-Chamberlain and Olivier Giroud within the first half hour as Arsenal were 2-0 up at the break and cruising. With Theo Walcott and Mesut Ozil coming off the bench late in the match, Arsene Wenger now possesses a plethora of options in midfield.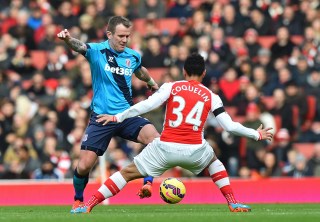 Rosicky was a revelation, with his tireless running from midfield to support Giroud causing Stoke all kinds of issues. So much so that Mark Hughes withdrew Steven Nzonzi at half time and replaced him with Steve Sidwell. With Arsenal taking their foot of the gas when Sanchez's 49th minute strike went in, Stoke still struggled to contain the likes of Chamberlain and Cazorla who combined to see the latter clip the crossbar in the 67th minute. Overall, Arsenal oozed class and the epicenter was in midfield.
ROBUST GUNNERS TOUGHEN UP
In December, Stoke bullied Arsenal and were 3-0 up at the break at the Britannia Stadium in their win. Arsenal could not handle the physicality and were blown away by Stoke's powerful running. Just over a month later, the Gunners had beefed up and were well and truly up for the battle. Saying that, two players went down with lengthy injuries in the first half as Marko Arnautovic gave Mathieu Debuchy a little push on his way off the pitch and the right back had to be replaced by Hector Bellerin after Debuchy appearing to damage his shoulder after landing against the advertising boards. A flying elbow from Peter Crouch then left a nasty gash on Nacho Monreal's head, as the Gunners' technically gifted players mixed it up with Olivier Giroud giving Ryan Shawcross a shove in the face just for good measure.
When you think of Stoke, you think of a tough team to beat who will make you battle for everything. However, the likes of Coquelin, Rosicky and Bellerin were flying into tackles as Stoke looked unnerved on their way to being outclassed. Stoke have now conceded 13 goals from set pieces this season. That is the most in the Premier League. Despite sitting pretty in mid-table and playing some attractive soccer, the Potters are losing a little bit of that nastiness which was key to their success in the past. Arsenal out-Stoked Stoke.
SANCHEZ CONTINUES TO SHINE
Chilean attacker Alexis Sanchez continues to cement his title as the best signing of the season, as he inspired Arsenal to yet another win with two goals against Stoke.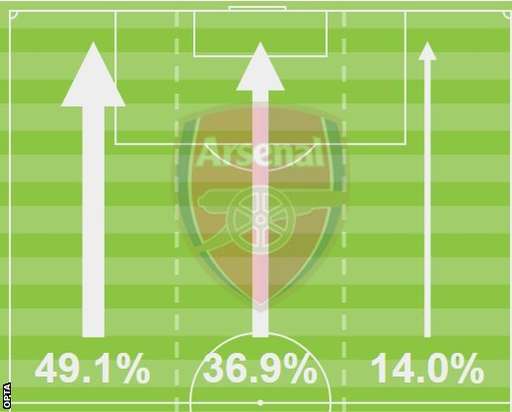 When Sanchez picked up the ball on the left flank in the 33rd minute, he jinxed inside after playing a one-two with Rosicky and instead of going across Begovic he closed up his foot and drilled the ball home at the near post. Sheer class. Sanchez has rescued the Gunners multiple times this season, as he has either scored or assisted 19 goals. That's more than any other player in the Premier League, so no wonder why the Gunners gave him the ball at every opportunity, as you can see in the image above from Arsenal's second half possession. His power when running on the ball, plus his nous in and around the box and willingness to shot from anywhere make him a nightmare to defend. It's safe to call Sanchez's $45 million purchase from Barcelona a bargain. Now, how long can the Gunners hold on to him?