Carlo Ancelotti, Diego Simeone and Joachim Low went toe-to-toe for the honor of being named FIFA men's coach of the year, and the German took it home.
Low won his first FIFA Coach of the Year at a ceremony in Zurich on Monday, and thanked his players and the German football association. Germany, of course, won the World Cup this summer in Brazil.
Earlier in the day, it appears Low guested on a 1990s episode of Saturday Night Live in Mike Myers' "Sprockets" bit.
[ MORE: FIFA FIFPro World XI revealed ]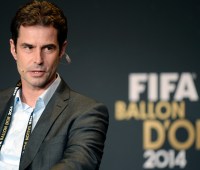 Ralf Kellermann of UEFA Champions League winners Wolfsburg won the coach of the year for women's soccer. Wolfsburg are back-to-back Bundesliga and UCL champions, and Kellermann was the runner-up for the 2013 award.
Kellermann said he'd keep his speech short in the honor of Junior Malanda, the Wolfsburg men's player who died in a car crash over the weekend.