Manchester City completes the first major signing of the January transfer window, announcing officially what we've known for days.
Wilfried Bony, the Premier League's leading scorer over the 2014 calendar year, has finally cashed in. Manchester City officially announced his purchase this morning, saying he's signed a 4-1/2 year deal that will keep him under team control through the summer of 2019.
Costing a reported $38 million, Bony becomes the first big-money purchase of the January window, with marquee players often hard to come by in the middle of the season. The loss is a devastating one, but they'll have to make do with the gobs of cash they have now stumbled upon.
In fact, this signing is so marquee, it even got his own logo. How many signings get their own logo? Check that out! The hair is in the O!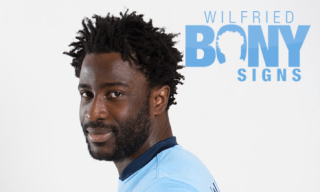 The transfer fee is a record sale for Swansea City, who posted a long thank-you on their official website to wish him well at Manchester City, but the club will be losing a monumental goal tally, with Bony scoring 31% of the team's goal haul since his arrival.
Replacing goals is a near-impossible task – just ask Liverpool this season – but if the club invests well they can find the next good purchase. Remember, they found Bony for around $20 million two years ago, albeit he wasn't too hard to find given the 26-year-old was leading the Eredivisie in scoring.
On the other end of things, it's a positive, statement signing for Manchester City, but also one that will force manager Manuel Pellegrini into a bit of a selection problem. Not only does he have the 2014 Premier League goalscoring leader, but he has the runner-up in Sergio Aguero. Edin Dzeko may very well drop to third in the pecking order, and this could signal the end of this run at the Etihad, but that remains to be seen.
"I think it's a great decision for me – Manchester City is in the Champions League," Bony told the Manchester City official website, as if they weren't aware of their own place in Europe's top tournament. "You remember at the end of last season I said that if I want to move it will be to a team in the competition because it's a great tournament that I really want to play in and one that I want to win. It's a motivation for me to give my maximum to be in that place. City is a big club with great players with a lot of experience; I believe we can do it."
City could also use the depth, as Aguero has proven to be hampered by injury this season and last, but ultimately this is about making a statement, and City have certainly done that. One wrinkle: Bony is currently with the Ivory Coast in the African Cup of Nations, but will meet up with Manchester City following the country's completion in the tournament.