United Arab Emirates and Iraq both advanced to the semifinals on penalties, with the former providing the first true shocking result of the tournament thus far.
Japan was on the receiving end of the upset after Shinji Kagawa blasted the left upright with his penalty, allowing defender Ismail Ahmed to power home his penalty and send UAE to its first semifinal appearance since 1996.
The upset nearly happened in regulation as Al Jazira striker Ali Ahmed Mabkhout scored his fourth goal of the tournament inside 10 minutes – the first goal Japan has conceded all tournament – and it took Japan all the way until the 81st minute before they produced a deserved equalizer from substitute Gaku Shibasaki to reward a better second half and send things into extra time.
Kagawa nearly had a winner late on in regulation, but he put one wide at the stroke of the final whistle, minutes after hitting over the bar on a Keisuke Honda free-kick. After a listless extra 30 minutes, it went to penalties, where each team collected four of its first five, with Honda and Khamis Esmaeel each lifting their strikes above the crossbar. Then Kagawa missed in the first of sudden death, allowing UAE to score the clincher. Yes, that means the two missed Japanese penalties came from the country's most well-known stars, Kagawa and Honda – puzzling to say the least.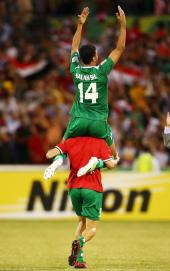 Iraq also earned a surprising spot in the semifinals, topping Iran on penalties as well by a 7-6 score. The Lions are just one of two former champions remaining, alongside South Korea who won back in 1960.
Iran was down a man after they lost Mehrdad Pooladi when referee Ben Williams harshly sent him off. The referee had initially booked Pooladi for a theatrical dive after being shoved by Iraq goalkeeper Halal Hassan Hachim, before a host of Iraqi players reminded him that he had previously booked Pooladi for an earlier challenge in the first half. The referee then was forced to produce the red, sending Pooladi off for his second yellow.
But that would not stop Iran from making the game a memorable one. Into extra time with a 1-1 score after 90 minutes, Iraq twice took the lead, but Iran twice equalized, forcing penalties. Iraq captain Younis Mahmoud, who missed a Panenka penalty just days ago, did it again in the shootout when a miss would have eliminated his side, and scored it to add to the game's already ballooning highlight reel. Iraq defender Salam Shakir later would bag the winner, and send the 2007 champions into the semifinals once again.