When Jurgen Klinsmann called in 28 players for the U.S. national team's annual January training camp and subsequent friendlies, the USMNT head coach did so with eyes and mind looking forward to two different places: this summer's Gold Cup — established USMNT veterans — and next year's Olympic qualifying tournament — players under the age of 23.
[ FOLLOW: All of PST's USMNT coverage | MLS ]
Klinsmann was more than open about his intentions to kill two birds with one stone, publicly confirming the roster was a healthy mix of players who will contribute on either front over the next 15 months.
With that in mind, who on the current 23-man roster for friendlies against Chile (Wednesday, 6 pm ET) and Panama (Sunday, Feb. 8, 4 pm ET) is in camp for an extended run with the first team this year, and who's just hanging around for experience and further evaluation with the Olympics in mind?
Gold Cup locks — Goalkeeper Nick Rimando; defenders Matt Besler, Jermaine Jones and DeAndre Yedlin; midfielders Michael Bradley and Mix Diskerud; forwards Jozy Altidore and Clint Dempsey
Eight players from Klinsmann's World Cup roster, all of which are too old for the Olympic qualifying team — Yedlin, who is probably seen as "too advanced" for U-23 team, the exception.
---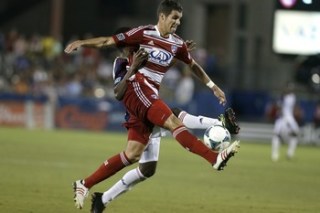 Gold Cup fringe players — Goalkeeper Sean Johnson; defenders Matt Hedges and Perry Kitchen; midfielders Lee Nguyen and Brek Shea; forward Chris Wondolowski
Johnson has been called into camp on a fairly regular basis as the No. 4 goalkeeper, often times flip-flopping with Bill Hamid, so with Tim Howard taking a year-long break from the national team, one of the two young shot-stoppers could sneak onto the Gold Cup roster as the No. 3 behind Brad Guzan (No. 1) and Rimando.
Hedges' (right) performances during the 2014 MLS season forced Klinsmann to call up the 24-year-old and, with strong showings during training sessions, could push the FC Dallas defender into a class just below Besler, Geoff Cameron and Omar Gonzalez, who are all pretty regular starters. A possible shift to a 3-5-2 only helps Hedges as it creates another starting spot along the backline. Kitchen, who often plays in the midfield for D.C. United, surpassed the 11,000-minute mark for United in 2014, his fourth year as a pro, and figures to get a look with the full senior team at some point.
Lee Nguyen had an unreal 2014 season for the New England Revolution, and there's no one in the USMNT player pool who plays the No. 10 position as dynamically as him. Here's the problem for Nguyen: if Klinsmann switches to a 3-5-2 full time, there's little room on the field for Nguyen. Shea, on the other hand, gets another lifeline thrown his way as someone who's fairly experienced in areas both wide-attacking and defensively. Klinsmann obviously rates the 24-year-old because he keeps calling him into camps despite a complete lack of club team minutes, so he'll get every chance to succeed (or fail).
Wondolowski is 31 the No. 4 forward on any first-team USMNT roster, at best.
[ RELATED: U.S. U-20s defeat El Salvador, qualify for 2015 U-20 World Cup ]
---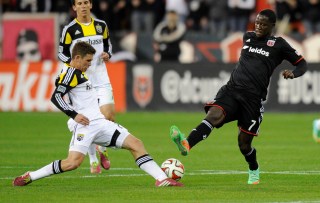 An eye toward Olympic qualifiers — Goalkeeper Jon Kempin; defender Shane O'Neill; midfielders Dillon Serna and Wil Trapp
Kempin showed flashes of a future MLS No. 1 during spot starts for Sporting Kansas City in 2014. It'll be interesting to see whether Klinsmann and U-23 head coach Andreas Herzog opt to ride the 21-year-old Kempin, or Southampton prospect and regular U-20/23 starter Cody Cropper.
O'Neill and Trapp (right) figure to make up the spine for the Olympic qualifying team, and a strong one at that. Both 21 years old, each has logged nearly 4,000 minutes (Trapp is just short at 3,875) in their first two full seasons in MLS combined.
[ RELATED: Juan Agudelo close to re-joining New England Revolution ]
---
Too old for Olympic qualifiers, hoping to make a GC case — Defender Steve Birnbaum; midfielder Miguel Ibarra; forward Bobby Wood
Both Birnbaum and Ibarra seem long shots to earn long-term places in the senior team, but January call-ups are important opportunities to make their case, regardless. Meanwhile, Wood got a number of run-outs with the senior team at the end of 2014, but failed to stake his claim to a place once the full complement of forwards is available to Klinsmann.