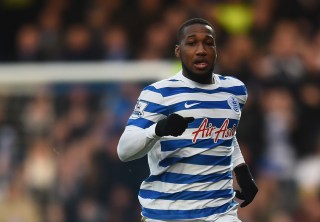 LONDON — On a frosty morning at Queens Park Rangers' Harlington Sports Ground in the shadows of London's Heathrow airport, Canadian winger Junior Hoilett seemed very relaxed as planes roared off in the distance behind him.
The Toronto native, 24, has spent most of his life away from home and on the move across Europe, so having the busiest international airport in the world close by makes plenty of sense.
[ RELATED: QPR standing by Redknapp ]
Hoilett left Brampton, Ontario as a 13-year-old to sign with then-Premier League side Blackburn Rovers and stops in Germany during work permit issues helped his development as a player and person in Europe. Now the speedy winger is trying to help QPR survive in the Premier League.
But how did that journey to England at such a young age begin?
"As a kid I just loved soccer so much," Hoilett smiled, as he so often does. "I was with a team called Oakville and we played in a tournament in Wales and I played well. I then got scouted by a lot of clubs and went to Blackburn on trial at the age of 11, for like a month. I loved it because it was just about playing soccer all day every day, you didn't have to worry about anything else. I did that for a couple of years and at the age of 13 they invited me to come over full time and sign with the academy."
Did Hoilett have any reservations about heading across the Atlantic to pursue his dreams as a teenager?
"First it took me a while to think about it, because you don't want to leave home for so long," Hoilett said. "But at the end of the day I really wanted to be a soccer player and not a lot of kids back home (had) the opportunity to fulfill their dreams. I took it. It was a big step, but as you can see, it paid off."
Hoilett smiled as he said that. He has a slightly timid character but as time ticked on as we sat in the clubhouse overlooking QPR's reserve pitch — the U-21 side was playing against Cardiff City — and the sun grew weary in the clear skies above the west side of England's capital city, Hoilett smiled and laughed more frequently as his laid back demeanor shone through.
[ WATCH: Stream every PL game via Live Extra ]
The Canadian winger seems to be rather relaxed despite the fact that QPR are embroiled in an intense relegation battle which has nine PL teams fighting for their top-flight lives.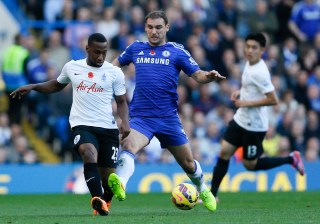 "Everybody here at QPR has one goal, which is to remain in the Premier League," Hoilett said. "Every day in training everybody is working hard so we can all improve. Whether that is working on the final ball in or defensive shape. Everybody is committed to complete the challenge and stay in the Premier League."
[ RELATED: Akindele snubs Canada ]
The youngster is no stranger to this situation. After joining QPR from Blackburn in 2012-13, the R's were relegated on Harry Redknapp's watch but bounced back after winning the Championship play-off final last year. Hoilett believes this previous experience in a relegation dogfight will help QPR out.
"It is really tight this season so every game is vital," Hoilett said. "Even if it's only a point, it could mean a lot come the end. At home the fans are terrific and they give us the extra boost. They are like the 12th man on the pitch, they give us the extra boost to get forward and get the result that is needed. Our away form has been poor this season but we just need that one break to get a good result away from home and everything will change and the ball will keep rolling. Every game we go into the players are giving 100 percent and keeping strong minded to believe we will get a result."
 [ RELATED: Latest Premier League standings ]
QPR's away form has been abysmal. Zero points from their first 10 games on the road is the worst away record to start a season from any team in PL history and recently alleged altercations between players and fans following defeat at Burnley proved how dire the situation is getting. Hoilett put that incident down to passion and believes everyone wants to succeed. Previous experience counts for a lot in this type of situation too.

"Every bit counts.  From running the extra five or 10 yards, to winning a tackle, to staying in shape to stay compact.  If you switch off for a second," Hoilett said, clicking his fingers loudly, "then it is in the back of your net. Especially in the Premier League. As long as we learn from the mistakes that we made at the beginning of the season we will be okay by the back end of the season."
With an ambitious owner in Tony Fernandes — who Hoilett revealed the club and players rallied around during the recent Air Asia disaster, as Fernandes owns the airline which also acts as QPR's club sponsor — and plans for a new stadium rumbling on, can QPR kick on in the future if they manage to stay up this season?
"I think if we can keep the status in the Premier League, then we have to set new goals each year," Hoilett said. "I think next year would be to not be in a relegation battle and then after that to push on further and try to get into the top 10. Right now it is all about trying to beat that battle against relegation and next year we will set new goals and new standards."
[ VIDEO: Premier League highlights ]
A world away from west London, relegation battles and the PL is where Hoilett grew up in the western suburbs of Toronto. In fact, he beams every time Toronto is mentioned, but despite being hugely proud of his Canadian heritage and his home city of Toronto, Hoilett has yet to pledge his allegiance to the Canadian national team. In fact, Jamaica is still an option for Hoilett due to his father being from the Caribbean island.
"Right now my mind is just focused on QPR and trying to beat this relegation battle," Hoilett said. "I haven't really thought about it. The time will come where I have to make my decision and it will be … (Hoilett paused, smirked and laughed a little) … It will be an interesting decision."
But has Canada been in touch recently as the 2015 Gold Cup looms this summer?
"No, they haven't been in touch with me lately," Hoilett confirmed. "They've seen that I've been in a mix of the relegation battle with QPR, which is the main thing. Especially as I don't have much playing time this season. So right now they told me to focus on this and when you're ready, just give us a call."
Pushing Hoilett hard on this subject which, so far, he has been highly reluctant to speak to many journalists about, I asked when he may make that call and if he's under any pressure from his family to play for Canada or Jamaica.
"It has to come soon. I think so," Hoilett said. "I'm not sure. I can't say (when). I will see what happens. The options are open. It's my decision. Nobody really puts pressure on me."
[ RELATED: Watch full match replays ]
Switching back to his time at QPR, Hoilett reflected on his best moment for the Hoops so far as he's made 80 appearances and scored seven goals for the west London club since arriving in 2012 after three-straight years in the PL with Blackburn before they were relegated. Setting up the winner for Bobby Zamora to seal promotion back to the top-flight last May at Wembley has been the high point.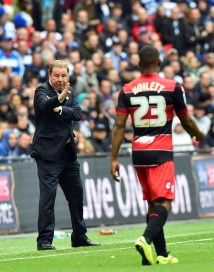 "That was probably the highlight of my QPR career so far," Hoilett said. "It's been up and down. Getting relegated and then going back up straight away, not many teams are able to achieve it. But I will always remember that moment, going back up and fighting for that. Going to Wembley, 90,000 fans, it was a great experience."
Hoilett calls Redknapp "an old fashioned manager" and says he's learned a lot from him and veteran players like Rio Ferdinand, who are always giving him advice and helping him grow as a player.
As the January transfer window comes to a close, reports are linking Hoilett with a loan move away from QPR in search of regular minutes as he has played in 17 games for the R's but has started just six times in all competitions and has yet to score.
Former QPR assistant coach Steve McLaren, now in charge of Derby County — the club QPR beat to get promotion last year and are currently joint-top of the Championship this term — has reached out about grabbing Hoilett on loan but QPR turned down their advances. German club Borussia Monchengladbach are also said to be interested and the winger told me the time he spent in Germany was "one of the best experiences" of his life.
For now, however, Hoilett is happy to stay with QPR in their fight against relegation.
"As a player you want to start so it's been frustrating," Hoilett admitted, as he played with the lace in his sneakers tentatively. "You just have to keep working hard. Whether that is coming off the bench for 10 minutes, 20 minutes or five minutes or hopefully I get the start. Right now I am just trying to fight for my place in the team and whatever happens will happen."
[ RELATED: QPR react to Air Asia disaster ]
Hoilett will be hoping to get a start against Stoke City this Saturday at the Britannia Stadium as the man who gave him his chance to flourish at Blackburn Rovers and then brought him to QPR, Mark Hughes, will be in the opposition dugout. Hoilett described Hughes as having a "vital influence" in his career after training with Rovers' first-team as a teenager before Hughes signed him for QPR.
Switching back to his homeland, when asked about Toronto FC's huge investments in the transfer market of late and if he'd ever fancy a move to MLS to play in his hometown, Hoilett certainly left the door wide open.
"I follow Toronto FC. It is my home city. We just got Sebastian Giovinco and there's a lot of Italians in Toronto so that will go down very well. I'm happy for him," Hoilett smiled. "Toronto has grown as a soccer city, they have one of the biggest fanbases in MLS, so I follow Toronto FC and MLS very closely over here. The MLS is growing and everyone is getting excited. They are bringing in younger players, very talented players in. So yeah, one day, hopefully the chance will come to play for my city. That would be perfect."
Over the past few summers, Hoilett has trained with TFC during his offseason to stay fit. His connection with the club is strong and he explains that despite admitting to loving almost every sport going — the NBA his favorite, while his grandmother always takes him to Toronto Blue Jays games whenever he is home — soccer has always been in his blood.
"From the age of four I was playing soccer," Hoilett recalled. "They have a really good setup for the youth (in Toronto) where it's the rep teams where you play indoor and outdoor soccer. It is really good thing for the youth because there's a lot of good young players in Canada who have a lot of talent. But when they reached the age of 18, there was really nothing until Toronto FC came along. I think it is growing and growing. There are a lot of youngsters playing and if you look there's a few coming through the ranks here like Michael Petrasso at QPR. It is exciting for Canada's future. Hopefully the young'uns can keep coming through and get that European status which every Canadian probably dreams of."
[ RELATED: 2015 MLS SuperDraft, third, fourth round picks ]
Hoilett's brother Jaineil, who has just been drafted by FC Dallas in the fourth round of the 2015 MLS SuperDraft, got that European status as he joined his older brother at Blackburn and at FC St. Pauli in Hamburg. The duo have also trained together with Toronto FC and QPR over the past few years to stay fit, but how much did having his brother around help Junior settle in overseas?
"To be honest, it helped me a lot," Hoilett said, with another huge smile on his face. "Having my brother there after practice, we would go home and chill and that was one of the best things to have. We would play video games, fight each other and stuff… It is what you need to keep your mind in a happy place, especially when there's tough times and you're fighting and struggling in the relegation zone."
U-20 Canadian international Jaineil is now heading to Texas to start his career in MLS and his older brother isn't surprised he's succeeding.
"It was great to see him make the MLS SuperDraft, it makes me proud," Hoilett said, smiling. "Hopefully he gets that chance that he deserves because he has been working hard to try and reach some stability in his career. While he was in Germany, he did terrific. He went to Mainz and Frankfurt after that where his contract just ran out. I hope he gets that chance to show everybody what he's made of."
[ RELATED: QPR beat Leicester, move off the bottom in classic ]
As for Junior's hopes for the Canadian national team, which he and his brother may well be a part of together one day, he dreams of seeing Canada at the World Cup and believes one player in particular can help lead the way.
"It would be history!" Hoilett laughed. "Canada is a massive country and I believe they have a massive fanbase. They just have to sort a few things out to reach that level. I'm sure we have the talent. The country can do it and I think they could pull it off. The youngsters are the future, players like Dylan Carreiro and then you have [Michael] Petrasso has been doing very well and getting experience over here in the lower leagues. If everyone could follow in his footsteps then there will be better players being developed who can reach the national team status."
As one of the few Canadians to come through a Premier League academy and make his mark in England's top-flight, would Hoilett recommend his route to any Canadian or U.S. players who are able to follow in his footsteps?
"Of course. You develop your skills in the best league in the world," Hoilett said. "And it's like the saying goes: 'If you shoot for the moon, if you miss, you will still land on the stars.' You just have to keep working  hard and believing. The main thing is, if you are having fun doing it then it will come easy."