For a minute, 18-year-old Che Adams looked the latest Cup magician for Sheffield United before Christian Eriksen pulled the curtain on the Blades' Wembley dreams.
Eriksen's 87th minute finish of a Harry Kane pass saved Tottenham Hotspur from the drama of extra time after Adams' quick-fire brace breathed new life into what became a thrilling finish at Bramall Lane.
United had gone to the semifinals of the 2014 FA Cup before falling to Hull City, and hoped to earn a surprising trip to the final in this season's League Cup.
[ MORE: English FA charge Costa | No. 1 villain? ]
Spurs entered the game with a 1-0 lead from the first leg at White Hart Lane, and Eriksen hammered home a road goal via a world-class free kick in the 28th minute that made an All-London League Cup final look a certainty.
Lined up 25 yards or so from goal, Eriksen sent a curling shot from the right swooping across the top of goal and into the left upper 90 to make it 2-0 to the visitors.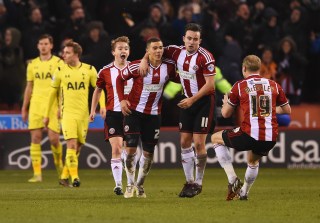 But then came Adams, scoring in the 76th and 78th minutes to threaten Mauricio Pochettino's men with extra time. The 2-2 aggregate score would still benefit Spurs due to the road goal, but there was work to be done.
That's when Kane found Eriksen, who coolly slotted home the nail in the Blades coffin. Tottenham is off to Wembley to face Chelsea in the hopes of snaring its first League Cup win since 2008, which was a 2-1 decision over the Blues.
Sheffield will have won more than a few admirers, though, and Adams will be the man of the hour. The Leicester-born man has appeared on England's C team.
Chelsea and Spurs will duke it out on March 1 in their shared home city in what should be a much talked-about final.