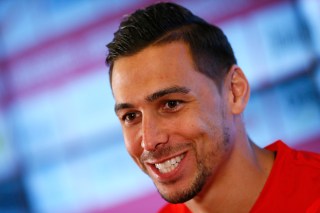 Each week at ProSoccerTalk we will hear from from U.S. national team and Stoke City defender Geoff Cameron, who is now a special correspondent for NBCSports.com. 
[ RELATED: Cameron's latest on PST ]
The proud Bostonian tells us what life is like behind-the-scenes in England's top-flight with Q&A's, first-person pieces and more. This week his focus is on the SuperBowl as the life-long New England Patriots fans expects success.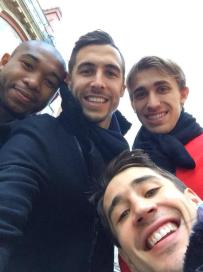 Before I start talking about the Super Bowl this weekend (which, by the way, the Patriots are going to win easily) I just wanted to talk about the horrible knee injury my good friend Bojan Krkic suffered for Stoke City last week. He's been superb for us this season and we are really going to miss him between now and May.
[ VIDEO: Premier League highlights ]
Myself, Marc Muniesa and Bojan do a family night every week, where we sit down and have dinner with our significant others and we rotate that each week between Bo's house, my house and Marc's. We keep that tradition and usually every Tuesday night we have a game night where we play some Wii and hang out. He's been one of my good friends since he got here, we relate and just get on really well. I am obviously really sad and disappointed to see him go through something like this, his first knee injury. Myself and Marc both have experience with knee injuries, I did my PCL back in 2010 in Houston, so you can relate and help out with some of the things he is going through.
[ PHOTOS: Cameron checks in from Stoke's trip to Dubai ]
You want to reassure him that he will be back 100 percent and back to the level he's playing and he's got to stay positive. He's added a whole new dimension to Stoke since arriving in the summer and he's a guy that you have to give a free role to in order for him to be at his creative best. Once he starts getting comfortable and confident you can tell how talented he is and how influential he can be in games when a moment of brilliance to score and create goals. He makes players around him better and that's something special. Plus he's always laughing and smiling and is such a positive guy to have around. From that aspect it will be tough to lose him too.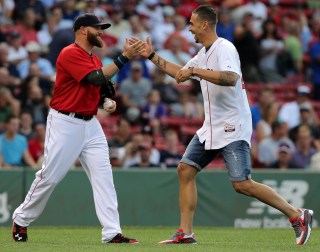 We have a big home game coming up against QPR this weekend and after moving around and playing in a few different positions lately, I'm looking forward to getting a good run back in the team. After our trip to Dubai last week and the FA Cup game on Monday, it's good to get back playing in the Premier League.
[ WATCH: Stream SuperBowl 49 here ]
Moving on to the big game this weekend, it's great to see my team in the Super Bowl… once again. There are plenty of haters out there at the moment with "DeflateGate" and all that stuff. I think it's a bunch of B.S. and I'll be supporting my boy Julian Edelman and the Pats this Sunday in Super Bowl XLIX. Tom Brady is going to throw some yards, and get some touchdowns to make sure we shut the Seahawks up! I've been a Patriots fan my whole life, they've been my team since I was born. Growing up in New England, I'm a Boston fan for all sports and my family will have a big get together this Sunday to watch the game. I'll be there in spirit!
I was a fan of the Pats when Drew Bledsoe was there and even when we weren't winning (which is rare) I was a fan. That's dedication, just think about the Celtics. I'll always support them too. If we don't win this one on Sunday… I mean, come on. We got robbed twice against the Giants in the last few Super Bowl's we reached. When you think about it, it is amazing what Bill Belichick has been able to do consistently over the years with the teams he has produced. Everybody either loves him or hates him.  I love him but we need to have some more rings so we can brag about it to the west coast!
[ RELATED: Watch full match replays ]
Reminiscing about my favorite Pats players all-time… man, that's tough. I'm a Brady fan, for sure, but I remember watching Ty Law, he was such a good player. Then there's people like Willie McGinest, Corey Dillon, Kevin Faulk, Tedy Bruschi and Randy Moss. All of those guys were my heroes growing up and the partnership Moss and Brady had was unstoppable. Growing up I remember going to watch games with friends on TV and having block parties on a Sunday when the Pats were playing. The way people think about soccer over here is real similar to the way we are about American Football in the U.S.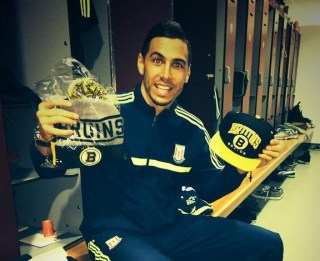 It's going to be a late night for me on Sunday staying up to watch the game over here, but I'll be watching with some friends and plenty of the players at Stoke have got into it this year. Asmir Begovic, who's from Toronto, is somehow a Pats fans. He told me he picked them because they were the best team and there was no team in Toronto, so that's fair enough. I call him a bandwagon fan, but it's alright, I'll accept him. Plus other guys like Jack Butland and Thomas Sorensen are into it too, so it's nice to have them to chat with about it.
[ RELATED: Latest PL standings ]
Recently I've got to get to know Pats wide-receiver Edelman and he was trying to get me out to the Super Bowl but that's not going to happen with my schedule. But it will be great to get him over to a Stoke City game soon and he can bring his Super Bowl ring and we can celebrate the win over here in England!
Thanks for all the support. Go Pats! And until next time, peace!