The Bundesliga was away from us for far too long, but it returned bearing gifts this weekend.
Beginning with Friday's shocking blowout of Bayern Munich by Wolfsburg, Germany's top flight delivered with goals and table movement.
[ MORE: Premier League roundup ]
And to think, we've still a pair of Sunday matches on the slate. Let's go through what's done and dusted.
Wolfsburg 4-1 Bayern Munich
Kevin De Bruyne was the Man of the Match, and Bas Dost matched his brace as the hosts ended Bayern's dream of an unbeaten Bundesliga season with a stunning 4-1 win.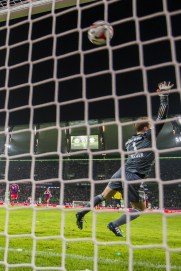 In what was an even-enough game outside of the finishing, Wolfsburg sent four balls past Manuel Neuer.
The match moves second-place Wolfsburg to within 8 points of Bayern. De Bruyne says the club played with great courage:
I know how things work and now everyone will be talking about us beating Bayern, and that's great. We can enjoy the win for the next two days but we only collected three points after all. Of course it was nice to put on such a great performance against Bayern of all teams. The key was being fearless and putting ourselves on the front foot. We did that really well.
Bayer Leverkusen 0-0 Borussia Dortmund
BVB is still languishing on the bottom of the table, but can take heart from a strong performance at a good Bayer Leverkusen squad.
Dortmund won more tackles and took more shots than the hosts, who are now a point back of third-place. Schalke and Borussia Monchengladbach leapt over Leverkusen on the day.
Stuttgart 0-1 Borussia Monchengladbach
USMNT player Fabian Johnson played an influential 90 minutes in Monchengladbach's big move into third place. He covered 12 kilometers, took a team-best four shots, won nine tackles and completed 23 passes (only missing two).
Patrick Herrmann, 23, scored the winner in the 71st minute, pushing a hard shot off the hand of a Stuttgart defender and into the goal.
Elsewhere
Freiberg 4-1 Eintracht Frankfurt — Substitute Nils Petersen's hat trick snaps deadlock in style. USMNT's Timmy Chandler on for all four goals.
Schalke 1-0 Hannover — Marco Hoger's 32nd minute goal holds up.
Mainz 5-0 Paderborn — Yunus Malli scores the first two in blowout
Hamburger 0-2 Koln — Marcel Risse scores both goals.
Werder Bremen vs. Hertha Berlin — 930am ET Sunday
Augsburg vs. Hoffenheim — 1130am ET Sunday