With the January window now closed, it's time to take an overall look at each club's deals and give them a general grade. Some teams are on their way up, some were disappointing, but overall it was a very quiet January by recent standards. Let's go through the list.
Arsenal: B
The Gunners filled their biggest need at central defender, which was priority number 1. That alone gets them a passing grade, although Gabriel Paulista is admittedly a relatively unknown commodity. They also got Joel Campbell out on loan, which is good for his playing time. As much as fans will hate it, loaning out Lukas Podolski and beginning his permanent move out of London was solid business, as he was playing little and the club was wasting wages on him. They get a solid B, with the Paulista deal subject to push that up or down depending on how good he ends up being.
Aston Villa: C-
The Claret & Blue have the worst goalscoring record in Premier League history to this point, and their answer appears to be Scott Sinclair. Ouch. With no creativity to feed Christian Benteke, Sinclair is hopefully going to jumpstart this attack, but Villa looked as lost as ever against Arsenal in their most recent trip out. Also, a club that has 11 goals in 23 games offloaded Darren Bent, which tells you all you need to know about Darren Bent. Overall, Villa failed to make any sort of splash, and if their solid defense begins to wear down, they could be headed down a very dark road.
Burnley: D
A team in 17th did nothing but loan a 22-year-old defender. It seems this small-market club is resigned to its fate at the end of the season, and will only escape relegation with some miracle coaching and a lot of luck. Michael Keane is a highly-rated defender, but the team has won three of 12 since he joined. It's not helping.
Chelsea: A-
Chelsea managed to use dark magic once again, turning an unused Andre Schurrle and essentially swap him for Juan Cuadrado plus around $8 million in profit. Cuadrado won't start over Willian or Hazard, but he'll provide a more than competent third option. Following a wildly successful summer, the Blues did about as well as they could in a January where the available player pool was slim at best. They still have depth issues at defensive midfielder, and any time Matic misses would mean Chelsea fans will have to suffer through more John Obi Mikel, but otherwise one of the strongest teams in Europe remained that way, and made a profit in the process. Oh, and the last-minute completion of a permanent move out for Ryan Bertrand means they profited in the window. Unreal.
Crystal Palace: B-
Yaya Sanogo is a solid addition, with Alan Pardew finding a good goalscoring option that may not be ready for the big stage of Arsenal just yet. The deal for Jordan Mutch is heavily underrated, as the winger proved one of the few bright spots for Cardiff City last year, and Palace have benefited from his knee injury ruining his move to QPR. Pardew also shored up his defense with Senegalese international Pape Souare, and added Bolton's Lee Chung-Young. Not all these deals will end up a positive, but they have the taste of good business.
Everton: C-
While Everton didn't do anything damaging to the club by being inactive, they certainly didn't help. Aaron Lennon is a solid addition, but not a player who can change their fortunes on his own. Samuel Eto'o was a bust, and has left. This was a team that needed a bit of a spark and didn't get it.
Hull City: D+

See above, except while Everton isn't in danger of relegation, Hull City is. Steve Bruce got no reinforcements, and instead offloaded Tom Ince on loan. They tried to snatch Lennon, but he went to the Toffees instead. If anyone can avoid relegation, Steve Bruce can, but there was no help in January. They announced the signing of Dame N'Doye from Lokomotiv Moscow, who has four goals in 14 Russian League appearances this year, a very "meh" number for a 29-year-old, but at least he's good in the air.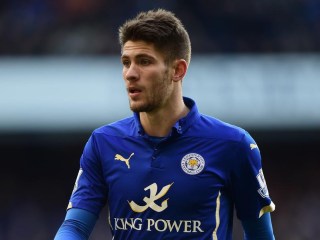 Leicester City: B+
Andrej Kramaric is a hell of a signing, and a shocking snatch for Leicester, who beat out the likes of Chelsea for the club-record signing. Leicester went for quality over quantity, and made it happen.
It's always risky to bring an inexperienced player in for a relegation battle, but if Kramaric starts firing goals, the rest will follow. They also got the experience in Mark Schwarzer from Chelsea, but his best years are well behind him and he looked slow in his first Leicester appearance, a 3-1 defeat.
Liverpool: C-
The Reds didn't exactly need anyone to come in, with Brendan Rodgers more focused on figuring out who makes up his best 11 from the players they already have. Things seem to be slowly but surely trending back upwards, but there weren't too many available players who would have made this team much better. Rodgers is starting to get more from Coutinho and Raheem Sterling, and that will bring goals. That being said, a new piece in either defense or midfielder wouldn't have hurt, and with no winter additions it's hard not to be a little frustrated they didn't look to improve. We'll see who he decides to add from the academy, as he's said he will tap into the youth system for reinforcements.
Manchester City: B
Wilfried Bony is a fantastic signing, as it's hard to criticize the addition of Europe's leading goalscorer in the 2014 calendar year. Manuel Pellegrini is seeing slow improvement from his defense, and therefore his team's biggest weakness is starting to close the hole on its own. With the striker position looking thin due to injuries, the addition of Bony is a masterstroke, albeit an expensive one. He may not play every game, but he's a great addition to the squad. It helps that he's having a stellar AFCON tournament. City looks poised to duke it out with Chelsea all the way to the finish line.
They also offloaded Scott Sinclair, who was doing nothing but eating wages, although the freezing out and subsequent departure of Matija Nastasic is a bit of a head-scratcher, as he looked to be a top up-and-coming young defender.
Manchester United: B
This team didn't need much. Louis van Gaal has a long-term project on his hands, not a quick fix, and January isn't the place to find too many long-term projects. He will ultimately have to overhaul the defense, but right now there weren't very many clear upgrades. The Victor Valdes signing is a very high-quality get, and a stellar backup to David de Gea, who's in world-class form. Van Gaal has the club in a much higher position than many predicted at the start of the season, and there's not much of a reason to disturb that. Oh, and they signed a Bolton defender on loan, perfectly summing up this January window of blah.
Newcastle United: F
Oh boy. Mike Ashley went full crazy. This is a team that could be falling fast, and he did nothing about it. In fact, they managed to antagonize Davide Santon on his way out, and still have to deal with Hatem Ben Arfa after his disaster story continued. But don't worry, Ashley made a cool $8 million for selling Mapou Yanga-Mbiwa, so his pockets are doing alright.
QPR: C
The Rangers are still fighting the dirty relegation fight at the bottom of the table, but have something to show for January. Mauro Zarate for some reason was left out in the cold at West Ham, and QPR benefited. They probably need more than just him, but it's a good pickup. The Jordan Mutch departure is an unfortunate but understandable one given the injury history.
Southampton: B
Why fix what ain't broke? Southampton is having a stellar season, and they didn't attempt to bungle that with a million signings. They got Eljero Elia who looks a solid addition – if not a spectacular one – so far, and while the Jack Cork sale is somewhat unfortunate, he was out of contract at the end of the year and did well to get some money for his talent.
I like that the club didn't look to build on their success this year with a crazy window, and instead decided to keep the mojo in house.
Stoke City: C
Not much to see here. They essentially swapped Robert Huth for Phillip Wollscheid, a somewhat like-for-like swap that may have some upside to it. Stoke is headed for another mid-table finish, carry on.
Sunderland: B+
Adding Jermain Defoe has so far been a very bright move. While it's the club's only signing, it will likely be enough to at least hold them at 14th position and ensure they remain in the league. Jozy Altidore had to go, and Defoe at first glance appears to be a huge upgrade. Solid January find.
Swansea City: C-
This has nothing to do with the sale of Wilfried Bony. They were never going to be able to keep a player of his talent forever. In fact, his sale probably netted them a great deal of flexibility in the future. However, they proceeded to dump $7.5 million of it onto Kyle Naughton, which is a questionable decision at best. Jack Cork is a bright signing, with Swansea benefiting from Southampton's failure to meet his demands. The real judgement of this window will come this summer when we see what they do with the Bony money. Early rumors have them using it to upgrade their stadium. Might want to replace his goals first…
Tottenham Hotspur: B-
They got $7.5 million for Kyle Naughton. That's a win all by itself. Dele Alli is 18 and went right back to MK Dons on loan, so it's a non-factor this season, but could be a boost for the future. There's no real need to add anyone this winter, with Christian Eriksen and Harry Kane bursting into amazing form. They also kept Emmanuel Adebayor from going to West Ham, which is good for depth, although Adebayor will likely start whining about playing time soon. They need to improve the defense this summer, but there was little to do there this month.
West Brom: B-

Spending $7.5 million on a Championship player will always come with question marks, but Callum McManaman should be a good attacking option next to Saido Berahino. We'll see how he fits into Pulis-ball. It's a bit surprising the new manager didn't do his usual spending spree, but maybe he's got something up his sleeve…oh look, he does! Signing Darren Fletcher at the stroke of the deadline is a great move and will certainly help the creativity. The 31-year-old has something left to offer, if not at Manchester United. Still, Alan Pardew beat out Pulis for most exciting first transfer window at a new club.
West Ham: C-
They made little noise, and failed to convince Daniel Levy to send Emmanuel Adebayor their way, which would have been a very big get. The Hammers will be fine with Andy Carroll looking solid up front, but they're slipping a bit recently in the table and could have used some new blood. It's unclear how much 21-year-old Canadian Doneil Henry will make noise immediately, but he's one to keep in mind for the future.