Is something wrong with Bayern Munich?
The dominant Bundesliga champs lost their first league match of the season when Wolfsburg thumped them 4-1 on Friday, and the Bavarians dropped points again on Tuesday.
Fortunately for the first-place side, Wolfsburg couldn't get all three points off lowly Eintracht Frankfurt.
[ MORE: USMNT legend Borghi passes away ]
Let's dig into the four Tuesday matches:
Bayern Munich 1-1 Schalke
Before we get into the how, how about a wow? The draw means Bayern has dropped points in back-to-back matches for just the second time under Pep Guardiola. And for it to happen in a Ruckrunde sure makes it sting a little more.
The stars were out for both sides, and a 17th minute red card to Jerome Boateng had the hosts in a bad spot. Still, Arjen Robben broke the scoreless tie in the 67th minute, but Benedikt Howedes equalized just five minutes later to pull the visitors into fourth place on the table.
Bayern's lead stays 8 points.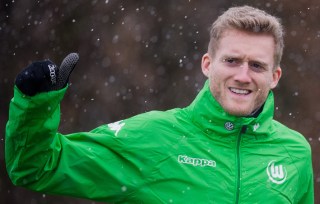 Eintracht Frankfurt 1-1 Wolfsburg
Andre Schurrle was just watching after his transfer from Chelsea, and for a while must've been pretty frustrated as Die Wolfe nearly threw away all the points against the mid-table competition.
Stefan Aigner scored in the 58th minute, and it took Kevin De Bruyne all the way into the 88th minute to save the day. The former Chelsea man now has 6 goals and 11 assists this season.
USMNT defender Timmy Chandler did not play for Frankfurt.
Elsewhere

Borussia Monchengladbach 1-0 Freiburg — Fabian Johnson goes 90 at LW in win
Hannover 96 1-1 Mainz — Elkin Soto snares road equalizer in 77th minute.
Borussia Dortmund vs. Augsburg — 2pm ET Wednesday
Koln vs. Stuttgart — 2pm ET Wednesday
Paderborn vs. Hamburg — 2pm ET Wednesday
Hoffenheim vs. Werder Bremen — 2pm ET Wednesday
Hertha Berlin vs. Bayer Leverkusen — 2pm ET Wednesday