Frank Borghi, perhaps the man most responsible for one of the most iconic moments in United States Soccer history, passed away Tuesday at age 89.
A hearse driver from St. Louis, Borghi played goalkeeper in the USMNT's stunning upset of highly-favored England at the 1950 World Cup, which was No. 10 on our list of World Cup moments.
[ MORE: US Soccer backs Blatter rival ]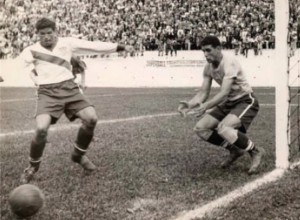 Borghi won a pair of U.S. Open Cups with St. Louis Simpkins-Ford, and is a member of the United States National Soccer Hall of Fame. He was also a professional baseball player before his time with the USMNT, where he was capped 9 times.
The upset over England became the basis for the movie "Game of Their Lives", which starred Gerard Butler in the role of Borghi.
It's unlikely a group of mostly non-professional players will ever boast an upset that massive ever again.
MLSSoccer.com points out that 1950 team captain Walter Bahr is the lone living member of the squad.