With Martin Odegaard becoming the most sought-after teenager in world soccer over the past 12 months, Real Madrid won the race to sign the talented Norwegian playmaker in January, as the Stromsgodset youngster joined the reigning European champions for an initial $3.5 million and is being paid $120,000 per week. He's pretty special.
[ RELATED: Ancelotti to be patient ]
Odegaard, just 16, made his debut for the Norwegian national team at the age of 15 and has played regularly in the Norwegian top-flight for over 12 months. His dazzling skills, composure and maturity beyond his years meant Manchester United, Bayern Munich, Liverpool, Arsenal and many other top teams in Europe were watching his every move.
[ RELATED: Chelsea dazzle in transfer market ]
One man who has watched him more than most is former U.S. national team head coach Bob Bradley who is now in charge of Stabaek in Norway's Tippeligaen. Bradley lives within 25 minutes of Drammen, where Stromsgodset are based, and after playing against Odegaard many times and watching him frequently over the past 12 months, he has seen everything the hottest property in world soccer has to offer.
Via a phonecall from Norway, we caught up with Bradley as he issued the following scouting report on Odegaard. 
What type of player is Martin Odegaard?
He's a very good feel for the game. He has a good eye for slipping the right pass. He is left footed and is clever with how he moves and sees openings. He finds the right way to put passes through to people and he sees the game in a really good way. In terms of his vision and his understanding of the game, those are things which catch you right away. In that respect he's a really talented young player with a really good idea of how to do things.
As a young player he was capable of being a key player at Stromsgodset and he made key plays, set up goals and scored a few. But that's still something that we will wait and see how that part of it develops. At the same time, clearly in terms of his understanding of the game and the way he moves with the ball, that part is pretty special.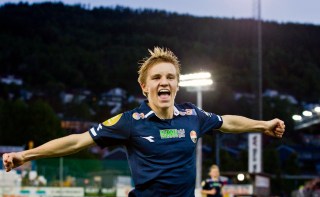 His biggest areas to work on?
It's still not totally clear as he matures more and more over the next few years. We don't know exactly what his game will look like. There are certain moments now when he will get the ball and his ability to just drive the ball forward and make something happen, he doesn't do a lot of that. But he is young. This is where instead of driving forward he will dribble a little diagonally, wait and then find the right pass in the right moment. Will that part of his game develop physically? I don't think you can predict that.
I think that he is probably someone who can develop more and take his chances in certain moments and score more goals. But exactly what type of player he will turn out to be, it's still too early to say. For me, the maturity and his overall football intelligence stands out, especially with his left foot. Those are the starting points and now wherever he chose, the people would push him. Let's see how the rest of the package develops over the next few years.
What is his best position?
At Stromsgodset they played mostly 4-2-3-1 and he would typically play underneath the striker or sometimes they would tilt him to the right side. With the Norwegian national team he will tilt to the right side and then use his ability to come inside with the ball on his left foot to set up plays and create opportunities.
When you faced him, what were your instructions to your team to try and stop him?
What we tried to really concentrate on is the idea that he has the ability to find the right passes. So we tried to make him go across the field and tried to make him play the ball square. Because he is clever with the ball, you shouldn't go forward at the wrong times and leave him openings. The plan was to get tight but make him go more across the pitch. I also saw games were teams got tight to him very fast.
Then, as much as he is skillful and clever, now as he got closed down he was still losing some balls in bad places. This is still part of growing up. When you are young and you are skillful, sometimes people are not near you. But now in games when people start to close you down faster and things are tighter, then your ability to make space and plays is more difficult. He has the type of talent that if he's better training and better games, these things will clearly improve.
How about the people of Norway, how much pressure is on Odegaard?
For a country like Norway, they have had some good moments in their footballing history but he is a special player that everyone in Norway is excited about. Based upon the number of big teams that were in attendance every week in Drammen, a lot of other people felt strongly about his talent as well. When there's that amount of attention, it is important that the people around him make good decisions. His father Hans Erik was a player and a coach, his manager is Tore Pedersen who was a player.
I think he has good people around him, when he was brought into the national team he was brought in smartly and integrated slowly. And now it will be interesting to see how that goes on. When you already have a big player who is 16 and then signs for Real Madrid, everybody is thinking big things. You don't go to Real Madrid unless there's an awful lot of talent and potential. I saw him many times in interviews last year, he handled that part of it really well. He seems to be someone who is not getting ahead of himself, which is really important. If you go by the year I've had the chance to watch him and see him in different situations, I think he really is off to a good start. We will see how it all goes once he gets there. The talk is that he will spend more time with the B team early on, and you can understand that to start with. It's also not so bad when you have the chance to play for Zinedine Zidane! I'm sure they will have a good plan for him.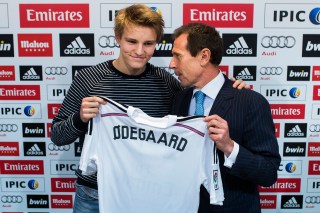 Does he remind you of any player in particular you've seen over the years?
Hmmm, he's left footed. He has a clever way of moving with the ball… I don't know exactly, but I remember seeing Mesut Ozil at a young age when he was first at Werder Bremen. He was very talented. Maybe at that time Ozil had a little bit more pure quickness, but again at that time Ozil was at least 18. I'm not totally sure, obviously when you have a young left-footed talent like this, Messi's name gets thrown around here sometimes. In terms of his style of play, he doesn't play like Messi. The pure ability to just take the ball and go by people, Odegaard does it more with his understanding of the game. His passing and his vision. That part will be interesting to see as he continues to mature physically.
Where does he rank among the best youngsters you've seen during your managerial career?
You have to judge each player on their own. The part that stands out with him is still for a young player, his understanding of the game and feel for different situations seems to be really good. He has got that part and he is comfortable with the ball and his timing for setting up plays is good. I think whenever a boy at this age is already playing for the first team and doing well, and he has already moved onto the national team and is on his way to Real Madrid, it certainly puts him in an excellent category of young talent.