The U.S. national team concludes its annual offseason training camp and friendlies series on Sunday as they host Panama (4 pm ET) at StubHub Center in Carson, California, which means it's time to speculate how Jurgen Klinsmann might set up his team.
[ Follow: All of PST's USMNT coverage | MLS ]
First things first, we've got to settle on a formation. The 3-5-2 drew mixed reviews — rightly so — in last week's 3-2 loss to Chile, and Klinsmann even went away from it after halftime, opting for the tried-and-true 4-4-2 instead. In my opinion, Klinsmann should have stuck with the 3-5-2 for the full 90 minutes and let the players work out the kinks themselves. If it's a long-term possibility, stick with it. If it's not, why are we doing it?
The USMNT has spent an entire month in training camp, working on, presumably, the new formation. To dump it after 45 minutes of varied results seemed a bit premature. Not you have no clue what you're doing levels of prematurity, but at least what's the point of trying it in the first place? For that reason, Klinsmann almost has to trot out the 3-5-2 again on Sunday, making the players' last month of work worth something.
[ PREVIEW: USA needs much improved performance to close out January camp ]
So, who starts in a 3-5-2 on Sunday? I thought you'd never ask.
Goalkeeper: Sean Johnson — Nick Rimando started the game against Chile and played all 90 minutes. My sense is that Klinsmann opts for Johnson — if not Rimando to start and Johnson in the second half — as he's often split minutes evenly of 75-25 in two-friendly situations in the past.
Defenders: Matt Hedges, Jermaine Jones and Matt Besler — Steve Birnbaum, who started the Chile game and played quite well, picked up a knee injury in training and will be unavailable for Sunday's game. Thus, one starting spot opens up and it only makes sense that Hedges, one of the very best defenders in MLS in 2014, finally gets his shot to impress.
Hedges, much like Besler on the other side of Jones, is very comfortable playing with the ball at his feet, capable of defending in space — something he'll have to do in a three-man backline — and physically dominant in the air.
[ MORE: Klinsmann not committed to 3-5-2 for Sunday — but why? ]
Midfielders: DeAndre Yedlin, Michael Bradley, Lee Nguyen, Mix Diskerud and Brek Shea — Yedlin needs the competitive minutes as he's nowhere near the Tottenham first team, and what's the point of calling him in if he's not going to get two games? Also, there's no one else who can play the position, so he starts.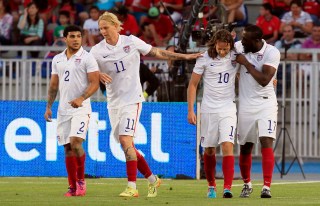 Following a 2014 season where he put up 18 goals and five assists, Lee Nguyen has to get a real shot with the USMNT. He has to be allowed the chance to breathe, and shine. Playing him as the further-forward midfielder is exactly how to do that, and puts another attacker in a more advantageous position (more on that in a minute).
I don't like Diskerud in a deeper role — even alongside a player like Bradley — but who else is Klinsmann going to turn to on the current roster?
Didn't like Shea at left back/left wingback last game? Tough, because there's no one else currently in camp capable of playing the position. He starts — forever, probably.
[ MORE: Klinsmann's still got it: Effortless DOUBLE backheel ]
Forwards: Jozy Altidore and Clint Dempsey — Both started the Chile game, but Dempsey was dropped a bit deeper into the midfield — at least he was supposed to be — but Altidore ended up dropping in while Dempsey surged forward in attack. By actually pairing the two together — and getting rid of Bobby Wood, who left camp this week — the two are actually asked to stay connected and play off each other, something they've done to great successes in the past.
Dempsey plays as part of a two-man forward line in Seattle — he put up 15 goals and 10 assists last year in doing so — and offers the kind of off-the-ball movement you're not likely to see out of a Gyasi Zardes — yet. Drop Dempsey into the midfield again, and the attack will be a disjointed mess with everything coming from the wing backs once again.
Subs off the bench: Miguel Ibarra, Wil Trapp, Luis Gil and Gyasi Zardes — Trapp made his international debut in the Chile game, and while he's undoubtedly a future USMNT starter, the speed of the game was a step too far for him at the moment. I'd love to see him start over Diskerud, because he's the perfect midfield partner for Bradley, but he's going to need time to adjust first.