The United States women's national team now has just one win in its last five matches after falling to France on Sunday.
The No. 3 ranked French side got a 51st minute goal from Eugenie Le Sommer (right) and another moments later from Jessica Houara (below, center) to down the No. 2 ranked States.
How long those numbers remain is uncertain. The USWNT has a chance to right the ship on Friday in Milton Keynes against No. 6 England.
[ MORE: Juve's 'onside' replay is a bit off ]
The French could've broken through earlier if not for U.S. keeper Ashlyn Harris, who made some splendid first-half saves.
Abby Wambach subbed on late, and won a penalty only to see it saved by French keeper Sarah Bouhaddi.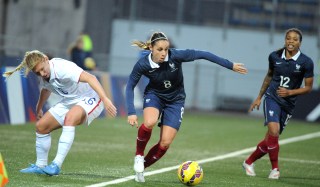 USWNT's last five results
Dec. 10 — vs. China, D 1-1
Dec. 14 — vs. Brazil, L 2-3
Dec. 18 — vs. Argentina, W 7-0
Dec. 21 — vs. Brazil, D 0-0
Sunday — at France, L 0-2
Germany overtook the States in the FIFA rankings this December, knocking the U.S. out of the top spot for the first time since 2008.
Sunday's result will set off some — or further —  trepidation amongst U.S. supporters. The USWNT is in a tricky World Cup Group D with Australia, Sweden and Nigeria.
Here's how they started:
#USWNT lineup: Harris; Klingenberg, Engen, Sauerbrunn, Chalupny; Heath, Brian, Holiday, Lloyd (c); Press, Morgan pic.twitter.com/YVoBQ2AIJP

— U.S. Soccer WNT (@ussoccer_wnt) February 8, 2015