CAN CITIZEN KANE RULE FOR ENGLAND?
Harry Kane is living the dream right now. And it's about to get better.
Kane, 21, scored two goals in his first-ever north London derby as Tottenham Hotspur rallied back from 1-0 down to beat bitter rivals Arsenal at White Hart Lane on Saturday.
[ RELATED: Three things we learned ]
His goals were even more memorable as Kane is a born and bred north Londoner who has come up through the ranks of Spurs' academy. Speaking to reporters after the game, Kane couldn't hide his delight as his fairytale continues.
"It was a fantastic feeling. You could see from the way the fans celebrated at the end how much it meant and to score twice was unbelievable," Kane said. "I didn't want to come off – I wish I was still out there now with the fans. It was a special day, my first north London derby and the way it panned out was just incredible. It's something I won't forget and I probably won't sleep tonight."
Plenty of Premier League defenders have had sleepless nights this season due to Kane, as the young Englishman has tormented defenses up and down the land. Kane now has 22 goals in all competitions this campaign, more than any PL player, and as England's national team manager Roy Hodgson watched on at the Lane, there's no way Kane won't get his first call up to the senior team next month.
But the big question is: can Kane lead the English national team and should their attack be built around him?
He can, and it should. With Kane's power, pace and size, he is the perfect man to play in the central role in Hodgson's preferred 4-3-3 formation. Kane is a powerful specimen who has developed physically over the past six months to enable his ability to lead the line. Maurico Pochettino, his boss at Spurs, believes Kane has "massive potential" but he urged him to keep improving. The thing about Kane is, it's hard to see a weakness in his game at the moment.
He scores goals of every variety and has netted 12 with his right foot, four with his left foot and five headers this season. His winner against Arsenal on Saturday was the perfect example of his predatory instincts as he always seems to be in the right place at the right time but also has the ability to keep a cool head and finish. For England, Kane should play in the No. 9 role, with Daniel Sturridge and Raheem Sterling on the wings, ps Wayne Rooney playing in the No. 10 role, England are all of a sudden awash with top quality attacking options. The likes of Adam Lallana, Danny Welbeck, Theo Walcott and Alex Oxlade-Chamberlain may not get a starting spot for a while.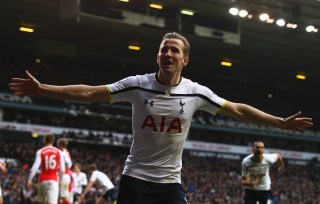 Kane has come through the ranks, playing for England at every level from U-17 to U-21, and has served his apprenticeship with several loan stints helping him to flourish right here, right now. He has scored 13 goals in 12 appearances for England's U-21 side, and alongside him there are now a number of top quality English youngsters who are playing regular in the PL and are ready to strut their stuff on the international stage.
[ RELATED: Watch full match replays ]
English players who have come through the U-21 team and are currently playing regularly in the PL include, Luke Shaw, Ryan Mason, James Ward-Prowse, Sterling, Jonjo Shelvey, Eric Dier, Saido Berahino, Calum Chambers, John Stones and Ross Barkley. And those are just a select few. With so many special English talents starting to shine up and down the land, the future is looking brigh for England. Right now, Kane is the leading light and it would be a huge shock if he isn't in the Three Lions' next squad at the end of March.
One final moment of reflection here. Arsenal fans I'm sure you know this. Kane spent time at the Gunners' academy but was let go as a youngster and a picture of him wearing an Arsenal shirt went viral over social media last week. Asked about that afterwards, Kane was delighted that his allegiance is now perfectly clear.
"Of course it was nice to score after that," Kane said. "I'm Tottenham through and through and this shows that. It's an emotional day and one I'm very pleased with."
I was in north London for the derby on Saturday, and it's clear Kane is the people's champion as he was serenaded off the pitch at the full time whistle. His name reverberated from bars, on the platforms of crowded train stations and down sidestreets on Saturday evening. Very soon, his name will be sung with gusto across England.
Premier League Schedule – Week 24

PEARSON'S CHOKESLAM: BEGINNING OF THE END?
Leicester City are bottom of the table, with just one win in five and the pressure seems to be getting to their manager Nigel Pearson.
[ RELATED: Pearson remains ]
During Leicester's damaging 1-0 home defeat to Crystal Palace on Saturday, Palace midfielder James McArthur collided with Pearson on the sidelines and as each men got to their feet, a strange incident played out.
Pearson and McArthur resembled two flamingo's ready to tango, but then suddenly realized that over 30,000 people were watching them, yet neither wanted to back down. To his credit, McArthur was the less confrontational. As the Scotsman tried to get up, but Pearson first pinned him down with his right hand and then got his left hand and grabbed him by the throat.
[ VIDEO: Premier League highlights ]
Then, a moment of realization arrived as Pearson — who has already been banned from the touchline and fined after an incident with a Leicester fan earlier this season — let go of McArthur's throat. But he wasn't done. As McArthur retreated and his manager Alan Pardew (just the man you wouldn't want to see moving in on a touchline altercation between a player and a coach…) approached the situation, Pearson failed to let go of the Palace midfielders jersey as it all started to get a bit weird. Then it ended, but you could see the pressure is taking its toll on Pearson.
Something extra to add into the mix is that Pearson tried to sign McArthur this summer but the deal broke down at the last minute and he instead signed for Palace. Did that have anything to do with it?
"I don't have to reveal anything do I? I'm more than capable of looking after myself," Pearson said of the incident. "Listen, I've a lot of respect for the lad, he's a good player. You know what happened in the summer in terms of him coming here."
Numerous reports seemed to confirm Pearson's departure from Leicester on Sunday evening but soon after Leicester put out a statement saying he was still in charge and focused for Tuesday's game against Arsenal. Behind Pearson's quite demeanor which prevails in media interviews, stories of his personality as a player are quite the opposite. Always a joker and at the center of banter and whatnot in the dressing room back in the day, the picture Pearson paints of himself to the mainstream media today is quite different.
After already having his wrists slapped for confronting a fan during a match, and now grabbing hold of a player aggressively on the sidelines, how much longer will Pearson last at Leicester as the pressure continues to mount?
TOP FOUR SCRAMBLE CONTINUES
Southampton. Manchester United. Tottennham Hotspur. Arsenal. West Ham United. Liverpool. Pick two from those six teams, guys.
[ RELATED: Latest Premier League standings ]
Tough, right? The intense battle for a place in next season's Champions League continues as Southampton and Tottenham won this weekend, West Ham United and Manchester United drew in a tight battle at Upton Park, plus Liverpool were held at Everton.
This week Liverpool and Tottenham square off at Anfield, while Southampton and West Ham clash at St Mary's as four teams in the hunt for the UCL do battle. One of the reasons why the teams from third to eighth are so closely bunched is down to their record against each other. Look at the Tweet above. Teams just can't pull away from one another as the are lacking wins against eachother. This week may help to separate the pretenders from the mix.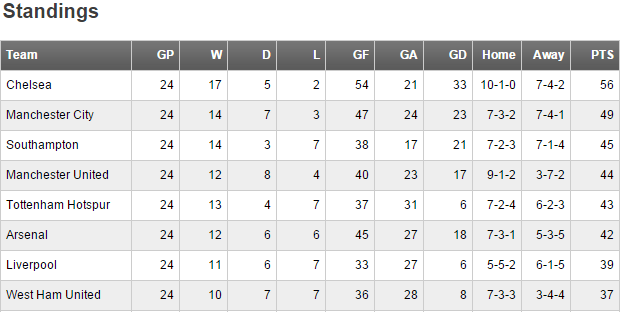 ALLARDYCE: "WE COULDN'T DEAL WITH MAN UNITED'S LONG-BALL GAME"
Excuse me, Big Sam, did I just hear you correctly?
Yes, this season West Ham have often dished up scintillating soccer and attacked with panache, creativity and verve, but so often Sam Allardyce's teams have been  straight-forward in their approach. "Get it in the mixer!" Was the cry from Allardyce's bench for most of his tenure at Upton Park, but on Sunday that message was coming from the opposite bench as Manchester United boss Louis van Gaal sent on Marouane Fellaini to contest aerial balls and their direct approach snatched the Red Devils a last-gasp point which hit the Hammers' top four pursuit hard.
United failed to get going in attack as Radamel Falcao and Robin van Persie struggled up front and Wayne Rooney continues to underwhelm in his new midfield role. Rooney has failed to register a shot on target in 2015 despite playing 450 minutes, which tells it's own story as United continue to stumble along but remain in the top four. Just.
Watch the video below to see Allardyce's reaction to his side letting a lead slip in stoppage him, as the sound of him lamenting long-ball tactics just seems very peculiar, even if he was spot on. We love your honesty, Big Sam.
MIDWEEK MADNESS: FIVE THINGS TO LOOK FORWARD TO
With a full slate of games coming up in the PL this Tuesday and Wednesday, the action just keeps coming thick and fast.
[ RELATED: Premier League schedule ]
Below are five storylines to keep a watchful eye on, while you can stream every game live online, so you don't miss a single kick.
1. Liverpool and Tottenham put top four hopes on the lines 
2. Cuadrado could light up Stamford Bridge on home debut 
3. Saints and Hammers clash in battle of the upstarts 
4. Can Stoke do the double over struggling Man City? 
5. Pardew faces old club Newcastle at Selhurst Park cauldron 
USMNT UPDATE: CAMERON'S WING MAGIC
Geoff Cameron was the leading light for the Americans Abroad this weekend. The Bostonian surged forward from right back late on at Newcastle and delivered a peach of a cross which Peter Crouch nodded home to make it 1-1 and seal a solid point for Stoke. Above he caught up with our broadcast team after the match at St James' Park.
[ RELATED: Geoff Cameron's latest blog for PST ]
Elsewhere, Brad Guzan's Aston Villa lost again but put in a much better display in the 2-1 defeat to Chelsea, while Tim Howard is back in training but didn't feature in Everton's 0-0 Merseyside derby draw with Liverpool. Those were the Americans Abroad, but the USMNT did have a game on Sunday as they beat Panama 2-0 at the StubHub Center. Full coverage on that game, including a recap, videos, player ratings and more can be found here.
Premier League Playback comes out every Monday as PST's Editor and Lead Writer takes an alternative look at all the action from the weekend. Read the full archive, here.