Leicester City remains rooted to the bottom of the Premier League table after a 2-1 loss at Arsenal on Tuesday.
Mesut Ozil was the key figure in goals from Laurent Koscielny and Theo Walcott, as the Gunners moved ahead of idle Manchester United and losing Tottenham for fourth in the PL.
Andrej Kramaric scored for embattled Nigel Pearson's Leicester side, who sit five points back of safety, dead last with 17 points. Pearson was widely-reported to have been fired on Sunday, but kept hold of his position.
[ RELATED: Watch full match replays ]
The Foxes had the most danger to start, as Riyad Mahrez kept Arsenal under pressure and, most notably, had no one back to post to receive his searching cross-six pass in the 15th minute.
The Gunners' first chance came in the 16th minute, as Mesut Ozil found Theo Walcott. But Mark Schwarzer was there to save Arsenal's first shot on goal.
And off a spell of strong possession earned a free kick, Arsenal scored when Ozil's free kick found Koscielny for a low finish past Schwarzer.
[ RELATED: Latest Premier League standings ]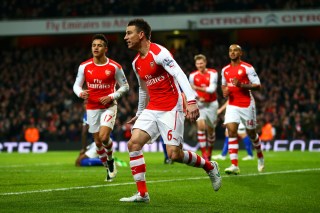 Then Walcott made it 2-0 when he blasted an Ozil rebound past Schwarzer just before halftime.
Gunners keeper David Ospina made a couple tough saves when called upon twice by Kramaric, the second ending with Koscielny heading over the bar.
But the ensuing corner resulted in Kramaric smashing home a headed clearance from Koscielny, and it was 'game on' at the Emirates, as they say.
Santi Cazorla hammered an attempt at Schwarzer in the 67th minute, but the Australian keeper turned it away.
Kramaric tried an audacious chip of Ospina on a 1v1 chance in the 79th minute, but the keeper snared it.
Lineups
Arsenal: Ospina, Bellerin, Mertesacker, Koscielny, Monreal, Coquelin, Rosicky, Walcott (Ramsey, 73′; Flamini, 83′), Cazorla, Ozil, Sanchez (Giroud, 68′)
Goal: Koscielny (27′), Walcott (41′)
Leicester City: Schwarzer, James, Upson (Wasilewski, 59′), Morgan (Ulloa, 81′), Huth, Konchesky, Simpson, Mahrez, Cambiasso, Schlupp (Nugent, 86′), Kramaric
Goal: Kramaric (61′)