From the Champions League final to the second division in 24 months. Could it really happen?
By now, you've probably heard about Borussia Dortmund. They're limping through this Bundesliga season in epic fashion.
Five wins, four draws, and eleven losses. 21 goals scored and 27 goals conceded. And through it all, Jurgen Klopp has been unable to steer his ship away from the treacherous rocky shores as the maelstrom continues.
Fans have begun to boo a man who was thought to be a coaching hero, an un-sledge-able fixture on the touchline. Players have felt compelled to apologize to fans after matches. The coach has had to reinforce his employment status. Rivals have kicked them when they're down. Opposing fans have lit their stadium on fire. Executives made ridiculous guarantees way too early. Team members took to the drink to cope with the struggles…kind of. It's been that kind of season.
But it hasn't been utterly horrific, numerically. For starters, Dortmund has just a -6 goal differential, better than anyone around them and second-best of anyone 12th and lower in the table. Their defensive record isn't a disaster either – in fact, it's better than four teams in the table's top 10. In comparison, 4th-placed Augsburg has conceded 24 goals. The problem is they can't score, because they aren't creating quality chances.
Dortmund owns the third-most possession in the league, the second-most final-third passes, the second-most shots, and the second-most chances created in the Bundesliga, according to Squawka statistics. But with just 21 goals, their chance conversion rate is a paltry 8.3%, good for next-to-last, and up from an even worse 6.2% a few weeks ago. At that rate, the number goes beyond poor finishing (which is certainly part of the problem); the chances just aren't good enough to take. If they were taking good opportunities, Dortmund wouldn't be sitting on the second-most blocked shots in the league, part of the mechanism driving the shot counter up. And like icing on the chances created cake, they have the fewest set-piece goals in the league with just four.
But when you break it down, while this season shouldn't be title-winning by any means, it most certainly shouldn't be this bad.
So things should be turning around any day now. Aaaaaaaaaany day now. Thing is, people have been saying that for months, and it hasn't happened yet. This season boggles the mind. They shouldn't be this bad, they shouldn't be struggling this hard. Sure, every team has rough patches, it's part of the normal course of a season. You can pull statistics and numbers that make any team look bad (ok, maybe not Bayern, but everyone else). But this is more than a rough patch, it's more than a run of poor form. It's well and truly a throw-away year in a sporting environment that doesn't take kindly to throw-away seasons.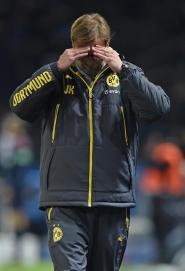 You and I aren't the only one bamboozled. The players are too. "It's pretty astonishing we are so pathetic," said captain and star defender Mats Hummels.
Before we do this, it must be said that Borussia Dortmund has not yet been relegated. Not by a long shot. They sit two spots – and one measly point – from the bottom of the table, just lifted off the cellar with a win this past weekend. If they pick things up, the season can be more than saved, with the lower half of the Bundesliga table jam packed. But for now, we're going there. We're doing the unthinkable. For the next few paragraphs, proceed as if Borussia Dortmund has been relegated.
Has this even happened before? It has, to an extent.
Sampdoria was relegated from Serie A in 2011, just a season after qualifying for the Champions League playoffs, but that's a very different situation. That Sampdoria squad had somewhat overachieved the previous season, and was hit hard by fixture congestion and internal turmoil, something we've seen countless times with the Europa League. Dortmund wasn't an overachiever, they were perennial contenders. They made the freakin final.
Villarreal went down in 2012 after Champions League play that same season. Santi Cazorla was sold, Guiseppe Rossi was hurt all year, the club went through three managers, and the owner confirmed some financial difficulties. All this contributed to their downfall. While Dortmund has had plenty of injury struggles this year, they haven't dealt with an exodus of top talent, a managerial merry-go-round, or a need to sell to balance books.
No team has ever won the Champions League or UEFA Cup and gone down the next year…well, ok, one team sort of has. Marseille did it in 1993/94, but they were sent down for a match-fixing scandal thanks to president Barnard Tapie trying to secure a league victory – and one without injury – before the Champions League final. They returned to the top flight just two years later.
Dortmund could still hold claim to "best club ever relegated" should they eventually go down, as the current list is somewhat small. Nurnberg won the Bundesliga title in 1968, but their European Cup stay was limited. They hadn't qualified the year before, so their title winning season was played without the need to parlay success abroad. Manager Max Merkel, upon winning the league title, immediately dismantled his team believing they were too old, and that resulted in a European Cup blowout loss to Ajax the following year as well as ultimately Bundesliga relegation. Leeds United finished in the Premier League's top four every year from 1997-2001 and reached the Champions League semifinals in the 1999/2000 competition before their downward spiral, but it took that team three years to eventually go down in May of 2004. We're not counting the relegation of Juventus who was also sent down for match-fixing in the Calciopolli scandal and absolutely tore Serie B apart the next year.
It would seem those teams, however, will not add another victim to the list. It's still incredibly hard to imagine Dortmund going down this year. With plenty of time still to turn things around, and enough poor teams in the German top flight to take the fall instead, it seems very unlikely that Jurgen Klopp will end up leaving his team in the 2.Bundesglia. The most recent win over Freiburg successfully put the demons of the week before – a loss to Augsburg, who'd never before beaten Dortmund, while a man up for 25 minutes – to rest, and pulled them from the automatic relegation zone. They host Mainz on Friday with another chance to gain ground on those around them. Superstar Marco Reus is back from injury, on a brand new contract, and creating chances at a much higher clip than anyone else on the squad.
While there's work to be done, the top half of the table is just six measly points adrift, and safety is still a likely scenario. And that makes the threat of relegation even more frightening for Dortmund. Nobody is too big to fail.